I remember back in the "good ole days" when I was a shopping center developer, it was way too easy. I would find the closest Wal-Mart store, find a few acres nearby - regardless of the land cost - and draw up a plan to build a shopping center. Then, after I got a few Letters of Intent, I would run over to the bank and walk out with a construction loan, usually 100% loan-to-cost.
In hindsight, it was like legalized gambling.
I never imagined how much risk I was taking - to borrow almost 100% of the project cost - with little-to-no assurance that a tenant would lease the building I was constructing. Believe me, it was fun while it lasted, but in life, all good things usually come to an end.
In 2008, it ended abruptly. No bank + No tenant = No fun.
I learned a lot of valuable lessons, though, especially when it comes to retail REITs.
Most of us learn the most through failures, and I can certainly vouch for that. In this article today, I will provide you with some of my life lessons, while also explaining why I am a shareholder in Kimco Realty (NYSE:KIM). As the legendary investor Ben Graham once said:
Adversity is bitter, but its uses may be sweet. Our loss was great, but in the end we could count great compensations.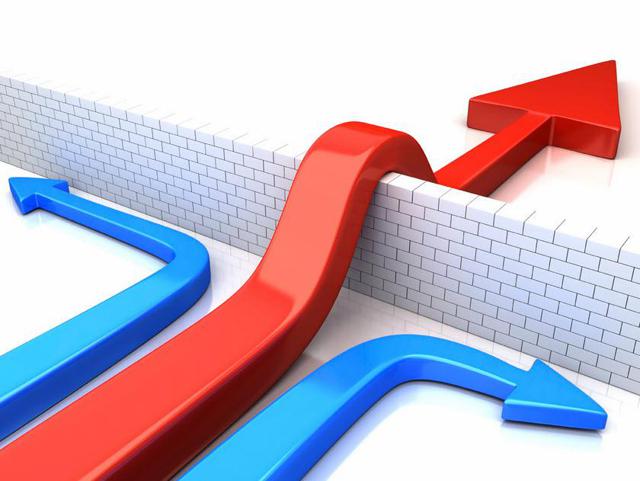 Life Lesson 1: Focus on Tenant Quality
Back when I was a developer, I would seek regional and national tenants to fill up the shopping centers. In some of my centers, I would lease to a regional grocery chain, and in others, I would lease to big box retailers like PetSmart, OfficeMax, Barnes & Noble, and Goody's.
What is Goody's?
At one time, the regional apparel chain was considered an anchor tenant, and the company usually located stores near Wal-Mart sites. However, during the Great Recession, Goody's filed for bankruptcy and shuttered most of its stores. One center that I owned was anchored by Goody's, and when the store closed, the shopping center lost around 50% of its value literally overnight.
Since I hung up my developer boots, the number of retail failures like Goody's has increased considerably, many as a result of e-commerce. Many department store tenants are fighting to survive; however, off-price retailers are growing at a rapid clip.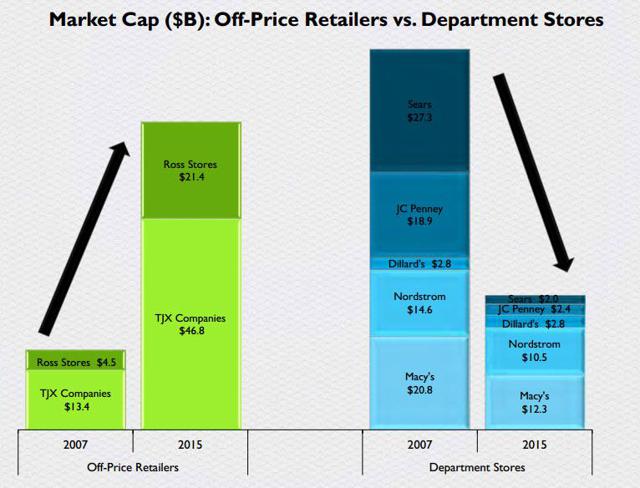 There are no Goody's stores in KIM's portfolio. Here's a snapshot of the company's top 10 tenants: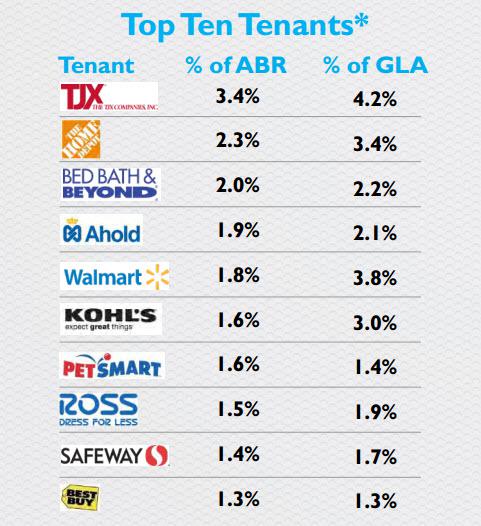 As you can see, KIM has a diverse portfolio, where no one tenant accounts for more than 3.4% of ABR (annual base rent). Many of the top 10 tenants are investment-grade rated.
Life Lesson: Always focus on the quality of the rental income, especially in the retail sector.
Life Lesson 2: Focus on Location Quality
As I said, one of the shopping centers that I developed was leased to Goody's. Unfortunately, this property was located in a tertiary market where there were just around 50,000 people in the 10-mile trade area. In addition, the disposable income in this market was low, so when the 30,000-square foot Goody's store was vacated, there was little demand for lease up.
KIM's largest percentage of ABR is generated in California, and as illustrated below, the company focuses on major metro markets within the United States. KIM is officially out of Latin America, and the company expects to fully exit Canada in 2016.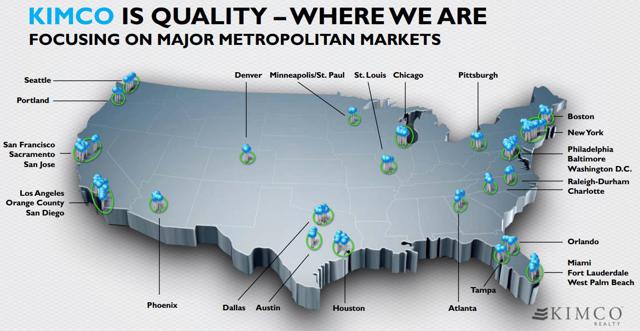 Around 49% of its NOI (net operating income) is generated from the Top 100 properties, and around 85% of NOI is generated from the Top 300 properties. As illustrated below, KIM plans to have 75% of revenue from the Top 100 properties by 2020.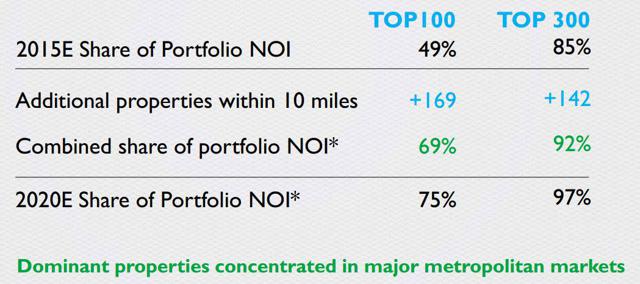 Life Lesson: Always focus on the quality of the market, and avoid tertiary markets altogether.
Life Lesson 3: Focus on Diversification
At the peak of my development career, my partner and I owned around $100 million of retail properties. There were 3 or 4 shopping centers valued at around $40 million, and the rest of the portfolio was made up of smaller free-standing properties. If one or two larger tenants defaulted, it would have significantly reduced our overall cash flow.
That's not a problem for KIM, the largest owner of shopping centers in the US.

Here's a snapshot of the REIT's U.S. portfolio:

Here's a snapshot of KIM's Top 10 assets, where 10% of the company's revenues are generated: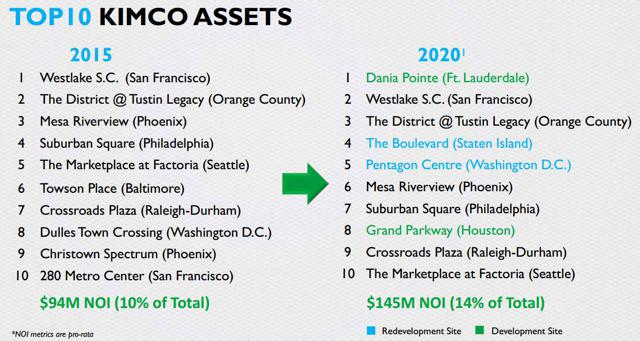 Life Lesson: Always focus on diversification - don't put all of your eggs in one basket.
Life Lesson 4: Focus on the Balance Sheet
As I alluded to above, my development deals were highly leveraged, and like many developers (prior to 2008), I was living off of borrowed money.
In contrast, KIM has a most conservative capital structure with investment-grade ratings from all three rating agencies (S&P: BBB+, Moody's: Baa1; and Fitch: BBB+).
In the fourth quarter, its consolidated net debt-to-recurring EBITDA was 6x, down from the 6.6x at the end of the first quarter. KIM plans to reduce the consolidated net debt-to-recurring EBITDA to a range of 5x-5.5x, and on a look-through basis including pro rata JV debt and preferred stock to a range of 6.4x-6.9x, with a fixed charge coverage of 3x plus.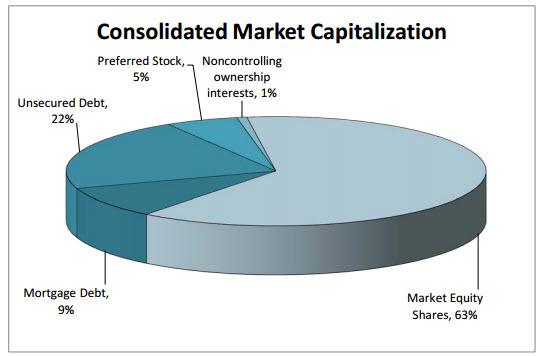 Also, during the fourth quarter, KIM tapped the bond market issuing a $500 million 7-year, 3.4% fixed rate bond - the liquidity position is in excellent shape, with zero outstanding on the $1.75 billion revolving credit facility in over a $180 million in cash.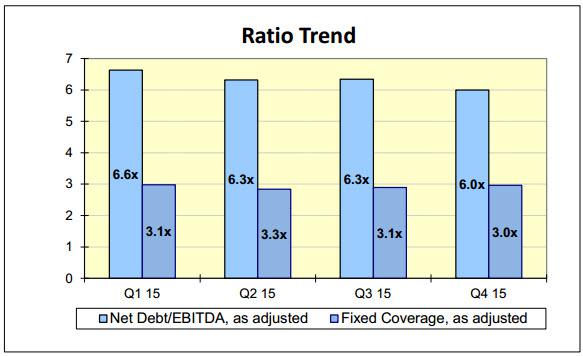 Few shopping center REITs have such an attractive balance sheet.
Life Lesson: Always maintain a healthy balance sheet, in good times and bad.
Life Lesson 5: Always Get a Paycheck
One of the big problems that I experienced as a developer was living in the "feast or famine" mode. Whenever I closed a big construction loan, I would always eat steak, but when I was waiting on the next closing, I was living off of rice and water. Yes, it was nice to see my deals cash flowing, but because of high leverage, the bankers were eating the steak, not me.
Owning REITs like KIM are especially attractive because you get paid all of the time, or at least when the company is able to cover its dividend. Unfortunately, most REITs were forced to cut dividends during the Great Recession, and KIM was not immune.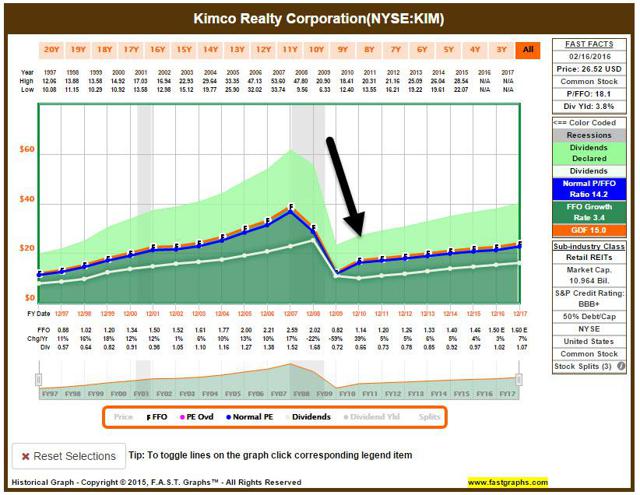 Having experienced the economic hardships first-hand, I'm willing to give KIM a mulligan. I began picking up shares in January 2014, and my annualized returns during have been around 16.3%.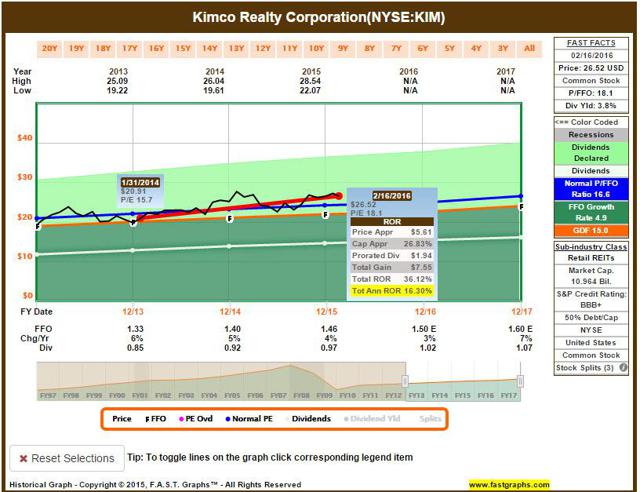 Also, since the end of the recession (2010), it has increased its dividend by an average of 8%.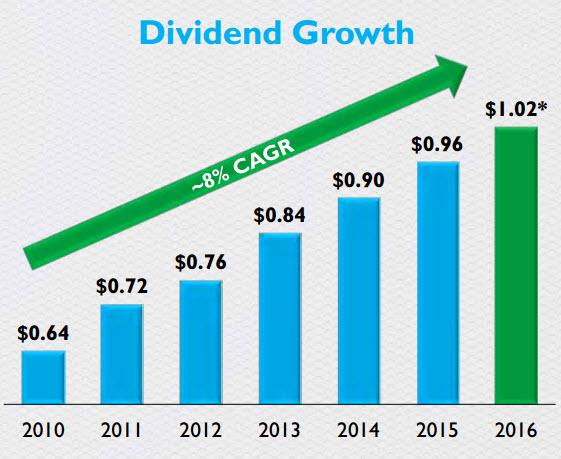 Had I picked up shares in KIM at the IPO (in 1991), the shares would have returned 13.2%, beating both the S&P 500 and the DJIA.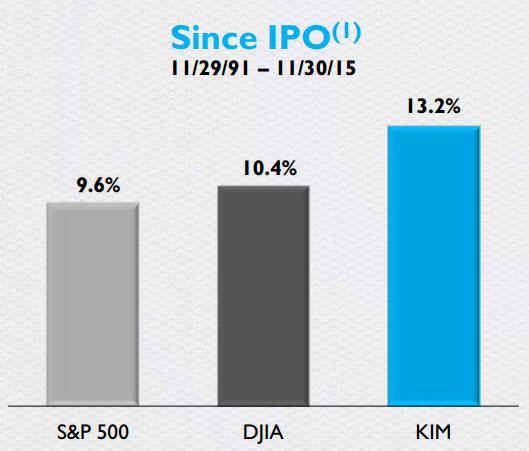 Life Lesson: Focus on dividend growth.
Life Lesson 6: Protect Your Principal at All Costs
The last life lesson is a sum of Lessons 1-5. Whether you're a real estate investor or a stock investor, it's always important to avoid speculation. The best way to do that is to maintain strict discipline and avoid the temptation of chasing yield. By carefully analyzing investments - from the ground up - an investor can gain valuable insight in an effort to skillfully manage risk.
KIM shares are now trading at $26.52 per share, with a dividend yield of 3.8%. Here's how that compares with the peer group:

Its P/FFO multiple is 17x, and here's how that compares with the peer group:

Over the last 12 months, KIM has returned 2.76%, and here's how that compares to the peer group:

Year to date, KIM has returned .23%, and here's how that compares to the peer group:

The REIT recently reaffirmed its 2016 guidance: FFO per share ranges of $1.54-1.62. KIM recently increased its common dividend by $.225 per quarter, which equates to a healthy FFO payout ratio in the upper 60% range. Q4-15 results were solid (FFO per share was $.37), and occupancy was up 20 bps sequentially at 95.8% (the highest since Q1-08).
In conclusion, my life as a real estate developer taught me many valuable lessons, and as a result, I have become a more focused REIT investor. While traditional analysts view a REIT security using routine financial indicators, I have become more fixated on the true drivers of value creation and, of course, the one that resonates the best (and I live by it now): Protect your principal at ALL costs.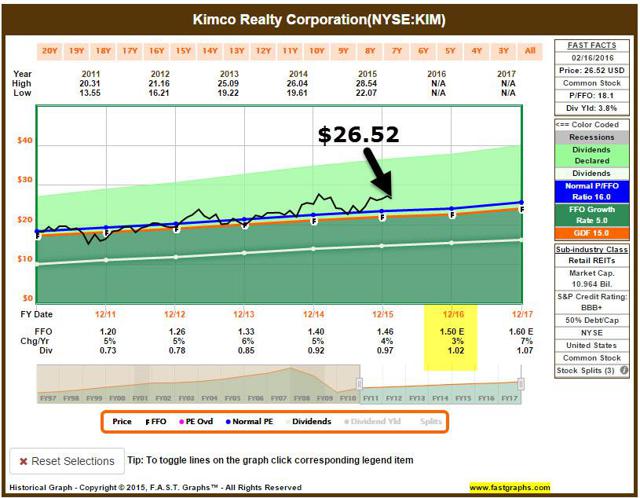 Author's Note: I'm a Wall Street writer, and that means that I am not always right with my predictions or recommendations. That also applies to my grammar. Please excuse any typos, and I assure you that I will do my best to correct any errors if they are overlooked.
Finally, this article is free, and my sole purpose for writing it is to assist with my research (I am the editor of a newsletter, Forbes Real Estate Investor), while also providing a forum for second-level thinking. If you have not followed me, please take 5 seconds and click my name above (top of the page).
The only guarantee that I will give you is that I will uncover each and every rock I can, in an effort to find satisfactory investments that "upon thorough analysis promises safety of principal and satisfactory return. Operations not meeting these requirements are speculative." (Ben Graham)
REITs mentioned: Wheeler Real Estate Investment Trust (NASDAQ:WHLR), Whitestone REIT (NYSE:WSR), Urstadt Biddle Properties (NYSE:UBA), Retail Opportunity Investments Corp. (NASDAQ:ROIC), Equity One Inc. (NYSE:EQY), Federal Realty Investment Trust (NYSE:FRT), Retail Properties of America (NYSE:RPAI), Regency Centers Corporation (NYSE:REG), Weingarten Realty Investors (NYSE:WRI), Ramco Gershenson Properties Trust (NYSE:RPT), DDR Corp. (NYSE:DDR), WP Glimcher, Inc. (NYSE:WPG), Brixmor Property Group (NYSE:BRX), Urban Edge Properties (NYSE:UE), Acadia Realty Trust (NYSE:AKR), and Kite Realty Group Trust (NYSE:KRG).
Disclaimer: This article is intended to provide information to interested parties. As I have no knowledge of individual investor circumstances, goals, and/or portfolio concentration or diversification, readers are expected to complete their own due diligence before purchasing any stocks mentioned or recommended.
Source: SNL Financial, F.A.S.T. Graphs, and KIM Q4-15 Supplemental.
Disclosure: I am/we are long O, DLR, VTR, HTA , STAG, GPT, ROIC, HCN, OHI, LXP, KIM, WPC, DOC, EXR, MYCC, BX, TCO, SKT, UBA, STWD, CONE, BRX, CLDT, HST, APTS, FPI, CORR, NHI, CCP, WSR, CTRE, WPG, KRG, SNR, LADR, HCN, HCP.
I wrote this article myself, and it expresses my own opinions. I am not receiving compensation for it (other than from Seeking Alpha). I have no business relationship with any company whose stock is mentioned in this article.