J.C. Penney (NYSE:JCP) has turned in an impressive performance on the stock market so far this year, appreciating close to 18%, while indexes such as the Dow Jones and the S&P 500 have dropped almost 6%. This clearly indicates that Penney is carrying strong momentum with it in 2016. But, will Penney be able to sustain this momentum once it releases its fourth-quarter results on February 26 next week? Let's take a look.
The expectations
Penney's same-store sales during the holiday season had increased 3.9% as compared to the prior-year period, and the company is well on track to achieve its full-year EBITDA target of $645 million. Now, investors need to keep in mind that this 3.9% increase in same-store sales was only for the two months of November and December, which means that if we include October, Penney's same-store sales should be ideally higher.
As such, when Penney releases its fourth-quarter results next week, its revenue growth should exceed the expected 2.4% year-over-year target. Additionally, earnings are anticipated to go up to $0.23 per share from break-even in the year-ago quarter. In my opinion, Penney looks well-positioned to beat these estimates on the back of a strong holiday season.
Thus, on the back of a 4%-plus growth in same-store sales, along with the expansion in omni-channel fulfillment and new stores, Penney should be able to exceed the revenue growth estimate. Now, the growth in same-store sales and better revenue will be tailwinds for Penney's bottom-line performance in the fourth quarter. Additionally, the fact that Penney is focusing more on the growth of its private brands is another reason why it should be able to post better margins.
I'm saying this because Penney's management insists that as compared to national brands, private brands carry a higher margin profile. For instance, Penney has expanded its in-house fast-fashion brand BELLE + SKY and is collaborating with Disney with the Okie Dokie brand. The company is counting on its in-house designer team of over 200 designers to expand the product range and increase penetration. As such, it is not surprising to see that two analysts have increased their EPS expectations from Penney over the past 30 days.
This will certainly help Penney reach more customers, and that too in a profitable manner as there is less investment required in selling private-label brands. This can be attributed to the fact that private-label brands don't need to depend on third-parties and licensing agencies for sales, thereby helping Penney save costs.
On top of this, Penney is also focusing on growing its high-margin sales through the omnichannel initiative, and this will be another drive for its margins. For instance, Penney has increased its online stock keeping units by 20%, and at the same time, the number of drop ship vendors has also increased by 15%.
Now, an almost equal increase in the number of drop ship vendors and online SKUs indicates that Penney now has to bear less inventory costs. This is because under the drop ship model, Penney does not need to keep stock of its own; rather it is entering into a deal with a wholesale supplier who will fulfill the order. Hence, Penney is following a smart strategy of growing its sales and keeping its costs under control at the same time, which will allow it to not only beat estimates in the fourth quarter, but also do well from a long-term perspective.
Issues to be aware of
However, a look at Penney's balance sheet indicates that everything is not rosy about the company. With a debt of $5.3 billion, a challenging debt-equity ratio of 3.43, and a weak current ratio of 1.67, Penney carries a high level of leverage and interest expenses. However, on the back of its strategies to increase revenue and margins, Penney has been able to improve its cash flow profile in recent times. This has also created a positive impact on the company's EBITDA and interest coverage ratio, as shown in the chart below: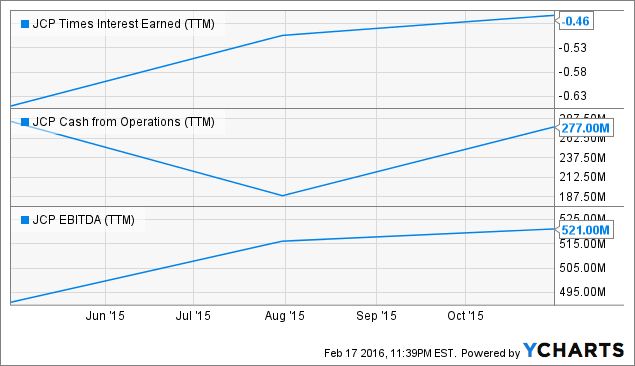 JCP Times Interest Earned (NYSE:TTM) data by YCharts
As shown above, Penney has been able to improve its operating cash flow in the past six months as it has reduced costs aggressively and maintained decent top line growth. At the same time, an improvement in interest coverage toward positive territory indicates that Penney's EBIT is getting better, and the same reflects in the EBITDA as well.
Going forward, Penney's strategies to improve the business, apart from an improvement in consumer confidence in the U.S., will be tailwinds for the company and allow it to improve the state of its balance sheet.
Conclusion
J.C. Penney has done extremely well so far this year on the back of its improving business model. Of course, the company's balance sheet is not in good shape, but Penney is making improvements on this front that cannot be ignored. So, in my opinion, investors should remain invested in J.C. Penney for the long run as it can sustain its impressive momentum.
Disclosure: I/we have no positions in any stocks mentioned, and no plans to initiate any positions within the next 72 hours.
I wrote this article myself, and it expresses my own opinions. I am not receiving compensation for it (other than from Seeking Alpha). I have no business relationship with any company whose stock is mentioned in this article.