Investors can buy Questor Technology on the TSXV (QST.V) or on the OTC (OTC:QUTIF). All numbers will be in Canadian currency unless otherwise stated. There is much more volume on the TSXV, so keep that in mind if interested in QUTIF.
Since the run-up from $0.70/share to $1.19/share in under three short months (a 70% gain), I thought it would be good to take a re-look at QUTIF.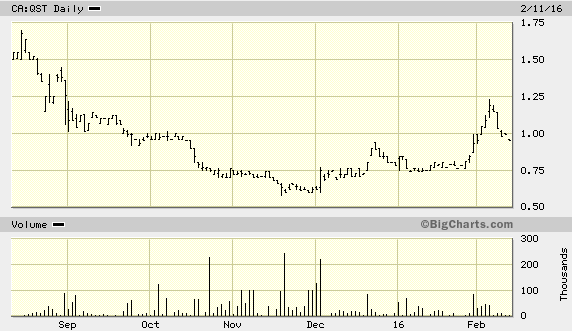 After the peak at $1.19/share, the price of the stock has pulled back to ~$0.95/share. In my original thesis, my base case was $1.09/share and my bull case was $1.56/share. In reality, I was not expecting the base case to be hit in such a relatively short period of time. This was mainly due to headwinds facing the energy industry. Going forward, I still believe that my bull case has merit and may be hit in the midterm.
Besides rallying a decent amount since my original write-up, the company has also released Q3 results. Results were poor; however, investors should have expected these results if they had done their proper due diligence. I have highlighted some notable items from Q3.
On a consolidated basis, revenue fell 46% YoY. As with all oil and gas related companies, revenues were down from a weak commodity environment.
Despite double-digit pressure on the topline, Incinerator Rental revenue was up 32% coupled with a 50% increase in Combustion Service revenue. If you remember, one of my core strong points in my original thesis was a shifting business model from buying incinerators outright, to renting them. I am glad to see that this is playing out in the company's and my favor.
Finally, QUTIF posted a $90,000 loss or ($0.003/share) in Q3. This was down from a profit of $867,856 YoY. However, in the first nine months of 2015, the company posted net income of $487,647.
US Federal regulations on methane emission flares are still acting as a tailwind for the company's products. In fact, because QUTIF's customers are regulated to cap their flares, they still need to buy QUTIF's product even if capex budgets have been cut. Furthermore, a cheaper way for QUTIF's customers to comply with regulations is by renting the company's equipment rather than buying it outright. I am still expecting a continual accretive business model shift to the rental of QUTIF's equipment going forward.
One of the key attributes that stood out to me when I originally analyzed QUTIF was its low-to-no balance sheet risk. Currently, the company is sitting on a cash pile of $4.48m with zero long-term debt. High amounts of debt are not good in the majority of situations. Furthermore, since QUTIF does not have to worry about making interest payments and other contractual obligations, it has wiggle room to take advantage of this downturn.
An example of QUTIF taking advantage of this downturn is through its expansion of its sales team.
The downturn in the market has created an opportunity to attract new talent and the company has recently added staff to its sales and marketing team who will focus on increasing incinerator sales and rentals in the U.S. and Canada," said Ms. Audrey Mascarenhas, Questor's President and CEO. "We are actively recruiting sales representatives in the US in our key markets especially in areas where newer regulations are being enforced. We believe the market to be substantial for all our technologies and anticipate revenue generation from the new technologies in late 2015."
A decent chunk of its newly added sales team comes from the Rocky Mountain and Colorado regions in the US. It also plans on, in 2016, to return to Houston, Texas with an intent on marketing and selling its products. Remember, regulation tailwinds will continue to drive demand for QUTIF's products, despite the fact that capex budgets have been cut.
Interestingly, a recently-passed Canadian regulation will act as a further tailwind for QUTIF's products. Moreover, the Alberta Government released a Climate Change Policy on November 23. The base of the policy is a gradual transition from coal-fired power to cleaner energy such as gas. Furthermore, the government has set an emissions limit on oil sand operations. A continual transition from coal-fired to gas, coupled with emission limits will help support and grow QUTIF's topline going forward.
Going forward, I am expecting volatility in the share price. The O&G industry has been one of the most hated industries in recent days. Any negative news can shoot the price of oil down to historical lows. However, any positive news can also benefit the price of oil. Interestingly, the recent announcement by OPEC may serve as a catalyst for O&G companies.
If OPEC does finally come to an agreement in regards to setting a lower production rate going forward, expect a rally in O&G stocks. Companies like QUTIF should have positive price swings due to an expected production cut from OPEC members. Also, if OPEC actually does cut production, there may be some long-term benefits in the price of oil, which could result in higher capex budgets in the near term. Furthermore, higher capex budgets will benefit QUTIF's topline and its stock price.
As I stated earlier, I still have conviction that QUTIF will hit my bull case target price in the mid-term. There will be ups and downs going forward; however, if my thesis continues to play out, take advantage of the volatility. Remember, two years ago, the company was sitting at a high of ~$5.00/share. QUTIF has been through recessions before and made it through stronger. Due to the regulatory tailwinds and low balance sheet risk, I have a high conviction that QUTIF will make it through this downturn as well.
Disclosure: I/we have no positions in any stocks mentioned, and no plans to initiate any positions within the next 72 hours. I wrote this article myself, and it expresses my own opinions. I am not receiving compensation for it (other than from Seeking Alpha). I have no business relationship with any company whose stock is mentioned in this article.
Editor's Note: This article covers one or more microcap stocks. Please be aware of the risks associated with these stocks.