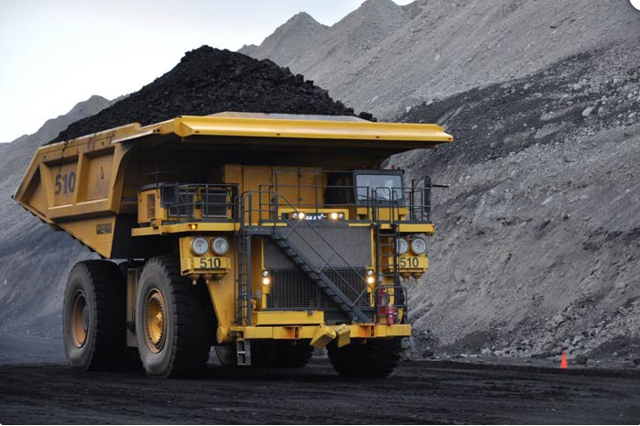 Source: Cloud Peak Energy's website
Cloud Peak Energy (NYSE: CLD) has just reported its quarterly results. Cloud Peak Energy is one of those coal companies who still have a decent chance to survive the market downturn with the current capital structure. However, the stock market action has not been favorable for Cloud Peak Energy's shares which lost an additional 22% of value since the beginning of this year.
Being a PRB pure-play, Cloud Peak Energy has theoretically better chances to emerge as a winner in this survival game. However, what works in theory does not always work in practice. Without further ado, let's discuss the report and the future of Cloud Peak Energy's shares.
On the cost side, the company performed strong as always. While costs were up from $9.15 per ton in the third quarter to $9.52 per ton in the fourth quarter, they remained highly competitive. We can compare Cloud Peak Energy's costs to those of Peabody Energy (NYSE: BTU), who recently reported costs of $9.64 per ton.
The weakness of the coal market remains the company's biggest problem. As a result, the company continues to reduce its production and expects to ship 64 million - 70 million tons in 2016. The good news is that 64 million tons are already contracted at $12.71 per ton, which is a much better price compared to what you can currently get at the market. However, these tons have yet to be shipped.
As Cloud Peak Energy stated during the conference call, "The key to our performance in 2016 will be getting our customers to take their contracted coal, and the compensation paid by those who don't". Also, it looks like achieving the higher end of the shipment guidance depends a lot on the summer weather. Winter weather has not been favorable for coal producers, and it's not clear whether summer will be able to bring positive results, so I'll stick to the low end of production guidance in my calculations.
This year, Cloud Peak Energy expects to spend $30 million - $40 million on capex and $41 million on interest expense. The company decided to suspend export operations due to the weak market. In 2016, this decision will cost $30 million. Despite the weak market, Cloud Peak Energy expects to be cash flow positive for 2016. I agree with this prediction.
If costs per ton in 2016 average $10 (higher than in 2015 as fixed costs are spread among less tons), the company will likely generate around $20 million of free cash flow. The great help here is the absence of LBA payments, that significantly hurt the company's balance sheet in 2015.
The company finished the fourth quarter with $89 million of cash and $500 million available under the credit facility. Interestingly, Cloud Peak Energy stated that it did not want to use the credit facility to buy back its own debt at a discount. As a reminder, the company had $300 million of 8.5% senior notes due 2019 and $200 million of 6.375% senior notes due 2024.
I can understand why the company does not want to spend precious liquidity on notes that mature in 2024, but the rationale behind refusing to buy back the 2019 notes is more mysterious. I can think of only one explanation. The company's outlook for the coal market is grim and it expects that its bonds will trade at even cheaper levels.
Despite the fact that 2016 could be a weaker year for the coal market, Cloud Peak Energy will have no problems in 2016. We should look further into the future to find the roots for the poor performance of the company's shares.
For 2017, the company has already priced 37 million tons at $12.59 per ton. During the conference call, the company stated that at the moment it could sell 2017 coal for $11 per ton. If Cloud Peak Energy were to ship 64 million tons in 2017 (the low end of the 2016 guidance) and sell all the remaining tons at $11 per ton, the difference between the 2016 cash flow and 2017 cash flow would be $50 million - enough to turn positive free cash flow into negative free cash flow.
It remains to be seen whether the possible bankruptcy of Peabody Energy will lead to any rebalancing in the PRB. I am pessimistic on this front, as PRB is the healthiest part of Peabody Energy's business and it will likely be the last part to undergo any cuts should Peabody Energy restructure its debt.
Cloud Peak Energy's shares are in an interesting position. They trade at cheap levels and the company will likely be cash flow positive this year, but the market outlook remains grim and the company lacks near-term upside catalysts. Given the trends that we see now, the first half of the year will be tough for the company. At the same time, the company has plenty of liquidity and can certainly deal with the 2019 maturity. The year 2024 is too far away to think about it at the moment.
In my view, Cloud Peak Energy is a cautious buy for those who want long-term exposure to coal. I don't think that this could be a fast trade, but the company has resources to operate for the years to come which differentiates it from the peers. However, one must be aware that there are no upside catalysts now and negative perception of anything coal-related may weigh on the stock regardless of fundamentals.
Disclosure: I/we have no positions in any stocks mentioned, but may initiate a long position in CLD over the next 72 hours.
I wrote this article myself, and it expresses my own opinions. I am not receiving compensation for it (other than from Seeking Alpha). I have no business relationship with any company whose stock is mentioned in this article.
Editor's Note: This article covers one or more stocks trading at less than $1 per share and/or with less than a $100 million market cap. Please be aware of the risks associated with these stocks.