We've been very pleased with the performance of H&R Block Inc. (NYSE:HRB) since we last wrote about buying its shares in the middle of January. A month on and despite the global market turmoil the shares have performed incredibly well and put on gains of 8.36%. Back then we put forward a one-year price target of $35.10 on the stock. As of the last close price the shares are at $34.59, which is just within arms reach. Many would be tempted to sell at this point, and we wouldn't blame them for taking the gains, but we are holding on. We think this is a long-term investment with strong long-term gains that may have just been enhanced by the launch of Block Advisors yesterday.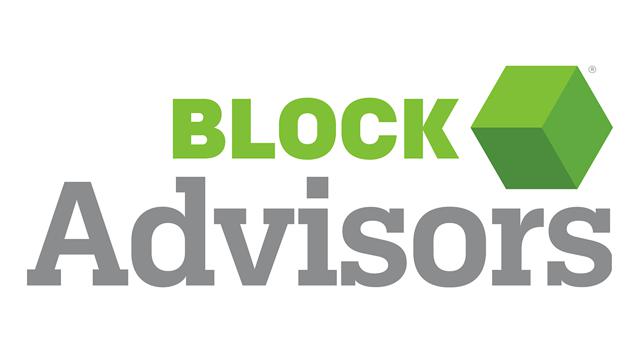 Block Advisors is for complicated returns. The company is generally thinking about small to medium sized businesses for these returns, and we expect that they will be very popular. There are business owners that know exactly what they're doing with their taxes and won't need to use them, but there will be many that either don't have the knowledge or don't have the time to do it. The tax code is after all, 74,000 pages long, and very few have time to read all that!
We feel that Block Advisors will be the leader in the field. The average advisor has 15 years experience in the tax preparation industry, and with 280 Block Advisors offices it is positioned perfectly. Another key point to make is that this is not just a seasonal service either. Block Advisors will provide clients with everything from bookkeeping, payroll, and accounts receivable and payable services if necessary. Building long-lasting relationships with clients will be far easier for the company if they are working with them regularly, and of course provide a quality service. The experience the advisors have should make sure of that. Traditionally the company will mostly make a loss in the non-tax season quarters, so having year-round revenue streams will be a nice change.
So for us, this is another side of the business we feel will boost earnings in the future. It is still the earliest of early days of course, but we like the sound of the service and expect it to be well received. The company will be able to leverage its exposure this tax season to good effect and get things off to a good start all being well.
Elsewhere, the company is still actively trying to close out the tax preparation industry from unqualified advisors. At present you do not require a license to offer tax advice, which means there are fears the industry could potentially be inviting tax fraud. Were the IRS to introduce a tax preparation license we would expect H&R Block to benefit greatly.
Previously we have expected H&R Block to grow its earnings by around 12% per annum for the next five years. We've revised this upwards, due to the introduction of Block Advisors, and expect earnings to grow at an average of 14% per annum now. Because of this we have also increased our earnings per share forecast for fiscal 2016 from $1.96 per share, up to $1.99. We expect earnings per share to see greater gains from Block Advisors in year two and start a strong upward trend.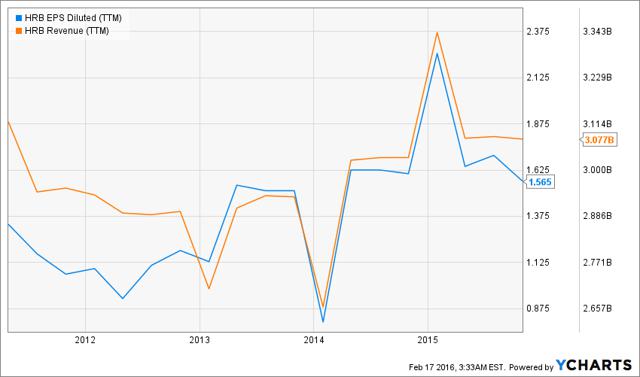 We still feel that 18 times earnings is the right place for the shares to be trading which means we wouldn't expect a great deal more upside this year with our adjusted price target of $35.82. This roughly equates to 3.5% from the last close price. But that's not to say that shares necessarily ever behave as we expect them to. Analysts have placed a $40.33 price target on the shares, which is significant upside.
We are in this for the long run so any lack of short-term upside doesn't worry us too much. Although very much still some time away, we do anticipate earnings per share in 2017 coming in around $2.42. Which at 18 times earnings would give it a fair value of $43.56. Now that is a return worthy of waiting for in our opinion, in the realm of 26%.
Due to its market leading position, the new Block Advisors offering, and its incredibly heavy association with tax season, we feel H&R Block has a lot of growth ahead of it in the next decade. For us, this is a buy, hold, and forget about investment. And let's not forget the dividend is still a healthy yield of 2.37% and growing year over year.
Disclosure: I am/we are long HRB.
I wrote this article myself, and it expresses my own opinions. I am not receiving compensation for it (other than from Seeking Alpha). I have no business relationship with any company whose stock is mentioned in this article.