In my opinion, AerCap Holdings (NYSE:AER) is a company that has done particularly well given the changing landscape of the airline industry. With a continuous move towards airline leasing rather than buying by airline companies outright, AerCap Holdings has become a major player in the airline leasing market for Boeing (NYSE:BA) and Airbus (OTCPK:EADSY) aircraft.
However, we see that price dipped off significantly, as a result of a broader market downturn coupled with a slowdown in China: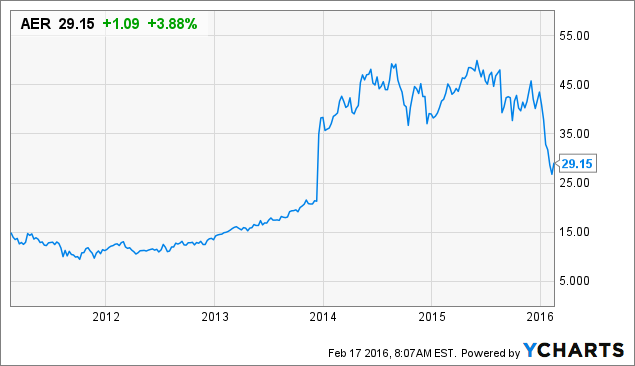 However, this marks (in my opinion) a fantastic opportunity to initiate a long position in AerCap Holdings. The company's strong position in the Chinese market has been well documented, having signed an agreement with China Southern last year to lease 24 Airbus A320 aircraft.
In a previous article on Boeing, I had noted that the airline industry as a whole has been shifting from widebody jetliners to narrowbody jetliners, as companies increasingly seek to conduct longer-haul routes using smaller aircraft. This is great news for AerCap Holdings, which already has a strong foothold in this market in China.
Airbus is already ahead of Boeing in the narrowbody market. With the Airbus A320neo expected to be delivered by the end of 2016, the 737 MAX will not hit the market until the latter half of 2017 at the earliest. Moreover, the Airbus A320neo has seen strong orders across the Asian region more generally, with companies such as China Eastern and Asiana Airlines both placing significant orders for the model. Moreover, the model has also received significant orders in Europe and the United States.
The shift to a narrowbody-based market is great news for AerCap Holdings. Airline companies are far more likely to lease smaller jets than larger ones. It makes little sense to buy a smaller jet outright since it will most probably have a shorter shelf life than bigger jets, where it is more efficient to buy outright rather than lease. In this context, with over 70% of the company's fleet consisting of narrowbody aircraft including the Airbus A320 and the Boeing 737, AerCap Holdings is well capitalised to grow in line with increasing demand for narrowbody jetliners.
To conclude, I see the recent price drop in AerCap Holdings as being largely unjustified and this could provide for an attractive buying opportunity.
Disclosure: I/we have no positions in any stocks mentioned, and no plans to initiate any positions within the next 72 hours.
I wrote this article myself, and it expresses my own opinions. I am not receiving compensation for it (other than from Seeking Alpha). I have no business relationship with any company whose stock is mentioned in this article.