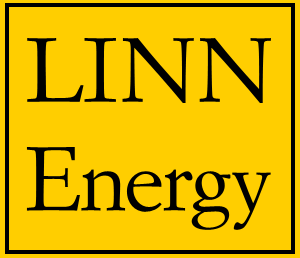 Things took a turn for the worse for Linn Energy, LLC (NASDAQ:LINE) earlier this month when the oil and natural gas company announced that it is "exploring strategic alternatives related to its capital structure." One doesn't have to be an analyst to understand what that warning really meant: 'We are in big trouble, and are standing with our back to the wall'. The fact that Linn Energy decided to borrow $919 million from its credit facility (the remainder of what it could draw down) was further proof that the company is getting desperate and tapping all sources of cash it can get its hands on.
The full utilization of its credit facility was a preemptive maneuver since Linn Energy will most certainly see its borrowing base cut in April when the next borrowing base redetermination will take place.
Linn Energy also said in its February 4 statement that it hired "Lazard as its financial advisor and Kirkland & Ellis LLP as its legal advisor" in order to help the company with its strategic review process.
All considered, things look bad for unitholders, and Wednesday's surge in Linn's unit price doesn't make a difference. The company has substantial financial debt sitting on its balance sheet, which has become so much of a burden that a debt restructuring is the only way for Linn Energy to deal with the fallout from the energy price crisis.
Well, frankly, that's not entirely true. A company teetering on the brink of failure always retains the option to sell off assets in a last ditch effort to shore up its balance sheet, but that option does not have a lot of value at this point in the oil cycle. WTI crude oil for March 2016 delivery sells for just about ~$31/barrel... what oil company would want to buy production assets at such a low price?
Dead Cat Bounce?
Linn Energy's units have been clobbered last week, and crashed to a new all-time low of $0.31 on February 8, 2016, shortly after the company made its restructuring statement. The low unit price reflects investors' concerns that the company will file for Chapter 11 in the next couple of months.
Yesterday, however, Linn Energy's units suddenly popped ~86%, and closed at $0.68.
So, did anything change? Did good news come in?
No. Yesterday's surging price was not due to a change in Linn Energy's bankruptcy odds, or due to a dramatic increase in energy prices... it was rather a typical dead cat bounce you see often in stocks/units that are 'in play' for speculators trying to make a quick buck. Linn Energy is NOT a turnaround play, but only a hot spec at this point in time.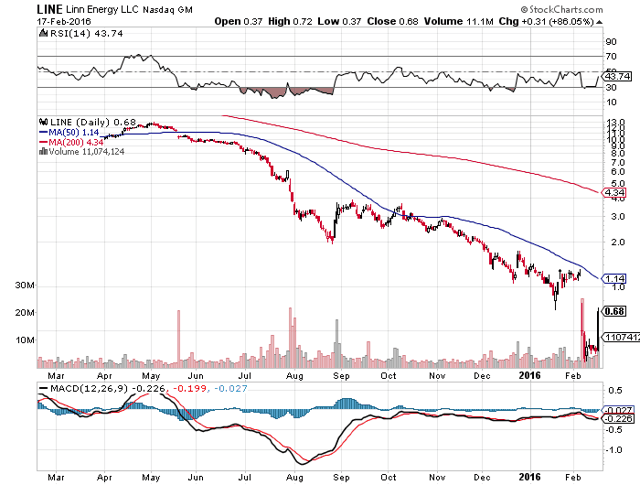 Source: StockCharts.com
Your Takeaway
Linn Energy was a big disappointment, and I think many investors feel the same way. The speed with which things took a turn for the worse for Linn Energy was breathtaking, but there is little a company can do when it finds that the market has turned its back on them. Linn Energy's surge yesterday has nothing to do with its debt situation, or the fundamentals in the oil patch for that matter. Rather, speculation is running wild in anticipation of a near-term Chapter 11 filing.
Disclosure: I am/we are long LINE.
I wrote this article myself, and it expresses my own opinions. I am not receiving compensation for it (other than from Seeking Alpha). I have no business relationship with any company whose stock is mentioned in this article.
Editor's Note: This article covers one or more stocks trading at less than $1 per share and/or with less than a $100 million market cap. Please be aware of the risks associated with these stocks.