OneMain Holdings (NYSE:OMF), formerly SpringLeaf, has been absolutely pounded in the last couple of months. We all know that financials of all stripes have been hammered but OMF has been a real poster child for what can happen when investors lose faith in a sector. OMF's recent purchase of the legacy OneMain business from Citi last year (causing the name change) is a huge catalyst for the company and with credit metrics improving - not the other way around - investors are missing the point on what has become an unbelievably cheap stock. With earnings set to come out next week, I think right now is a terrific buying opportunity.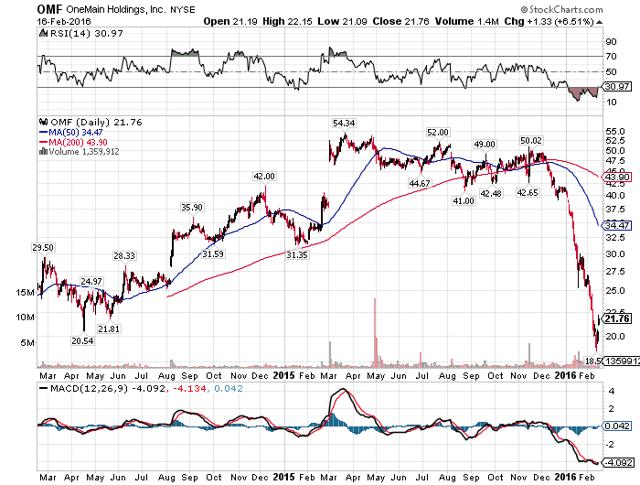 OMF's model of lending primarily to subprime customers is one with a toxic connotation. After all, the financial crisis was caused in no small part by lending to this kind of customer. The yields are high but so is risk (of course) and so when credit conditions deteriorated earlier this year after the Fed's rate hike, OMF was unsurprisingly sold off. However, the sheer magnitude of the selloff is almost laughable as OMF is being priced like its balance sheet is almost worthless and that the merged entity it just created is going to fail. Given the strength in the merged business and the fact that OMF's metrics continue to get better, I simply can't chalk up the recent declines to anything but unbridled panic.
The combined entity now has a branch within 25 miles of 87% of the U.S. population, something that no bank can claim. That's an incredible amount of reach and given the kind of lending that OMF does, its branch network is absolutely critical to its success. The kind of customer that OMF serves is one that uses physical branches and while a push to online lending should help some, I believe the branch network is critical for OMF and that it is a source of strength rather than a source of unnecessary costs like it is for a lot of banks. Its scope is outstanding and the branches are well placed if OMF can reach 7 out of 8 people in this country with a 30-minute drive.
In addition, OMF lends to the segment of the market that is living paycheck-to-paycheck, a characteristic that has led directly to its immense decline in the past couple of months. However, this segment is largely underrepresented in the traditional banking model as management of risk is paramount when the regulators are watching every move. The last few years have seen big banks eschew high risk, high reward lending in favor of holding excess deposits at the Fed and lending to very high quality customers. There's nothing inherently wrong with that but it leaves a huge population of potential customers untapped and that is where OMF makes its money. The fact that these customers will always exist but also that they are largely ignored by larger banks means OMF's potential market will only continue to grow.
In addition, credit metrics continue to strengthen as OMF moves slightly up the credit ladder. Indeed, after Q3 we learned that charge offs fell to juts 4.3% and while that number would be catastrophic for a traditional bank, it is quite manageable for OMF. The company's portfolio yield is still in excess of 25% so losses of under 5% are a small price to pay. This is what investors don't understand about OMF; even if an enormous toll were to be taken on OMF's portfolio with, let's say, double the current level of losses, OMF is still enormously profitable. It would take a gargantuan increase in defaults for OMF to warrant trading for the level it currently is and I just don't see that happening. Employment is at ~95% and while the economy isn't growing particularly quickly, we aren't in a recession either. But OMF shares are trading like we are and that is the opportunity.
With OMF trading at just four times its 2016 estimated earnings, there really aren't enough superlatives to properly convey just how cheap it is. OMF is not going out of business and in fact, as I said, its credit metrics are getting better, not worse, and to boot, it isn't even sacrificing its portfolio's yield. It should double its revenue this year as the merger is anniversaried and it is slated to earn $5.37 against a current share price of just $21.76.
Even if we see an uptick in the company's charge offs the stock price is building in catastrophic losses that simply have no evidence of occurring. And as I said, the pieces are not in place for such losses to accrue such as high unemployment and/or a recession. When OMF reports earnings next week I think it will assuage investor fears and the stock will move up in concert because I don't think there is any reasonable thing OMF could say that could make the current situation any worse. All OMF has to do is reiterate its guidance for 2016 or even just get close and the stock should move a lot higher. At 4 times this year's earnings the bar is very low for OMF to step over so I'm putting new money to work here; OMF is simply too cheap.
Disclosure: I am/we are long OMF.
I wrote this article myself, and it expresses my own opinions. I am not receiving compensation for it (other than from Seeking Alpha). I have no business relationship with any company whose stock is mentioned in this article.