Introduction
Here at Forward View, we're big believers in the value of international diversification. The U.S. stock market is an incredible financial market, but there is no reason to limit your investments to a single country's businesses. Global diversification has historically lowered portfolio risk and enhanced total return. Even though markets are becoming more interrwined than ever, investors will still benefit from spreading their bets around the globe. That's why our list of mutual fund picks wouldn't be complete without some international flavor!
Forward View is also committed to developing financial research offerings that improve the reputation of finance as a whole. We think our business should be a positive force in the world, and Forward View is dedicated to maintaining our Christian foundation. Call us naive, but we won't stop working to make finance work for everybody, not just a few Wall Street executives. As part of our interest in socially-responsible companies, we're also happy to present one fund that meets all of our expectations for ethical investments. Without any further adieu, we present our final three suggested funds!
Guinness Atkinson Global Innovators No Load Fund (IWIRX)
"Innovation is more than a buzz word. Individuals, companies and nations innovate daily to solve real problems and improve peoples' lives throughout the world."

- Dr. Ian Mortimer, Fund Manager
The Global Innovators Fund is based on a unique strategy with no direct competitors. The management team is heavily invested in the fund, a fact that gives us comfort. There is nothing like putting your own money on the line to demonstrate confidence in your investment philosophy. When considering this fund, it's important to understand that innovation isn't synonomous with technology. Thus, the Global Innovators Fund's value-oriented analysts don't just focus on IT companies. Instead, they look for cutting-edge thinking across multiple sectors. The fund's equally weighted positions keep management from allocating too much capital to a single stock, thus providing a good approach to risk management.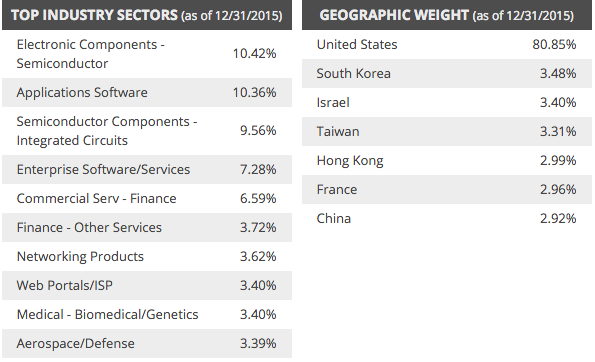 (Data from Guiness Atkinson)
While the Global Innovators Fund hasn't had a good year thus far, we're bullish on its long-term success. The reasonable 1.24% expense ratio, low turnover and global reach give us good reasons to suggest this investment opportunity. We believe Guinness Atkinson is a company you need to know!
Oberweis International Opportunities Fund (OBIOX)
The Oberweis International Opportunities Fund is our favorite core holding for the overseas portion of your portfolio. Forward View believes that this is a great selection for the long-term, and we're happy to present this fund to you. The Oberweis International Opportunities Fund utilizes hefty quantitative analysis and a bottom-up research methodology to uncover mispriced securities around the world. As you can see below, this fund has a long history of generating alpha: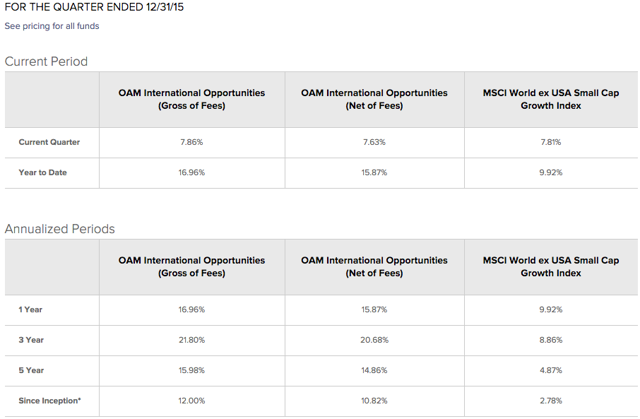 (Data from Oberweis)
We typically wouldn't recommend buying a fund with a 1.60% expense ratio and 212% turnover, but we'll make an exception for such impressive returns. The Oberweis International Opportunities Fund is also surprisingly tax-efficient, and the fund's manager actively works to minimize capital gain distributions. Such a focus on taxes is rare for a high-performing international fund and represents one more reason to select this investment opportunity.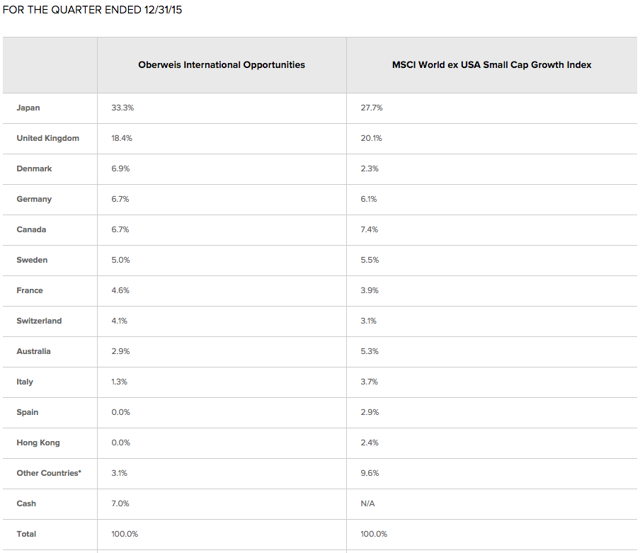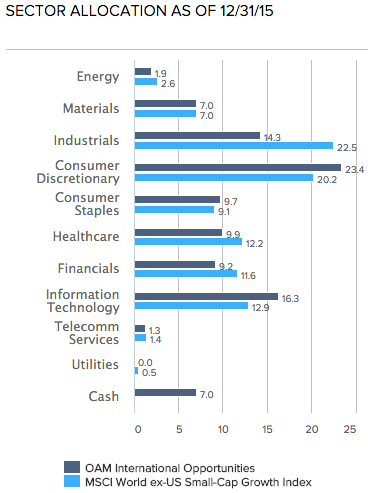 (Data and chart from Oberweis)
Eventide Gilead Fund N (ETGLX)
We're wrapping up our mutual fund recommendations with the Eventide Gilead Fund, our top socially-responsible investment pick. In our opinion, the fund's Class N shares are the best for non-institutional investors. No matter which class of shares you choose, you're putting your money in the hands of a physician/chemist/statistician/engineer (Dr. Finny Kuruvilla) and a software and mathematics expert (David Barksdale). These two co-managers also believe in selecting the stocks of companies that make society better. By taking a holistic and biblical view of business, this fund seeks to empower and invest in firms that build financial, social and spiritual capital on Earth.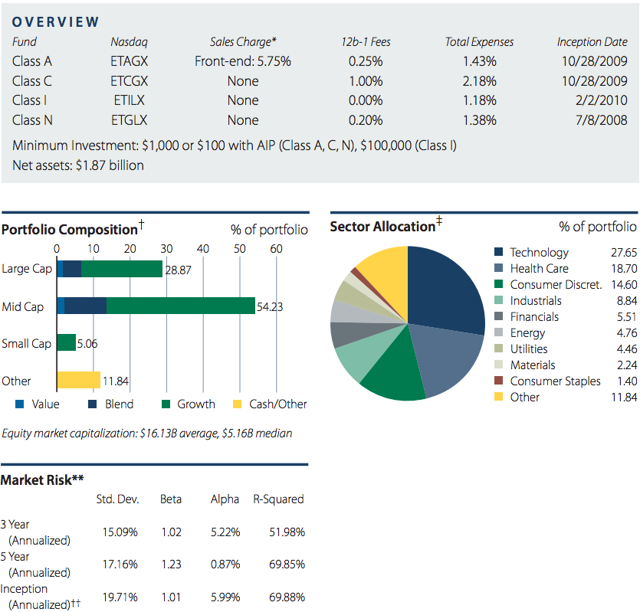 (Data and charts from Eventide)
No closet benchmark-hugging will occur here. The Gilead Fund will have a healthcare and biotech bent, but it'll never fit in a style box. The fund's managers prefer companies with high R&D because they believe that research is an asset, not a liability. Volatility will be present since the Gilead Fund has no problem with investments in pre-profitability companies. Turnover, however, in relatively low because the fund maintains a long-term horizon. Time is often required for the management team's bets to pay off, but they typically do, as seen in the charts below. (The Eventide email newsletter provides great perspective on how the company blends business with Christian social awareness.)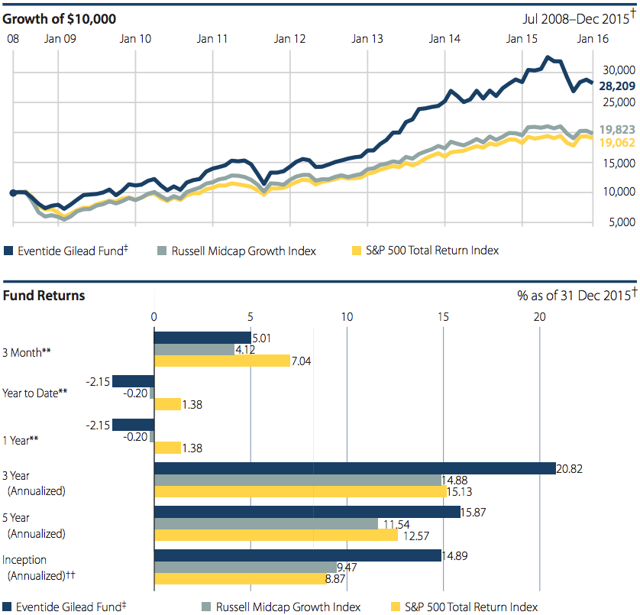 (Data and charts from Eventide)
Summary
In closing, we hope you have enjoyed our six mutual fund recommendations. (You can read about the first three here.) Most importantly, we hope you profit from our research! If you have enjoyed this article, please subscribe to our premium service here on Seeking Alpha. We believe that our regular equity recommendations will deliver additional alpha for your portfolio. Thank you in advance for considering our offer.
Disclosure: I/we have no positions in any stocks mentioned, and no plans to initiate any positions within the next 72 hours.
I wrote this article myself, and it expresses my own opinions. I am not receiving compensation for it (other than from Seeking Alpha). I have no business relationship with any company whose stock is mentioned in this article.