I love the paints and coatings industry, where investors can find terrific opportunities. Tops on my list is PPG (NYSE:PPG), which I do recommend to Seeking Alpha followers. Second is the less pricey — and thriving in obscurity — RPM International (NYSE:RPM). RPM is growth-oriented, diversified, and true to its core businesses and mission statement.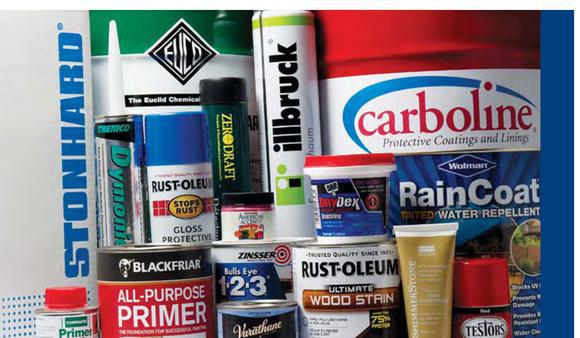 RPM is a smaller, more compact company than others in the paints and coatings industry. It ranks number six among the world's top ten brands. Here are some basics about RPM:
RPM International Inc.'s market cap is $5.1B, and the company comprises some well-known and respected brands, primarily high-performance maintenance and improvement applications, sealants, and specialty chemicals, including edible coatings. According to RPM, the industrial products segment is 52.7%, the consumer segment is 31.6%, and specialties are 16.1%.
RPM employs approximately 13,000 people, manufacturing in 116 facilities in 26 countries, and selling into some 170 countries and territories.
Fiscal 2015 sales were $4.6 billion, with 70 percent of sales generated in North America, 20% in Europe, and less than 3% in Asia.
RPM's stock price is about $38 per share, down from a 52-week high topping $51. PE is 21.60 with a forward PE estimated at 13.9. The dividend yield is 2.86%, extending 42 consecutive annual cash dividend payouts and increases.
Second-quarter earnings per share, reported in January, were 62 cents (up about 20% Y/Y), beating estimates by five cents on revenues over $1.16b (+8.4% Y/Y). Net income rocketed nearly 18% to $128m this past quarter compared to the same quarter a year ago.
RPM's ten years total return bests the S&P by 86%, outperforming larger multinational paint companies.
The story behind the numbers is just as impressive to those familiar with the industry. RPM is fulfilling its five years strategic growth plan (SGP) through selective acquisitions complementing brands in RPM's market segments. It is religiously sticking to its SGP throughout the economic downturn, focusing on internal growth through research, innovation, and brand marketing:
Consumer products No. 1 in brand recognition and/or market share: Rust-Oleum rust preventative paints, Dap caulks and sealants, Varathane wood stains and repair products, and Zinsser specialty primers, sealers, and wall covering paste and sundries.
Industrial brands including No. 1 Tremco sealants, Stonehard flooring systems, and Carboline high-performance coatings.
Specialty No. 1 brands include Day-Glo fluorescent paints, Dryvit exterior insulation and finishing systems, Mohawk touch-up wood refinishing supplies for furniture and cabinetry, and Mantrose-Hauser products and technologies for the pharmaceutical, supplements, confectionery, food packaging, industrial and construction, cosmetics and personal care, and fresh produce industries.
Investors and analysts give no quarter to "bankruptcy," and RPM might still suffer from stock price lethargy today because of past problems. Bondex, an RPM brand name company, was placed in Chapter 11 bankruptcy more than a half-decade ago to better manage lawsuits filed by people exposed to asbestos who developed mesothelioma. RPM generated $500,000 a year in profits from the line, but was saddled with a $1b burden, despite no illnesses proven to be caused by Bondex plasters. Asbestos-related class action suits and resulting payouts have not been uncommon in the construction materials industry as far back as the 1960s (e.g., USG (NYSE:USG).
RPM is using cash from operations and set-asides to cover the claims. I agree with a Seeking Alpha colleague observing, "RPM does the right and ethical thing…investing in companies is more than caring about just the bottom line." I teach business management and marketing to international university students, and RPM is a model for lessons on sustainability and corporate responsibility-the kind of company ethically responsible investors seek out.
Nevertheless, RPM has enough cash to share a generous dividend yield with investors and continue acquisitions in the company wheelhouse. RPM announced on February 11, 2016 purchase by subsidiary Mantrose-Hauser of the $7m in sales Holton Food Products Co. It supplies food stabilizers and dry egg white products.
The action gives RPM entrée into the bakery industry, which enjoys near $40b annual sales. Consumers are looking for more items like fortified breads, gluten-free, sprouted and organic sweets.
The synergy as part of the SGP within RPM is the commitment to research and development of "green" solutions and the crosscurrent of technologies between coatings for edibles, cosmetics, and construction materials like organic confectionery polishes, anti-stick coatings. Shellac coatings, primarily thought of for use on wood and sealants for fire damage, are also used by the food, pharmaceutical and cosmetics industries (after carcinogens are removed).
Warren Buffett advises small investors to buy companies whose products you actually like to eat or use. He likes hamburgers and Coke, so he bought a burger chain. RPM offers a selection of popular consumer goods carried in every home center, hardware chain, and independent paint stores. There is the kind of innovative thinking that warrants a close look by long-term and dividend-minded investors. At the current stock price it appears to be a bargain.
Disclosure: I/we have no positions in any stocks mentioned, and no plans to initiate any positions within the next 72 hours.
I wrote this article myself, and it expresses my own opinions. I am not receiving compensation for it (other than from Seeking Alpha). I have no business relationship with any company whose stock is mentioned in this article.