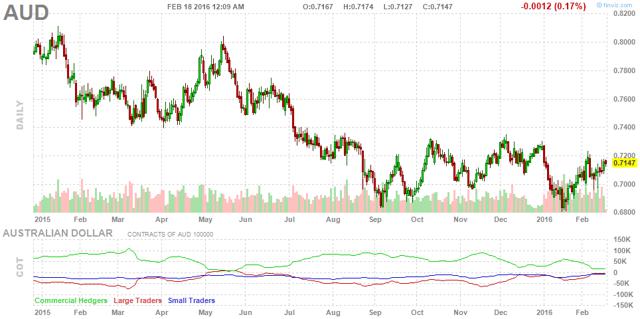 Sourced from Finviz.com
In the three weeks since we last spoke about the Australian dollar the Aussie has held on tightly to 71 U.S. cents. During this time we have been quietly topping up on our short position awaiting the inevitable decline. The decline is incredibly overdue in our opinion but, with central banks continuing to hold fire, it is somewhat understandable. However, just today Tim Toohey, chief economist of Goldman Sachs in Australia, put out a note explaining how the Reserve Bank of Australia will have to cut rates twice in 2016. March seems to be out of the question as far as the market is concerned, and admittedly as we get closer to it, the less likely it is appearing. Shown on the chart below you can see how the expectations of an interest rate cut has gone from a 27 percent chance, to just a 12 percent chance as of yesterday.

For a long time we have hoped March would be the month for a rate cut, as we would love to see the Reserve Bank take the initiative as Australian inflation is tepid at best and unlikely to hit the 2 percent target. Perhaps the lack of success from the Bank of Japan's NIRP has concerned the RBA board, but we feel economic situations acted against the BoJ and expect the yen to start depreciating as markets calm.
Toohey argues that rates will be cut twice in 2016.
So, going back to Goldman. The arguments that Toohey has put forward to support his two rate cuts case make complete sense to us. He believes that as more central banks cut rates and head into NIRP territory, Australia will be left vulnerable to a higher exchange rate and tighter financial conditions if it doesn't cut rates too. Especially if Yellen and the Federal Reserve don't end up raising U.S. rates in 2016. Incidentally, we still feel the Fed will raise rates twice in 2016. Toohey has also referenced Goldman's Financial Conditions Index, the supposed true measure of monetary tightness in any given economy, which shows Australia is exhibiting high levels of tightening that have taken the index to levels far above where they were when the Reserve Bank has previously cut interest rates. This could be a clear sign of imminent rate cuts in our opinion. We're not truly convinced by the inflation figures we have been given. As many others have mentioned, there is a lot of externally priced items which are propping it up. Take them away and there's little to get excited about. This leads on to his third point, which is that inflation will not hit the 2 percent target during the first half of this year if things stay the same way.
Finally, and perhaps most importantly, Toohey believes that job growth has been vastly overstated, and was quoted saying "approximately half of the employment over the past year is questionable." Now that is a very bold statement, but does come on the back of data released today showing Australian unemployment rose to 6 percent. This certainly came from left field, with economists expecting it to stay steady at 5.8 percent, not rise to a four-month high as shown on the chart below. So there could be some truth in his statement after all.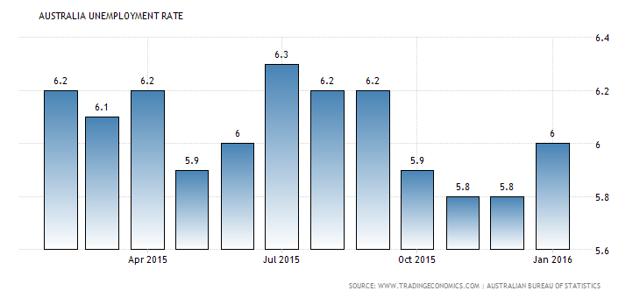 We feel these points support our bear case on the Australian dollar. We cannot help but feel that were the RBA not to act soon, the Australian dollar could break out of its current trend and head upwards. This would be the last thing the RBA would want to happen, putting a lot of pressure on the economy.
We continue to quietly top up our short position.
As we mentioned at the top, we have been quietly increasing our position when the Australian dollar rises against the U.S. dollar, as we feel the probability of the Australian dollar going at least sub-69 U.S. cents this year is very high. We do our trading through futures contracts, but feel investors can get similar results by shorting the Australian dollar with the CurrencyShares Australian Dollar Trust (NYSEARCA:FXA), or even the ProShares UltraShort Australian Dollar (NYSEARCA:CROC). CROC shorts the Australian dollar, but with 2x leverage for double the gains, or double the losses please remember.
Our target of 66 U.S. cents for the Aussie dollar by June 2016 still remains. We feel certain that between now and June either the Reserve Bank of Australia or the Federal Reserve will have acted, perhaps even both will have. This translates as a 7.6 percent decline from the current trading level making for a very profitable trade.
Best of luck with all your trades!
Disclosure: I/we have no positions in any stocks mentioned, and no plans to initiate any positions within the next 72 hours.
I wrote this article myself, and it expresses my own opinions. I am not receiving compensation for it (other than from Seeking Alpha). I have no business relationship with any company whose stock is mentioned in this article.
Additional disclosure: Short Australian dollar versus U.S. dollar through futures contracts.