Prescience Point has been following "growth story" retailer ULTA Salon, Cosmetics & Fragrance, Inc. (NASDAQ:ULTA) passively for a number of years now. It piqued our interest during the 2012–2013 time frame, when a plethora of red flags surfaced potentially signaling slowing demand and/or market saturation:
The trend in SSS began deteriorating in Q1'12 and declined rapidly into 2013.
In FY'13, ULTA changed its definition of SSS to include e-commerce sales (which benefits headline SSS).
Inventory levels appeared unmanageable, growing in excess of guidance and of forward quarter sales growth.
DSI was steadily moving higher.
Unusual string of executive-level turnover:

2 CFO resignations in 2012:

3/8/12: Gregg Bodnar resigns after serving for 6 years.
10/18/12: Bruce Hartman, who was appointed CFO after an extensive search, resigns after serving for 6 weeks.

2/14/13: CEO Chuck Rubin resigns after serving for 2.5 years.
It was particularly interesting that on 6/6/2012, ULTA inexplicably increased its store count guidance from 1000 stores to 1200 stores, a move having clear valuation implications. The move was concerning:
Why would ULTA up its store count guidance as the business showed signs of deterioration?
The increase seemed very premature –> ULTA was only 47% penetrated on its initial guidance for 1000 potential stores (467 stores at Q1'12)
It was also troubling that, by our estimate, insiders sold ~$60m worth of stock between 6/8/2012 and 10/5/2012, in the period following the announcement, and preceding further reported deterioration in 2013. Despite the aforementioned red flags, ULTA's stock has doubled since the end of 2013 and currently trades at ~30x NTM P/E. Paradoxically, the market cap/store has increased nearly 4x since 2010 and is currently close to all-time highs, even though the company will be 97% saturated by FYE'16 (based on the Company's initial guidance).
We believe that ULTA's time as a "growth story" is over; the chain is at saturation right now. Similar to our prior work on multibillion-dollar companies Chicago Bridge & Iron (NYSE:CBI) and LKQ Corp. (NASDAQ:LKQ), Prescience Point has uncovered an empire-building case fueling value-destructive growth at the expense of long-term shareholders. Moreover, we believe ULTA was aware of its saturation problems when it increased store potential to 1,200 in 2012 and accelerated store openings to mask weak underlying performance. This burst of new store openings has produced a transitory "demographic dividend" from newer stores ramping up their comparable store sales.
As a part of our investigation, we commissioned an independent research organization to quantitatively analyze ULTA's entire 860-store base including geographic analysis with census data overlay. The results are staggering; stores located within five miles of each other tripled from 2012 to 2015 (now more than 10% of stores), stores were increasingly opened in areas where more than 50% of the population had incomes below ULTA's target customer, and store-level gross margins have been weakening.
Prescience Point sees a saturated store base that is undergoing cannibalization. In addition, transitory items including the "demographic dividend" will soon be cut short, as these stores will never reach the current mature store economics. Lastly, reported same-store sales have been driven by traffic (transaction count) rather than average ticket (dollar value of average transaction). Consequently, we believe this trend suggests higher transaction volume is the result of increased new store openings and weaker average ticket is the result of opening in lower quality locations.
From a working capital standpoint, inventory has continued to increase at a faster rate than revenue growth – a trend we believe will pressure Company margins. Moreover, ULTA has an unusual accounting policy whereby it capitalizes purchasing costs to inventory. We believe capitalizing purchasing costs overstates margins as inventory levels build.
What would drive a management team to over-build? Incentivization: management is compensated solely on "adjusted EBT"; there are no considerations given to other metrics (i.e. ROIC). Accordingly, management has been collecting large paychecks for aggressively expanding the store base. However, the executives hold very little ULTA stock and are not heavily impacted by the quality of the stores opened.
We believe Wall Street wants investors to focus on sales growth, while hoping margin expansion follows suit. Prescience Point believes that with this new data now made available publicly, ULTA will re-rate substantially down to its "true" low multiple competitive set. Based on our analysis: 1.) ULTA is about to hit a brick wall of revenue shortfalls due to saturation/cannibalization and slowing same-store sales, while at the same time face margin pressure from excess inventory, and 2.) ULTA stock is worth ~$88, 45% below current trading levels.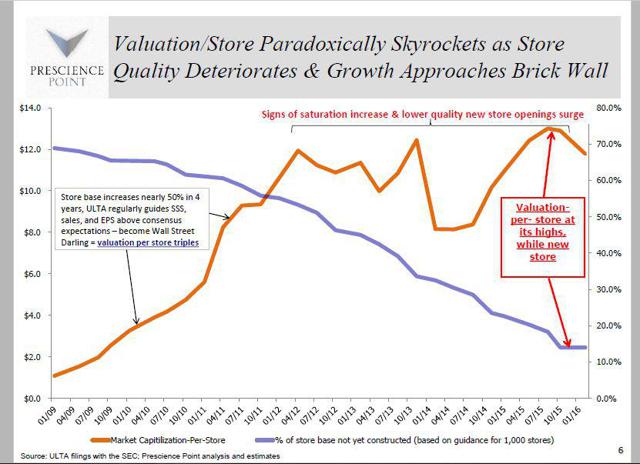 Prescience Point Believes ULTA Salon, Cosmetics & Fragrance, Inc. ("ULTA" or "the Company"):
Trades at NTM P/E of ~30x.
Is grossly overvalued (huge divergence in stock price vs. underlying performance).
"Retail growth story" categorization creates substantial downside risk.
Store base has hit saturation point.
Store quality has deteriorated dramatically.
New stores are cannibalizing existing stores.
Same-store sales (SSS) are at an inflection point (set to fall off a cliff).
Inventory growth & unusual inventory accounting policy unsustainability boosted margin.
Unusual management compensation creates incentives for empire building/value-destructive growth.

Source: Prescience Point analysis and estimates
Report Highlights
Prescience Point's analysis of ULTA's geography, census data, & financial reports demonstrate:
ULTA cannot achieve its increased guidance target of 1,200 stores without severe deterioration in store-level economics.
Store base is already saturated:

In less than 12 months, store base will be 97.4% saturated based on initial guidance.
Store level economics set to rollover dramatically.

ULTA's new store openings are getting closer and closer to existing stores:

Despite ULTA's representations that customers are willing to travel, stores have been opened right next to each other.
New stores' distance from existing stores has shrunk by more than 50% since 2010.
Stores within 5 miles of each other increased 3x in the last 3 years (~10% of store base).

Increased store openings in zip codes with average household incomes below ULTA's own stated target of "over $60,000."
Prescience Point believes ULTA's "headline" SSS are at an inflection point, and set to plunge:
SSS have been unsustainably boosted by (1) new store ramp and (2) inclusion of E-Commerce revenue.
Trend will reverse in the near future as the store base is rapidly maturing.
Declining store level gross margin and SSS "internals" indicate ongoing cannibalization.
E-Commerce and "small store" pilot program will not be saviors:
"Small store" pilot program is inconsistent with Company's differentiation strategy.
Indicates ULTA is aware of the saturation problem.
E-Commerce margins will be pressured by larger competitors.
E-Commerce cannibalizes store traffic.
ULTA's Balance Sheet is flashing warning signs:
Inventory has been growing faster than sales for almost 4 years.
ULTA has a highly unusual inventory accounting policy: capitalization of purchasing costs.

Not a policy for ~18 direct public competitors.
Could be used for assigning period SG&A costs and boosting margins.
Could be a factor in the observed rampant inventory growth.

If elevated inventory levels are rationalized due to slower comp sales (which we fully expect), ULTA will be faced with both revenue and margin shortfalls.
ULTA has an unusual management compensation structure:
ULTA removed ROIC metric for compensation targets (eliminated ONLY consideration of store level profitability and efficiency).
Management now compensated solely on adjusted earnings before taxes.

Compensation target SOLELY incentivizes absolute growth.
ULTA has responded with an aggressive store roll-out (including many poor quality stores in recent periods) to achieve these compensation targets.

Current management team has extremely low ownership interest.

Long-term health of business is not a primary concern given lower ownership.
ULTA's "growth story" valuation is unforgiving:
Trades at NTM P/E of ~30x.
Based on our analysis, ULTA stock is worth ~$88 per share, ~45% below current trading levels.
Read the rest of the report here.
Disclosure: Short ULTA.
Disclaimer: This research report expresses our research opinions, which we have based upon certain facts, all of which are based upon publicly available information, and all of which are set out in this research report. Any investment involves substantial risks, including complete loss of capital. Any forecasts or estimates are for illustrative purpose only and should not be taken as limitations of the maximum possible loss or gain. Any information contained in this report may include forward looking statements, expectations, and projections.
You should assume these types of statements, expectations, and projections may turn out to be incorrect for reasons beyond Prescience Point LLC's control. This is not investment advice nor should it be construed as such. Use of Prescience Point LLC's research is at your own risk. You should do your own research and due diligence before making any investment decision with respect to securities covered herein. You should assume that as of the publication date of any report or letter, Prescience Point LLC (possibly along with or through our members, partners, affiliates, employees, and/or consultants) along with our clients and/or investors has a short position in all stocks (and/or are long puts/short call options of the stock) covered herein, including without limitation ULTA Salon, Cosmetics & Fragrance, Inc. ("ULTA"), and therefore stands to realize significant gains in the event that the price of its stock declines. Following publication of any report or letter, we intend to continue transacting in the securities covered therein, and we may be long, short, or neutral at any time hereafter regardless of our initial recommendation.
This is not an offer to sell or a solicitation of an offer to buy any security, nor shall any security be offered or sold to any person, in any jurisdiction in which such offer would be unlawful under the securities laws of such jurisdiction. Prescience Point LLC is not registered as an investment advisor. To the best of our ability and belief, as of the date hereof, all information contained herein is accurate and reliable and does not omit to state material facts necessary to make the statements herein not misleading, and all information has been obtained from public sources we believe to be accurate and reliable, and who are not insiders or connected persons of the stock covered herein or who may otherwise owe any fiduciary duty or duty of confidentiality to the issuer, or to any other person or entity that was breached by the transmission of information to Prescience Point LLC.
However, Prescience Point LLC recognizes that there may be non-public information in the possession of ULTA Salon, Cosmetics & Fragrance, Inc. or other insiders of ULTA Salon, Cosmetics & Fragrance, Inc. that has not been publicly disclosed by ULTA Salon, Cosmetics & Fragrance, Inc. Therefore, such information contained herein is presented "as is," without warranty of any kind – whether express or implied. Prescience Point LLC makes no other representations, express or implied, as to the accuracy, timeliness, or completeness of any such information or with regard to the results to be obtained from its use.