A few days ago, I wrote an article about Jim Cramer's regional bank picks, which he published in his 2009 book, Getting Back To Even.
Those banks didn't do so well since Cramer issued those recommendations, so I thought I'd look to see if I could find any regional banks that not only survived the financial crisis, but actually thrived.
I set some pretty strict criteria:
Current dividend yield of at least 3%
A history of raising dividends even through the financial crisis
Current share price higher than in January 2008
Generally stable or rising earnings
I used the screener at YCharts.com and didn't find too many candidates. And although I screened for regional banks throughout the country, 3 of my 4 picks happen to be located in New York (with one in Virginia).
I suppose there are regional banks in the rest of the country that are doing well, but these 4 banks met my criteria and have an outstanding record of not only surviving the financial crisis, but thriving, If you owned these banks, you might not even know there was a banking crisis.
So here are my 4 picks. For each, I show the dividend history, earnings history, and the value of a hypothetical $10,000 investment in each back in January 2008, compared to both the SPDR Regional Bank ETF (NYSEARCA:KRE) and the S&P 500 ETF (NYSEARCA:SPY).
Alliance Financial (NASDAQ:ALNC)
Current dividend yield: 4.10%
Market cap: $ 142 million
Price to book ratio: 1.01
This Syracuse, NY-based company operates in upstate New York, providing retail and commercial banking services through 29 offices in Cortland, Madison, Oneida, Onondaga, and Oswego counties. The dividend has been raised by nearly 30% since January 2008 - even though earnings growth has been a bit erratic.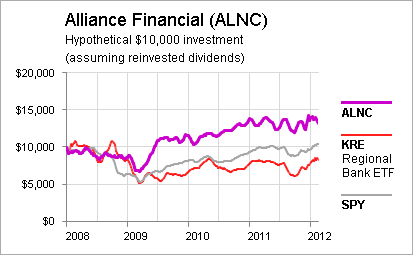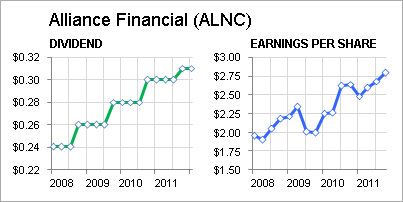 Community Bank System (NYSE:CBU)
Current dividend yield: 3.70%
Market cap: $1 billion
Price to book ratio: 1.34
Community Bank is based in DeWitt, NY (near Syracuse) and has about 170 branches and offices in upstate New York and northeastern Pennsylvania.
This stock has done quite well - up 47% since early 2008. With a dividend that's 23% higher since 2008, a $10,000 investment would now be worth about $17,500 if you reinvested dividends.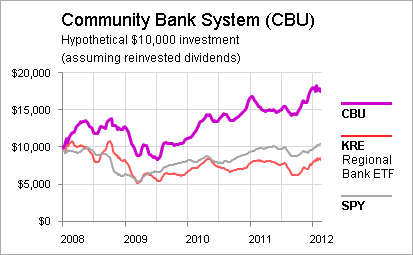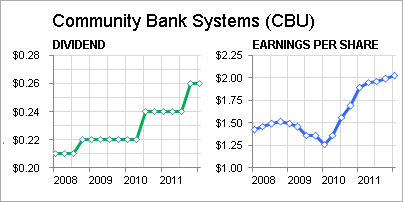 The First of Long Island (NASDAQ:FLIC)
Current dividend yield: 3.40%
Market cap: $237 million
Price to book ratio: 1.26
Obviously, this bank serves Long Island (and make note it's the first, not just any "first") and has few offices in Manhattan. I found this on the bank's website.
Strategically located and richly decorated, our commercial banking offices accommodate the distinctive needs of our business customers.
Do "richly decorated" offices benefit shareholders? I wouldn't have any complaints. A $10,000 investment would be up more than 50% since 2008 - and the dividend is 50% higher as well.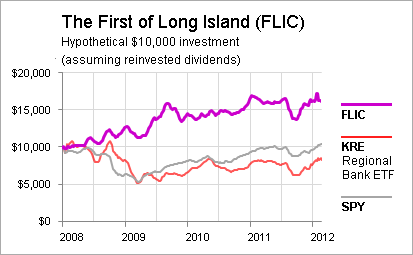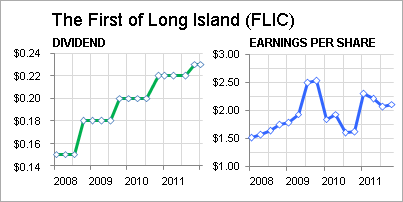 National Bankshares (NASDAQ:NKSH)
Current dividend yield: 3.90%
Market cap: $184 million
Price to book ratio: 1.30
This bank is based in Blacksburg, Virginia, which is located in the southwest part of the state near Roanoke.
The company is more than 100 years old. I'm not sure how long they've been paying dividends, but the payments have increased 33% since early 2008.
Note that this bank appears to pay its dividend semi-annually, not quarterly. I'm not wild about that, but you can't argue with the performance - even though the stock sold off a bit this month.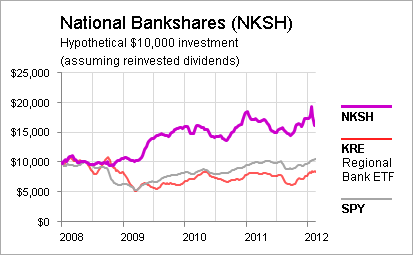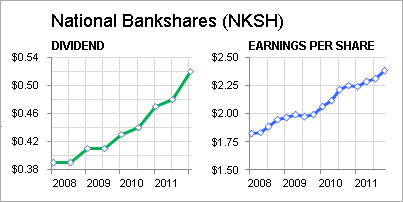 Remember, these are relatively small companies with fairly low market caps. But all of these banks did quite well throughout the biggest banking crisis in 50 years.
So consider taking a look at these if you want to add some excellent regional banks to your portfolio that pay a pretty decent yield.
Disclosure: I have no positions in any stocks mentioned, and no plans to initiate any positions within the next 72 hours.