By Charles Kaplan
This season can only be described as the winter of our discontent — at least when it comes to the stock market. One would be hard pressed to come up with any positive economic news. Fortunately, there is one sector that outshines them all in terms of improving fundamentals. Housing is the one bright spot in the economy that continues to improve. Much of our optimism is based on fundamental changes taking place in this sector. Foremost is the transfer of wealth from energy producers to energy consumers. Thankfully, most of this newly created wealth has not been squandered on frivolous excesses like expensive sports cars. A good part of this newly created wealth will find its way into the housing market supporting residential construction, DIY projects and home sales. Millennials, first time buyers, seniors and Gen-X's will be the main force driving this recovery into the next decade.
Masco Corporation (MAS- $25.82 2/16/2016) is well positioned to benefit from the recovery in housing. Company has emerged as one of the largest manufacturers' of home improvement and building products in North America with net sales of $7.1 billion in 2015. Company is an industry leader in the manufacture of faucets, cabinets, paints and windows, with plumbing products its largest business segment. Next time you visit your Home Depot (NYSE:HD) or Lowe's (NYSE:LOW) look for their products. More than likely, their products are found around your home. The company's products are broken down into four main segments: plumbing, generating $3.3 billion or 47% of total 2015 revenues, decorative coatings, mainly paints with $2 billion or 28% of total 2015 sales, cabinets, constituting $1 billion or 14% of 2015 sales and specialty products, with $.8 billion or 11% of total 2015 sales.
Its plumbing segment sells a wide range of faucets, bathing and showering devices that add to the value of your home. Any plumber would recognize its products sold under such iconic brands as Delta, Peerless, Hansgrohe, Brasstech, Ginger and Newport Brass to name a few. Brands you probably recognize if you had to fix a leaky faucet or pipe. Its plumbing products are sold to major retail accounts and to wholesalers and distributors' that sell to plumbers, contractors and small retailers. Through its plumbing segment, the company sells a line of spas under Hot Spring, Caldera and Freeflow brands. Masco makes a line of brass and copper plumbing components for DIY projects. Masco successfully competes with such giants as American Standard Brands, Kohler and Pfister Faucets.
To meet the needs of remodeling projects, Masco manufactures an extensive line of stock and semi-custom cabinetry for kitchen, bath, storage, home office applications. After several years of weak demand for its cabinetry products caused by a decline in big ticket remodeling and do it yourself projects, it now appears economic conditions are on the mend. After streamlining this segment, including installing a new management team, its performance exceeded expectations with more gains anticipated for 2016.
Through its decorative architectural products, the company produces a line of paints, primers and specialty paint products under the Behr, Behrpro and Kilz brands. Net sales of architectural coatings comprised 21% in 2014 and 2013 and approximately 20% of consolidated sales in 2012. Company competes with such well known brands as Benjamin Moore, Glidden, PPG (NYSE:PPG), Sherman Williams (NYSE:SHW) and Valspar (VAL). The Home Depot is the company's largest customer. Its loss would have negative consequences for the company's bottom line. Masco must remain on its toes making sure the folks at Home Depot are happy with the quality of its products, pricing, service and brand promotions.
Finally, the company's specialty products segment produces vinyl, fiberglass and aluminum windows and patio doors. A big part of its production is in the United Kingdom where competition is keen and keeping prices competitive is essential for maintaining market share.
From a fundamental standpoint, it appears after several years of disappointing results the company is now headed in the right direction. Net sales for 2015 rose 1.4% to $7.1 billion, up from $7 billion in the previous year. More impressively, adjusted EBITDA in 2015 climbed 15% to $1.054 billion up from $.91 billion in 2014. On a net sales YOY basis, plumbing products, cabinets, decorative coating and specialty products reported sales gains of 1%, 3%, 1% and 8% respectively. Broken down by segment, on a YOY basis, plumbing products reported a slight decline in adjusted EBITDA to $577 million from $580 million last year. Decorative coatings saw an increase in adjusted EBITDA to $419 million from $376 million in the prior year. While the cabinets segment reported the greatest gain in adjusted EBITDA to $75 million from $1 million in the prior year. A gain resulting from strong retail sales. Specialty products reported a 14% increase in adjusted EBITDA YOY.
On an adjusted operating profit basis- excluding discontinued operations - the greatest gains YOY was reported by the cabinets segment which saw its operating profit climb to $51 million up from a loss in 2014 the second biggest operating profits gain was reported by the decorative coatings which saw it operating profit climb to $403 million up from $360 million in 2014. Hopefully, these gains will continue into 2016 as the housing market strengthens. After adjusting for it's recently spun off- installation segment the company reported adjusted 2015 earnings of $1.19 per diluted share. Operating margins for 2015 rose 190 bps to 13%, with continued improvement projected for 2016 as additional cost efficiencies are introduced. Estimates for 2016 put earnings in a range of $1.48 to $1.52 per diluted share. Management plans to continue its share repurchase program with the additional purchase of $450 million of common shares planned for 2016. In addition, Masco anticipates to retire between $300-$500 million of debt in 2016.
On a comparative basis, the company's fundamentals remain planted in the relatively undervalued camp though all of its competitors are privately held. With a PEG ratio of .89 and an Enterprise Multiple of 9.72 times, Masco looks slightly undervalued. Its return on assets and return on equity of 8.98% and 66.78% rank it in the top tier of the space. The company's profit margin and operating margin of 4.97% and 12.97% are about par with the industry and should continue to improve as the housing recovery gains steam. The only concerns I have relate to the company's $3.42 billion debt load and sales to distributors on a non-cash basis. However, its $1.7 billion cash position and improving cash flow generation counter a degree of skepticism on my part. As long as conditions in the industry continue to brighten these numbers should become less worrisome. Especially, in light of its projected debt retirement plans for 2016.
Also, destocking is a factor to consider if housing conditions weaken. Another risk factor to consider is its two largest customers. The Home Depot accounting for 27% of consolidated sales and Lowe's accounting for almost 10% of consolidated sales could decide to look to other suppliers- a business risk that can never be ruled out.
In conclusion, there is a lot to like about Masco; it looks like a great housing recovery play. And the recovery looks like it could have long legs. However, the company is in a very competitive field and it must remain on top of the game if it is to continue to do business with the likes of The Home Depot and Lowe's. Being a low cost producer of home building products is one of the elements needed to keep it in the game. In a nutshell Masco cannot sit on its laurels in this field and must always work to become a more efficient producer of home building products. Also, I want to make it crystal clear, selling building products is a cutthroat business requiring a keen eye for innovation, competition, pricing and distribution. Masco is not immune to stock price volatility and uncertainty, nor business or financial risk - despite what your economics professor taught you in college. Furthermore, Masco's leverage is one factor you should consider before buying Masco. But for DIY investors who can stand a little risk, Masco might help in remodeling your portfolio.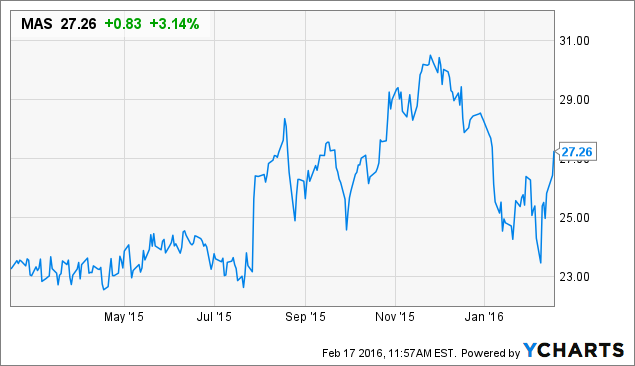 Disclosure: I/we have no positions in any stocks mentioned, and no plans to initiate any positions within the next 72 hours.
I wrote this article myself, and it expresses my own opinions. I am not receiving compensation for it (other than from Seeking Alpha). I have no business relationship with any company whose stock is mentioned in this article.