Caterpillar (NYSE:CAT) is the world leader in manufacturing of mining and construction equipment. It is also an important producer of diesel and natural gas engines, locomotives and industrial turbines. Although CAT is a big and strong company, it is vulnerable to current market conditions. Due to its significant exposure to falling commodity markets, it lost more than $25 billion of its market capitalisation over the last 18 months. Shares were trading for $110 back in summer of 2014, only to fall to the current $65 level.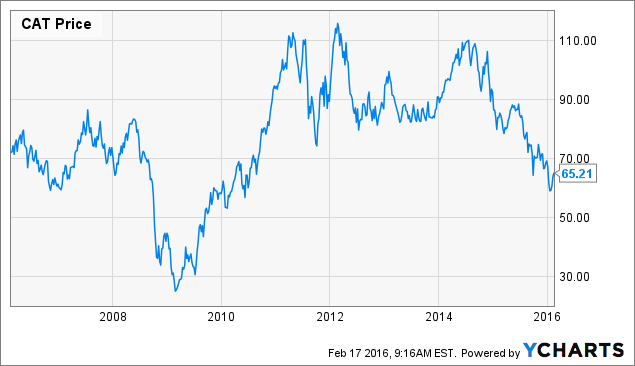 Last year wasn't good for Caterpillar. Revenues declined to $47 billion or 15% year over year. 2015 profit was only $2.102 billion, which represents a 43% decline y-o-y. Profit per share (excluding restructuring costs) declined to $4.64 or by 27% y-o-y. Moreover, in Q4 2015, a loss of $87 million was recorded. As shown in the chart below, which captures the after-tax profits of Caterpillar and Caterpillar Financial Services, 2015 financial results were worst since the crisis year of 2009. Although the worst part of the financial crisis occurred during the second half of 2008, CAT felt the most pain in 2009, with a lag of a couple of quarters. Excluding 2009, Caterpillar recorded the worst results since 2004. It clearly shows the company's profits are driven mainly by commodity prices. During the commodity bull market of 2003-2008, its profits were growing. It crashed hard in 2009, only to recover steeply along with the commodity prices during the 2010-2012 period. From 2013, commodity prices started to decline and Caterpillar's profits followed.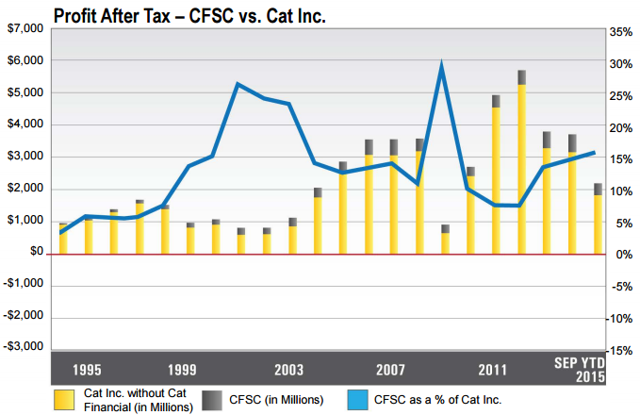 Since the beginning of 2015, the share price declined by 26.37%. It is approximately in line with the declines of platinum, copper and zinc prices (chart below). Although Caterpillar's share price did much worse than gold and silver prices, it did better compared to iron ore, nickel, WTI and natural gas prices. For comparison, the Dow Jones Industrial Average (DJIA) lost 9.18% and the Shanghai Stock Exchange Composite Index ("SSE") lost 12.31% over the same time period.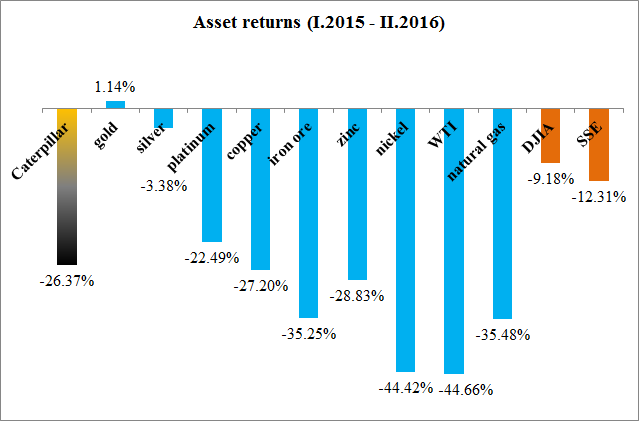 Source: Own processing, using data of stooq.com and quandl.com
During the time period from the beginning of January 2015 to February 16, 2016, Caterpillar was strongly correlated with WTI, copper and zinc prices (chart below). In all of the three cases, the correlation coefficient approached the 0.9 level, which means a very strong positive correlation. Correlation coefficient values over 0.75 could be seen also in the case of platinum, iron ore and nickel.
What is a little surprising, CAT was more correlated with DJIA than with SSE. Although it is an American company and it is even included in DJIA, commodity prices have been negatively affected by the Chinese economic woes during 2015, therefore a higher correlation between SSE and Caterpillar could be expected. Although this relation couldn't be seen over the whole 2015, taking into account only the second half of 2015, after SSE peaked and started to collapse, Caterpillar's share price is strongly correlated with SSE than with DJIA.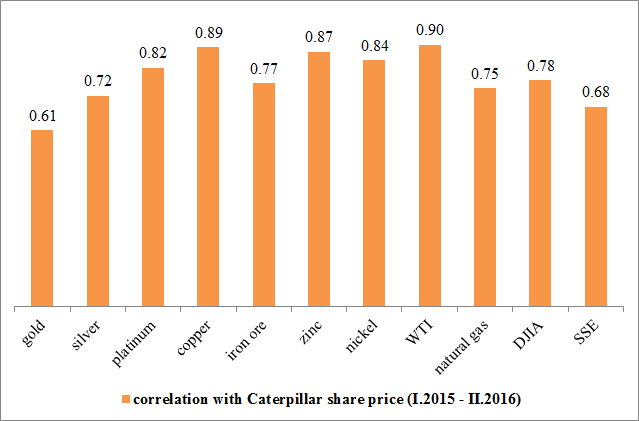 Source: Own processing, using data of stooq.com and quandl.com
Looking at the dynamics of the correlations between Caterpillar's share price and the prices of the major commodities (chart below), it is evident that the relation is highly unstable. Although there is a strong positive correlation over the longer time period, it is able to find some shorter time periods when particular commodities were uncorrelated or even negatively correlated with CAT. The chart of the 50-day moving correlations also shows that Caterpillar has been the strongest correlated with WTI and copper prices lately.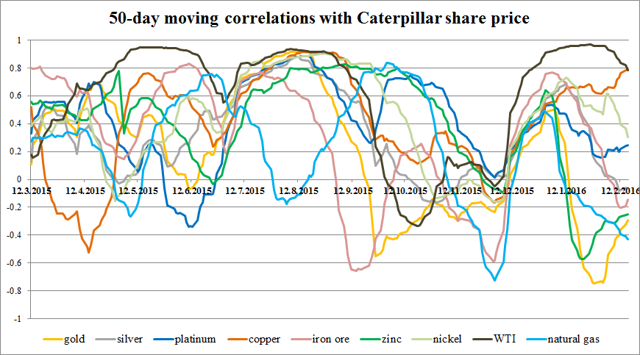 Source: Own processing, using data of stooq.com and quandl.com
The correlation between Caterpillar and DJIA (chart below) was more stable compared to the correlations between CAT and commodities. Also, the correlation between Caterpillar and SSE was relatively stable. During the late 2015 and early 2016, the company's share price was strongly correlated with DJIA as well as with SSE.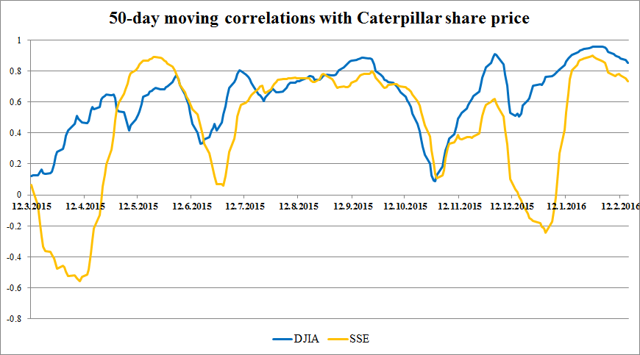 Source: Own processing, using data of stooq.com and quandl.com
As the commodity prices are still weak, Caterpillar expects further decline in its profits. The profit per share (excluding restructuring costs) should reach $4 in 2016, which represents a 14% decline compared to 2015. Even if the commodity prices start to recover, shareholders should expect that Caterpillar's financial results start to reflect it with a lag of a couple of quarters, as we could see back in 2008 and 2009. On the other hand, the share price will most probably react much sooner. As its 2015 behavior shows, investors should pay close attention especially to oil and copper prices.
Conclusion
Caterpillar is a strong company that has to face hard times. But it is important to realize that its woes are caused by external factors, namely by the commodity bear market. CAT's shares lost over 40% of value since summer 2014, but the worst may be finally over. The share price is strongly correlated with commodity prices, especially with oil, copper and zinc. All of the three commodities are close to their multi-year lows, the pace of their price decline decreased significantly and it is possible that we have seen the bottoms. At the current share price, Caterpillar has far more upside than downside, and it is an attractive investment opportunity for the long-term investors. As a cherry on the cake, it also offers a nice 4.6% dividend yield.
Disclosure: I/we have no positions in any stocks mentioned, and no plans to initiate any positions within the next 72 hours.
I wrote this article myself, and it expresses my own opinions. I am not receiving compensation for it (other than from Seeking Alpha). I have no business relationship with any company whose stock is mentioned in this article.
Additional disclosure: I am long silver, zinc and oil.