United Technologies (NYSE:UTX) is a company that offers strong shareholder returns, yet trades at a low valuation. The company's outlook for the current fiscal year and beyond is good. United Technologies' recent earnings results are good as well, with currency adjusted EPS growing yoy.
Cash generation and use
United Technologies produces large amounts of operating cash flows, totaling $6.3 billion over the last four quarters. With capital expenditures totaling $2.1 billion over the last four quarters this means the company has generated $4.2 billion in free cash flows over the last year. This means United Technologies has a price to free cash flow multiple of 17.1 right now (using the company's most recent market cap of $72 billion), which gives the company a free cash flow yield of 5.8 percent.
This is more than enough to cover the company's dividend ($0.64 per quarter for a yield of 3.0 percent), which totals $2.1 billion for the company's 837 million shares.
United Technologies thus has a $2.1 billion free cash flow surplus which the company does not need to fund its dividend or capital expenditures, and which thus can be used to buy back United Technologies' common stock, which has two major benefits:
A declining share count means that the company's earnings (and cash flows) are divided over a lower total number of outstanding shares, which means that each share's portion of the company's earnings and cash flows grows. This means that each share gets more valuable over the years, and since the company's earnings per share grow (in addition to fundamental net income growth for the company) the dividend can be raised at a higher pace.
Reducing the company's share count also means that the company safes cash since the total amount of dividends United Technologies has to pay keeps declining: Paying $2.56 per share a year for 837 million shares costs less money than paying $2.56 per share a year for 900 million shares. For each share United Technologies buys back the company has additional $2.56 a year which can be spent for other purposes (e.g. bigger dividend increases, more buybacks, acquisitions, etc.).
These benefits have led management to up share repurchases significantly over the last several months: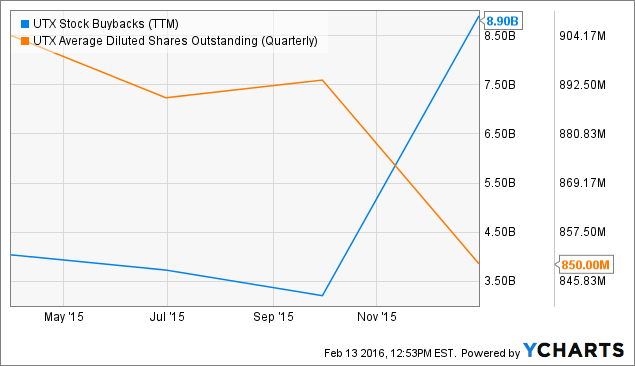 Over the last year United Technologies has bought back $8.9 billion of common stock, which lead to a six percent share count decline over the same time. These 55 million shares mean $140 million in dividends the company does not have to pay out in the coming years (not accounting for future dividend increases).
You may ask how United Technologies is able to buy back shares for almost $9.0 billion if the company's free cash flow totaled roughly $4 billion over the same time, the answer is pretty simple: The company used some of the cash reserves it had on its balance sheet, which makes a lot of sense since the buybacks took place in the fourth quarter (mainly), when United Technologies' share price was low in comparison to the prior two years (the cash partially came from United Technologies' Sikorsky sale to Lockheed Martin in 2015).
Additionally, United Technologies has taken on debt to fund its share repurchases. This isn't an accounting trick used to artificially boost the company's EPS, but a prudent capital allocation decision for the company: A couple of days ago United Technologies has taken on €2.2 billion (or roughly $2.5 billion) in debt which was priced at rates starting from 1.125 percent for the debt notes maturing in six years (the notes maturing in ten years have an interest rate of 1.875 percent).
Let's see what United Technologies can do with these $2.5 billion: When the company uses all of this cash to repurchase its common stock at the current price, the company could repurchase 29 million shares. By buying back 29 million shares United Technologies will save $74 million in annual dividend payments, whilst the interest for these $2.5 billion totals just $38 million (using an interest rate of 1.5 percent, the midpoint of 1.125 percent and 1.875 percent). But since dividends are paid after taxes, whereas interest is paid before taxes, the situation gets even better: Taking on these $2.5 billion in debt lowers the company's pre tax profit by $37.5 million, which in turn means a net income decline - or total cash cost - of $25 million (using UTX' latest tax rate of 33 percent).
By issuing $2.5 billion in debt and using the proceeds to repurchase common stock at the current price the company can thus lower its cash costs by $49 million a year ($74 million in dividends saved versus $25 million in after tax interest costs). At the same time the share count reduction (by 29 million shares) lowers the company's number of outstanding shares by three and a half percent, which means an additional boost of 3.5 percent to the company's earnings per share.
Taking on debt to reduce the company's share count is not an accounting ploy, it is a prudent capital allocation decision that lowers the company's costs and increases the company's earnings per share at the same time. If United Technologies keeps this up as long as it gets access to very cheap debt and as long as the company's shares continue to trade at a low valuation, investors will benefit a lot.
Valuation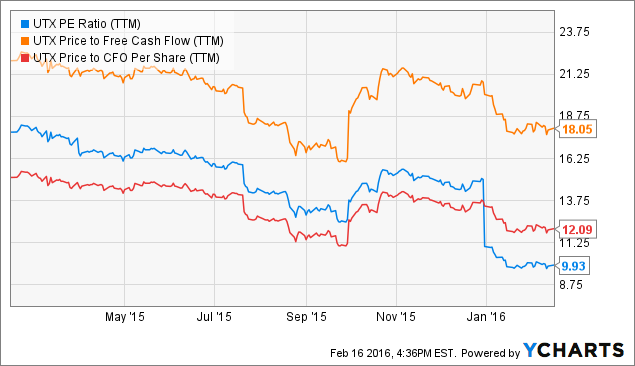 United Technologies trades at a low price right now, relative to its historic valuation and relative to the broad market's valuation: The company's PE ratio stands at just 9.9, which is slightly more than half the company's valuation from twelve months ago, and less than half the broad market's PE ratio of 20.9.
The company is also cheap relative to the cash the company generates, with a price to operating cash flow ratio of just 12.1 and a free cash flow yield of 5.6 percent.
Takeaway
United Technologies is interesting for investors focusing on shareholder returns: The company pays a dividend with a yield well above the market average, and repurchases vast amounts of shares. By increasing the company's leverage in order to reduce capital costs the company's management will increase earnings per share and reduce cash costs at the same time. United Technologies is very inexpensive, with its price to earnings ratio in the single digits and a free cash flow yield of more than five percent.
Disclosure: I/we have no positions in any stocks mentioned, and no plans to initiate any positions within the next 72 hours.
I wrote this article myself, and it expresses my own opinions. I am not receiving compensation for it (other than from Seeking Alpha). I have no business relationship with any company whose stock is mentioned in this article.