Introduction
This is part of a series of quarterly reviews that analyze the performance and portfolio characteristics of interesting equity managers running either public (mutual funds) or private pooled investment vehicles (hedge funds) that are not accessible by retail investors. Our aim is to provide readers:
An analysis of the manager's return and risk characteristics.
An analysis of the manager's top portfolio holdings.
An opinion on whether readers should replicate their portfolio.
All analysis is based on a clone portfolio of the manager's top 10 disclosed holdings, which allows readers to replicate the portfolio with ease if desired. It may not be an accurate reflection of the manager's actual investment performance.
That said, it is possible for some clone portfolios to outperform the manager's actual portfolio over time due to the following factors:
No Fee Drag: High base fees and excessive performance fees in some cases eat into returns. Investors can buy the stocks directly to access the manager's stock-picking skill.
No Over-Diversification: Managers typically over-diversify. Returns from the best ideas are usually diluted by a long tail of lower quality ideas. We focus only on the top 10 holdings.
No Fancy Sizing: Managers may have good stockpicking skills, but can be terrible at sizing ideas. Our clone portfolios are equally-weighted so each idea have an equal impact.
No Tinkering: Managers typically add or trim positions on the margin too regularly, since afterall, they are paid to "actively manage" the portfolio. Quarterly rebalancing in line with 13-F releases reinforces a buy-and-hold discipline and reduces costs.
No Shorting: Shorting requires a very different skillset which not all managers are good at. Alpha from successful longs can be severely diluted from bad shorts or dynamic exposure management that does not add value over time.
Manager Brief
| | |
| --- | --- |
| Manager Name: | Pershing Square Capital Management |
| Location: | New York, NY |
| Year Established: | 2004 |
| Investment Style: | Long equity with limited shorts |
| Portfolio Manager: | William (Bill) Ackman |
| Number of Employees: | 70 |
| MV of Latest 13-F Holdings: | $12.5bn |
Pershing Square is an established hedge fund managed by Bill Ackman, an outspoken activist investor. Since incepting in 2004, its flagship fund has returned 567%, vs. 135% for the S&P 500.
The firm managed approx. $14.8bn in assets as at 12/31 across three core vehicles:
Pershing Square main onshore fund: $4.2bn
Pershing Square main offshore fund: $4.7bn
Pershing Square listed fund: $5.2bn
And the remainder:
Pershing Square II LP: $106m
Pershing Square V Funds (Air Products): $487m, of which the purpose is explained in an extract online: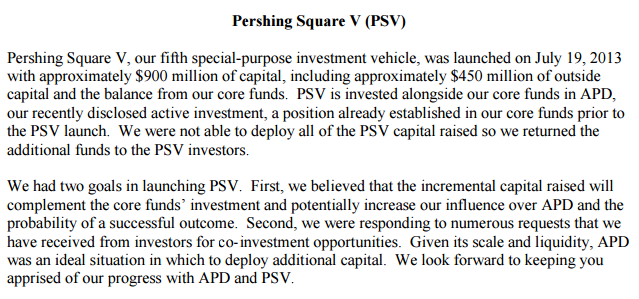 This is a large capital base, and indicates that the firm has strong backing from institutional investors.
Pershing Square provides a high level of transparency to its investors. For more details on its track record, performance, and holdings, readers should visit its listed fund website here, where we sourced most of the information in this article.
Performance Analysis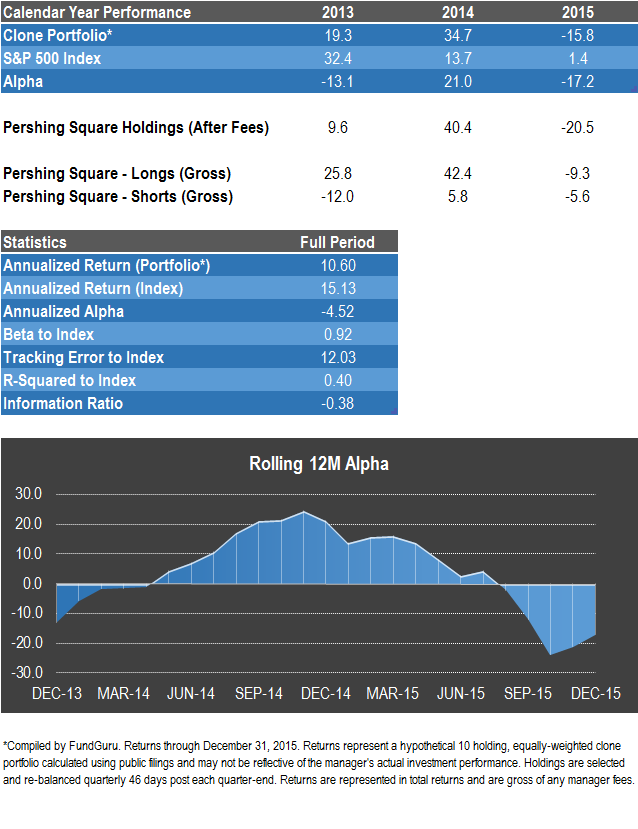 Our clone portfolio returned +10.6% annualized over the trailing 3-year period, versus +15.1% for the S&P 500 Index. Despite the underperformance, the clone result was superior to the performance of its listed fund, Pershing Square Holdings, which returned +6.7% annualized after fees.
Gross attribution available on its website shows that Pershing Square's longs return +17.6% annualized, while shorts/hedges returned -4.2% annualized over this same period.
After beating the S&P 500 by a mile during 2014, Pershing Square have since entered a period of severe underperformance. As at Jan 31, its YTD return is -11.2%, vs. -4.96% for the S&P, extending its underperformance brought forward from 2015.
Holdings Analysis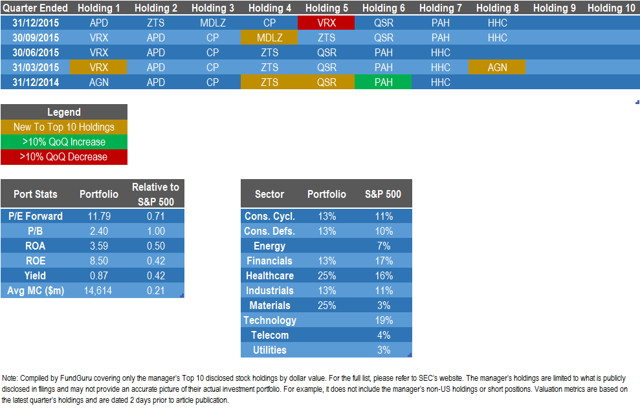 Portfolio Characteristics
This is a slow moving, buy-and-hold portfolio with fairly long holding periods. Despite its current concentration in just eight names (which we weight equally at 12.5% each), from a sector perspective it is fairly diversified, with 1-2 names in each sector. The portfolio exhibits a large/mid-cap tilt, and a value orientation.
Individual Name Analysis
Of the eight names currently in the portfolio, six have been held over the past year. This is how they have performed: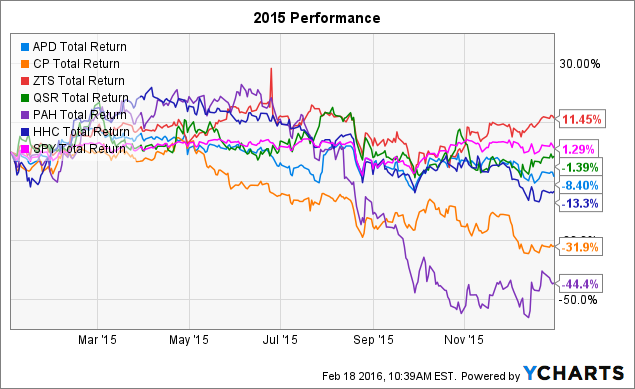 2015 was a bad year. Only one investment, Zoetis (NYSE:ZTS) managed to stay above the S&P 500. The worst performing names were Platform Specialty Products (NYSE:PAH), Canadian Pacific (NYSE:CP) and Howard Hughs (NYSE:HHC), which were all down double digits. These still fared better than the worst performing name, Valeant (NYSE:VRX) which was purchased during Q1 2015.
According to Pershing Square, the bulk of its position in VRX (19.5m shares) was purchased at an average cost of $196/sh. VRX was trading at $94.65 as of 02/17 close. This represents a loss of -50% since purchase.
After trimming some shares at year-end for tax reasons, Pershing upped its stake in VRX by 14.1m shares to a total of 30.7m according to a regulatory filing on Feb 5, 2016. We estimate that the new shares were acquired at a price range of $79.62-$94.65. Using the low point (best case scenario), we estimate that the manager's average cost is now as low as $142, which is still some way above the current price. VRX at present represents about ~25% of the overall portfolio. Aside from common stock, the manager also holds options in VRX.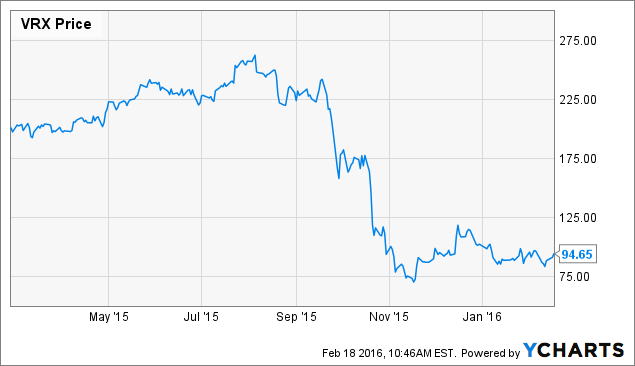 Recent Activity
Mondelez (NASDAQ:MDLZ) was the most recent purchase during Q3 2015. We estimate the manager acquired shares at a price range of $38.91-$41.87. MDLZ was trading at $39.81 as of yesterday's close, so it has not made any money.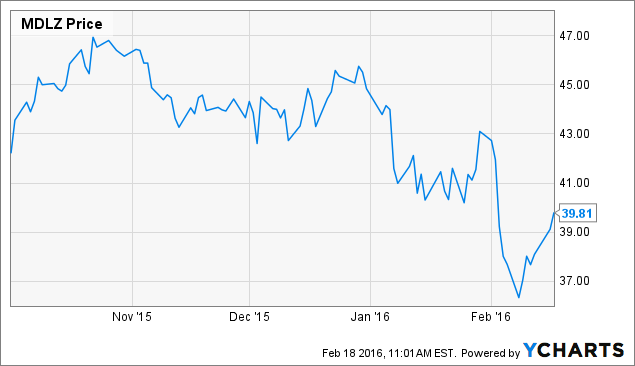 For a detailed discussion of positions (including shorts, non-US positions not covered in this article), please refer to Pershing Square's latest investor update.
Finally, this is the performance of the positions YTD:

Summary Thoughts
We Liked:
Concentrated portfolio, long holding periods
Enviable long-term track record
High transparency relative to other hedge funds
Superior clone portfolio performance
Recent underperformance could signal better times ahead
Assets under management appears to be stable, for now
We Didn't Like:
Extreme concentration leads to extremely lumpy out- or under-performance driven by individual names
Large assets under management across five vehicles, which means, given its concentration in just a few companies it will need to deploy capital in incrementally larger-cap names
Bottom Line
Readers should take a look at this portfolio due to its severe recent underperformance. However, investors will be better off buying the portfolio directly rather than investing in the listed fund. This way the investor can: i) avoid the high fees, ii) mitigate the downside risk associated with "super-sized" positions, such as VRX; and lastly iii) avoid alpha dilution from shorting, which will likely continue to be a value detractor over the long-term.
Interested in following more alpha?
Follow us now and get live updates as we publish more manager reviews. For now, take a look at some of the recent articles we've published in this series:
Disclosure: I am/we are long ZTS.
I wrote this article myself, and it expresses my own opinions. I am not receiving compensation for it (other than from Seeking Alpha). I have no business relationship with any company whose stock is mentioned in this article.