Business Brief
Founded in 1986, FleetCor Technologies (NYSE:FLT) is a global provider of fuel cards and related payment processing services to vehicle fleet operators and large oil companies.
The company has grown its market cap to $12bn currently, from just north of $1bn at its IPO in December 2010 via a combination of strong organic growth and highly accretive acquisitions.
FLT currently ranks #16 on Forbe's Most Innovative Companies.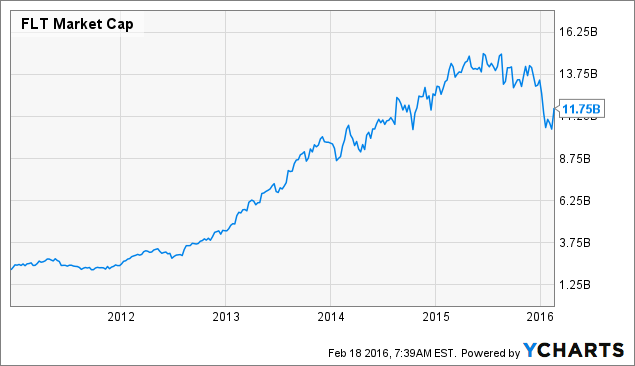 The Opportunity
FleetCor is a compounder, which we define as a highly cash generative business operating in a niche market with strong pricing power. For background on why we like compounders as investments, refer to our introductory article here.
Shares in FleetCor were trading at $127.52 as of 02/17 close, about 25% off its 52 week high reached in the middle of 2015.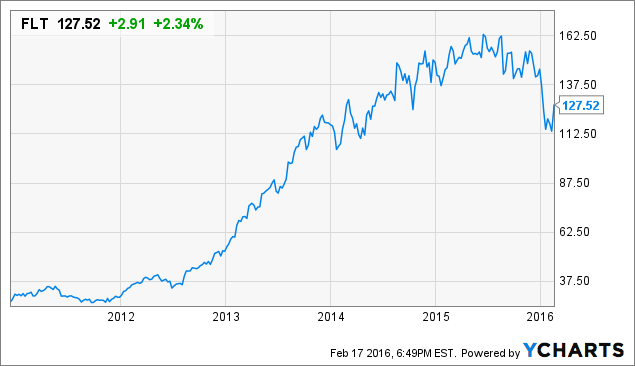 The company generates more than half of its revenues outside of the US and has been hit recently by weak FX and low fuel prices. This was from the company's earnings call:
"Q4 presented quite a challenging macro environment for us. You could say we hit the trifecta of low fuel prices, weak FX and even unfavorable fuel spreads versus Q4 2014. Combined, these factors resulted in approximately a $56 million headwind to revenue in the quarter and a $0.36 headwind to cash EPS in the quarter.

And if these three things were not enough, our same-store sales were a bit weak in the quarter as well due to the U.S. railroad and U.S. oil related industries being quite soft along with the ongoing weakness in both Russia and Brazil. So, quite a bit of environmental challenge in Q4."
Despite these challenges, FLT navigated rocky waters well and still reported revenues of $1.7 billion in 2015, up 42% and full year cash EPS of $6.30, up 22% versus 2014 -- the fifth year in a row that FLT, since it went public in 2010 has reported 20% plus annual profit growth.
Is its drop warranted? Let's revisit the basic investment thesis using a series of questions to see if anything fundamental has changed:
Is its management shareholder-oriented?
Is its moat defensible?
Is it still profitable?
Is its revenue stable and recurring?
Is it trading at reasonable valuations?
1. Shareholder-Oriented Management: PASS
Ronald Clarke (CEO, Chairman & President, age 59) is an extremely experienced capital allocator and has been in his post for over 15 years, since August 2000. During this period the company has posted impressive financial performance and completed 60+ acquisitions.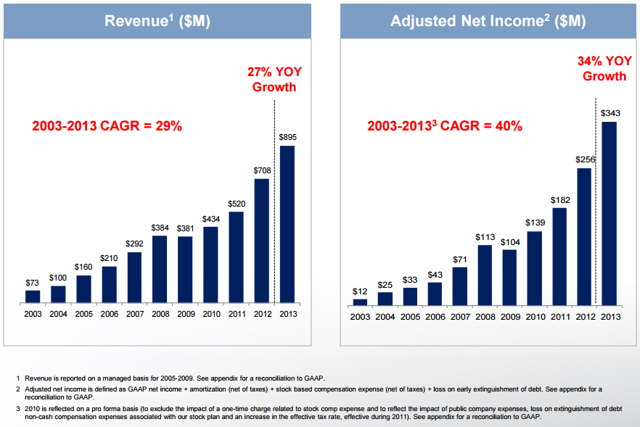 In terms of compensation, Clarke is mainly being paid in stock, rather than salary, as shown below which shows the composition of his compensation package in 2014:
| | |
| --- | --- |
| Element | Value |
| Base Salary + Bonus | 1,175,000 (6%) |
| Restricted Stock | 14,766,000 (85%) |
| Non-Equity | 1,425,000 (9%) |
| Total | 17,387,071 |
This arrangement provides an alignment of interest between the CEO and the shareholders.
As per its website:
Performance-based stock option grants. We also provide performance-based stock option grants based on Company-wide performance conditions. The compensation committee approved a December 2014 stock option grant to our CEO based on the Company achieving adjusted earnings per share targets in 2015. This award is tied to Company-wide goals and helps to align our CEO's interests and compensation with those of our stockholders. This award was designed as a stretch target award at the time of grant, with the EPS target approved by the committee set at a higher level than the EPS restricted share grants award program in which our other executives participate, such that achievement of this performance goal is significantly more challenging for the CEO.
Time-based stock option grants. The exercise price of each stock option grant is the fair market value of our common stock on the grant date (closing stock price). Stock option awards to our named executive officers typically vest ratably over a period of four to six years and are attainable only with continued employment through the vesting period. We believe our vesting schedules generally encourage long-term employment with the Company while allowing our executives to realize compensation only when they create value for our stockholders.
The company's CFO, Eric Dey (age 55), has also been with the company for over a decade, since 2002.
2. Defensible Moat: PASS
FLT's network-based business model means that its market dominance grows as the company grows, creating a virtuous cycle of increased pricing power, recurring revenue and low churn.
There is limited competition in the market that FLT operates. Its main competitor is Wex Inc (NYSEMKT:WEX), a smaller player with $2.5bn in market cap. The company generated revenues of $854m vs. $1.7bn for FLT in the TTM period.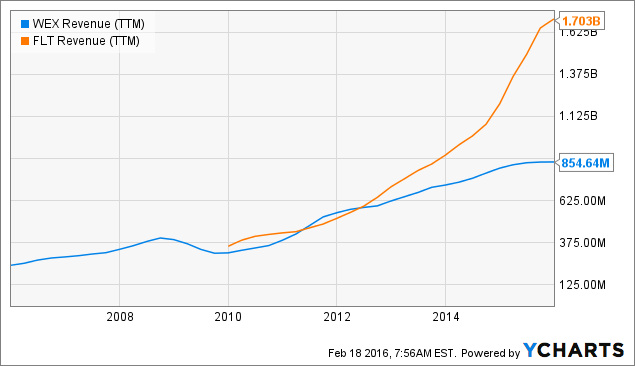 FLT's acquisition of Comdata in 2014 was a game changer and caused revenues to increase very sharply in 2015. The deal added four new segments where the company previously didn't operate:
On-the-road trucking business: Comdata is the market leader with its proprietary fuel card and cash-disbursement services;
National accounts business: Comdata provides a universal MasterCard to its clients;
Corporate payments: Comdata has established a health care vertical and a virtual MasterCard payment program designed to help businesses simplify their payables-payment process;
SVS (Stored Value Systems), which specializes in global gift card processing and program management.
More importantly, FLT noted that biggest draw was the "attractive virtual card space, which is quite large and growing fast," "Comdata's got a great position, great proprietary technology, a pretty unique vendor-enrollment model, and some great reseller relationships," he said. "Comdata's well positioned, and our view is this could mature into a very big-I mean very big-business over time. So in some ways for us, this line of business is really the crown jewel of the company."
The company has continued to expand overseas and look for acquisition targets.
3. High Profitability: PASS
FLT is highly profitable, with operating margins hovering at 40%, and EBT margins at 30-40%.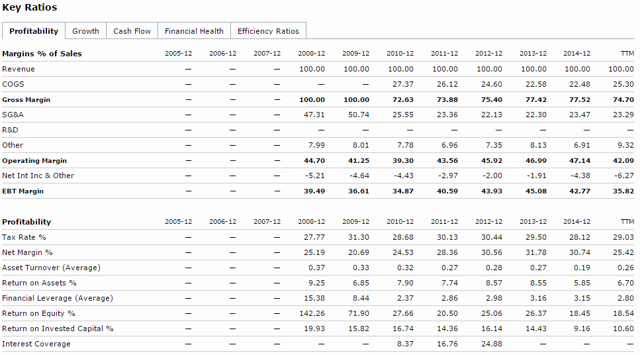 4. Stable, Recurring Revenues: PASS
FLT has grew revenues at a CAGR of 28% between 2003-2011, and there appears no signs of a slow down in recent history: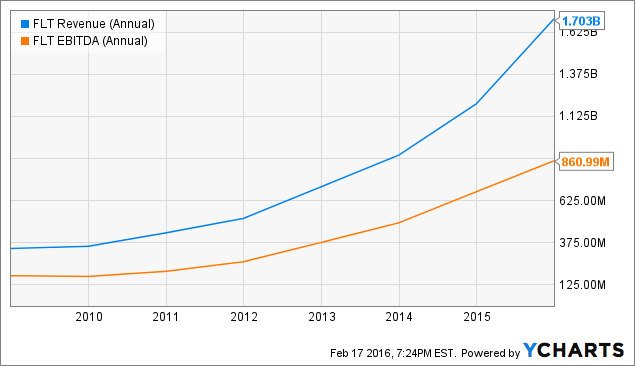 Its revenues are transaction-based and recurring. FLT earns a cut on sales when customers swipe their cards.
Approximately 13% of its business is directly affected by fuel prices. Its main competitor Wex has north of 30% exposure, which explains why its share price has taken a dive of late: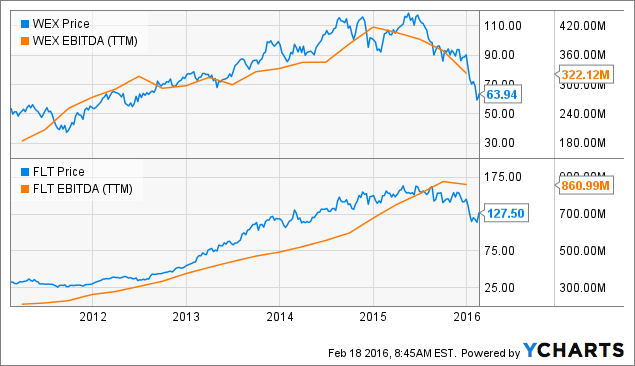 The remainder of FLT's revenues are generated from services that have nothing to do with fuel prices, and the company has continued to diversify its business.
Moreover, the company's fuel margin is what analysts call a natural hedge against the impact of less expensive fuel: "When oil prices fall, wholesale prices drop faster than retail prices, creating a larger spread. "This mix provides some insulation, particularly in an environment where fuel prices have been quite volatile"
The recent oil output cap discussed between Russia and Saudi Arabia will also likely limit any significant drop in prices.
5. Reasonable Valuations: PASS
After the recent drop, FLT is currently trading at a free cash flow yield of 6%, and a forward P/E of 19.2x, which is not demanding for a highly cash generative and growing business.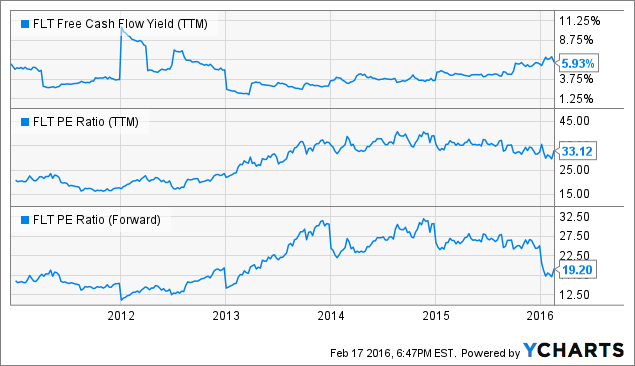 Our Take
This is another episode of the street's intense focus on quarterly earnings and the macro picture. We recommend long-term investors look beyond the noise, see the whole picture, and take advantage of the recent decline to acquire a stake in this extremely well-run business.
We added FLT to our diversified portfolio of compounders at an average cost of $127.50 on 02/18.
Interested in more compounders?
Take a look at our recent take of TransDigm Group (NYSE:TDG).
Disclosure: I am/we are long FLT.
I wrote this article myself, and it expresses my own opinions. I am not receiving compensation for it (other than from Seeking Alpha). I have no business relationship with any company whose stock is mentioned in this article.