On February 18, 2016, Coca-Cola (NYSE:KO) announced a dividend increase to $0.35 per quarter. This came as no great surprise, indicating the company's 54th consecutive year of not only paying but also increasing its dividend. This year's boost represents a 6.1% increase - perhaps a bit below some investor's expectations, but a nice little raise nonetheless.
When talking about dividend consistency it's hard to ignore a company like Coca-Cola. Obviously you have the half a century increase streak and the uninterrupted payments dating back to 1920. Yet beyond that you have exceptional consistency in the amount of each year's increase. It's not as though you get 20% one year, and then 2% the next. It's really a rather smooth ride.
Here's a look at the per share dividend payments dating back to 1999: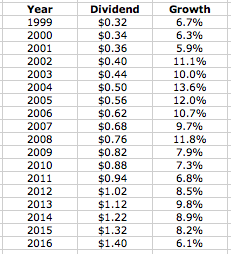 The highest growth rate has been 13.6% while the lowest increase mark came in at just under 6%. That's 17 measuring periods in a very tight, consistent range. A lot of people talk about dividend growth rates - say 9% compounded over the last 10 years, for instance - but not as many talk about this type of consistency. Year-in and year-out you're getting a 6%-plus increase in your income by simply owning shares. And that's prior to thinking about reinvestment.
It's the sort of thing makes it easier to continue being an investor. Imagine you owned 1,000 shares back in 2007. That year your investment would have provided you with $680 in annual income to spend as you please. If you elected to "cash out" all of those payments, in the very next year you would have received $760. In 2009 your income would have been increased again to $820.
Think about that. During the worst recession in memory, your Coca-Cola income was still growing by 12% and 8%. Even if you spent every dime of your dividends, you got rewarded the next year in the form of even more payouts. It's like a kid spending all of his allowance on candy one day and then waking up the next day to even more funds to spend. Once you get the ball rolling, it's hard to stop the income building process with the "best" dividend "increasers."
Of course what makes the investing world interesting is that market participants don't always bid for shares in a consistent or linear way. Sometimes investors are overly optimistic or pessimistic. Just because the dividend increases by 8%, and in turn results in 8% more income for your pocket, doesn't mean that share price bids will always reflect this.
Here's a look at the same dividend growth rate of Coca-Cola as presented above, with the growth in earnings-per-share and share price also included: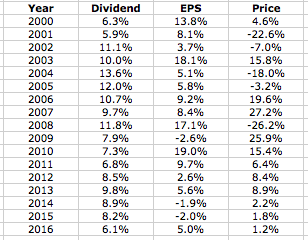 The dividend column is naturally positive and increasing, as detailed above. The third column - earnings-per-share - is a bit more interesting. (Note that an estimate for 2016 was used.) This is where the dividend payments are derived. Without long-term success in the business it's awfully hard to pay a long-term and increasing dividend.
Here we can see that earnings have been mostly upward. Although to be sure the consistency shown in the dividend payments isn't quite prevalent. This makes a lot of sense: dividends represent only a portion of earnings, so there's some wiggle room baked in there.
Whereas the dividend growth of the payout was always in the 6% to 14% range, earnings-per-share growth ranged from -3% all the way up to 19%. In 14 of the 17 observation periods earnings-per-share were higher. This is an important note. Even the best companies can falter from time to time. In the case of Coca-Cola these "negative" years weren't especially dramatic, but it's fundamental to point out that a "bad" year or three does not obliterate a business.
The compound average growth rate for the dividend was about 9% annually, as compared to 7% yearly growth in earnings. As such, the payout ratio increased (read: wiggle room decreased) over the period from about half of earnings up to two-thirds.
In the last column we have the share price movement during the same timeframe. This is the part that we can learn a great deal from. The range of share price movements was as low as -26% all the way up to a 27% gain. Neither dividends nor earnings deviated this much on an annual basis, but the share price certainly did. This is another important realization: share price bids are apt to bounce around much more than the fundamentals of the business. Investors, as expressed via share price bids, can get overly excited or pessimistic.
Dividend growth has stayed in the 6% to 14% for the period. Yet the share price growth was outside of this mark in 13 of the 17 occasions. Once you get this part to click in - share prices often move much more than your income - the process can become a bit easier. If you're expecting share price growth to coincide with dividend growth, you'll likely to be disappointed rather quickly. Share price growth eventually takes care of itself, but that's no set timeframe as to when this must occur.
Over this period the share price grew just 2.4% per annum. Of course shares were trading around 50 times earnings around the turn of the century as compared to something closer to 20 today. When the beginning and end multiple are the same is when you'll see share price growth match the business growth.
This is the sort of information that can be useful to have in the back of your mind. Share prices (especially in the short term) are quite finicky. Earnings also bounce about, but in general are a bit more consistent. And when you have a company like Coca-Cola or a collection of holdings the dividend tends to be quite dependable. Thus the next time these components are "out of whack" - dividend increases 6%, price down 15% for instance. Instead of scratching your head looking for a reason, you can consider what might be a suitable investment consideration.
Disclosure: I am/we are long KO.
I wrote this article myself, and it expresses my own opinions. I am not receiving compensation for it (other than from Seeking Alpha). I have no business relationship with any company whose stock is mentioned in this article.