Devon Energy (NYSE:DVN) is making moves to defend its business model from prevailing uncertainty in the energy market. Last year, oil prices declined by almost 70%. Liquid and gas prices have also been tumbling at high rates, due to oversupply and shrinking demand. The direct impact of these external factors on Devon's performance has led the company's stock to fall by nearly 70% in the past twelve months.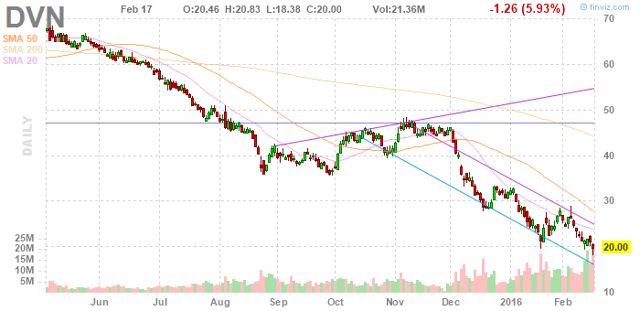 DVN's share price is paralleling the movement of oil prices, largely because oil accounts for nearly 43% of the company's product mix. On the other hand, the company is making smart moves to resist these pricing headwinds. It has been expanding its production beyond core and liquid-rich plays, with no need to sell core assets to support its cash position. Moreover, the company has chosen to reduce its dividend payments by 75% for the first quarter of 2016.
Devon is planning to cut back on capital investments, reducing them by 75% in 2016, in a bid to preserve its cash position. Yet, the company has no plans to sacrifice production levels; instead, it is attempting to beat the low prices with sheer volume of output. In the most recent quarter, its core assets - including the Powder River Basin, the Delaware Basin, STACK, and the Jackfish 3 - posted strong production performances. DVN posted an oil production growth of 16 percent, relative to the same quarter of the previous year.
With its focus on liquid-rich plays, oil still accounts for 43% of Devon's total production. In the coming quarters, it is anticipated to invest even more in STACK and the Powder River Basin. On the back of cost cutting, increased efficiencies, and increased production, Devon posted positive earnings, despite continued falling oil prices. In Q4, its core earnings stood at around $319 million, or $0.77 per diluted share. Its revenues from oil, natural gas and natural gas liquids sales totaled $1.1 billion in Q4, with oil revenue accounting for almost 70% of the total.
Cash settlements related to oil and natural gas hedges enhanced its revenue by $700 million in the final quarter of 2015. Due to non-cash impairment charges, its net loss was around $4.5 billion for the fourth quarter of 2015. Nevertheless, the company looks strong on the cash side. In Q4, its operating cash flows were near $1.1B, a growth of 12% compared to same quarter of the previous year.
For fiscal 2015, Devon generated operating cash flows of $6.1B. After reducing its investments and lowering its dividends for fiscal 2016, the company's cash flows are expected to expand further. In addition, Devon is looking to sell noncore assets of around $2 to $3 billion this year to further reduce its debt. These actions will have a positive impact on both the company's debt position and its balance sheet. Its strategy of reducing dividends and selling noncore assets will allow it to protect its businesses from the external headwinds of falling oil prices.
Here the question arises, is Devon a buy, considering its recent cost cutting and its increased financial flexibility? The company's operational, production, and financial performance looks strong to me. It plans to reduce 20% of its workforce in the coming days. This will amount to an annual savings of $500M, when combined with other cost cuts. At the same time, the company is not looking to sacrifice production volumes, despite falling oil prices. Instead, it is reducing its capital investments, cutting its dividends, and selling noncore assets in order to support its cash flows. This is a good strategy, in front of a volatile and depressed environment.
In Conclusion
With its 75% drop in share price, Devon's stock appears quite attractive for long-term investors. The company is likely to post lower results in the first quarter of this year, based on prevailing oil prices. In the long run, however, oil prices could gain momentum as major producers like Russia, Venezuela, Qatar, and Saudi Arabia lower their output. American producers are also slashing expansion plans, in the wake of lower prices. Therefore, I believe Devon's defensive strategies will allow it to successfully combat low prices in the short term, while its healthy asset portfolio and its strategy will make it stronger in the long-term.
Disclosure: I/we have no positions in any stocks mentioned, and no plans to initiate any positions within the next 72 hours.
I wrote this article myself, and it expresses my own opinions. I am not receiving compensation for it (other than from Seeking Alpha). I have no business relationship with any company whose stock is mentioned in this article.