By Jenny Liu
Flowers Foods' (NYSE:FLO) recent downgrades and pending lawsuit make the company a bargain at current levels due its long-term growth potential and key acquisitions. Flowers Foods Inc. is currently the second largest bakery company in U.S.

To maintain the company's strong competitive advantage, Flowers Foods acquired two organic and natural bread producers: Dave's Killer Bread for $275 million and Alpine Valley Bread for $120 million at the end of 2015. According to IRI data, the US organic bread market has grown at 27% annually over past four years and continues to see strong growth. The company knows that organic is the future and these two acquisitions signal its plans to ramp up its organic bread business, and has absorbed more costs in order to do so. Alpine Valley Bread and Dave's Killer Bread have both generated an amazing compound average revenue growth rate of 51% and 32% respectively over the last three years. The acquisitions are expected to provide Flowers Foods with high-quality and high-margin products to boost its sustainable revenue stream significantly in the long term.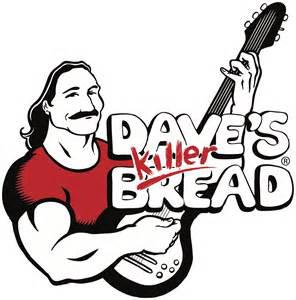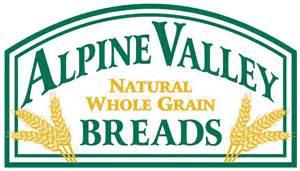 Flowers Foods operates under two segments: Direct Store Delivery (DSD) and Warehouse segments. The Direct Store Delivery segment handles several bakery items to a network of independent distributors, accounted for 84% of sales with higher profit margin; Warehouse delivers frozen snack cakes, breads, rolls, buns directly to customers' warehouses, stands at 16% of total sales. Since 2008, Flowers Foods has continued to expand its market share by acquisitions and stretching the current territory. Nature's Own bread ranked first of branded bread sold in US, with $838.7 million of sales in 2015.
Flowers Foods' main competitor is Bimbo Bakeries USA, an American corporate arm of Mexico Group Bimbo (OTCPK:GRBMF). Group Bimbo is the world's largest bakery company. Currently, Flowers Foods achieved 14.7% of bakery market share, while Bimbo Bakeries USA accounted for 33.8% market share.
Temporary Setback
In January 2016, Flowers Foods has been embroiled in a lawsuit, originated from truck drivers throughout 18 states who claim they were improperly classified as independent contractors and are seeking payment for lost overtime, benefits, and other compensation. The case is quite similar to lawsuits that drivers have made against ride sharing services Uber and Lyft, due to their status as independent contractors as well. The case is expected to take several years to resolve, but may add some contingent financial risk to Flowers Foods temporarily.
Flowers Foods reported its 10-K results this month missing Wall Street's expectations. Deutsche Bank (NYSE:DB) and SunTrust Robinson Humphrey downgraded FLO after its earnings call. Consequently, the stock plummeted 30% from $21 to $15. The ironic part is Deutsche Bank acted as a financial advisor for Flowers Foods on acquisition of Dave's Killer Bread and Alpine Valley Bread last year.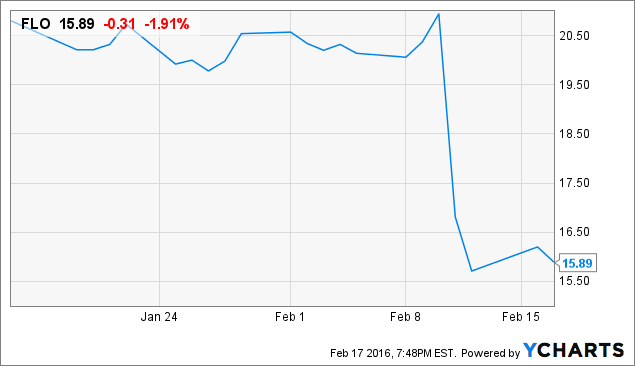 FLO data by YCharts
Since Flowers Foods paid for both of its acquisitions through a revolving credit line, debt, cash and some stocks, so its debt level increased in 2015. Flowers Foods generated $327M cash flow from operating activities, while its long-term debt increased to $1,008M in 2015. Debt/Equity ratio rose from 0.65 in 2014 to 0.81 in 2015. Another suspicious thing is that in January 2016, Flowers Foods filed Confidential Treatment Order (CT Order); the information will not be released to public until 2020, four years from now. We guess the CT order may be related to either the company's debt restructuring or pricing arrangement.
Conclusion
Flowers Foods is a solid business with a long-term sustainable growth history. Flowers Foods' CEO Allen Shiver has served in the company for over 30 years. Its expansion strategy based on the acquisition of high-growth competitors and stretching its current territory is rational and will work well over the long haul.
According to its latest 13G/A filing, BlackRock (NYSE:BLK) and Vanguard have increased their shares to 6.1% and 6.84%, respectively in 2015. T. Rowe Price decreased to 5.5%, still above a 5% threshold however. BB&T has upgraded the company after its recent 10-K filing.
Flowers Foods' current valuation ratios are lower than its 2008 levels, with P/E 18.7, P/B 2.8, P/S 0.9 and P/Cash Flow at 9.2. Contrary to some of the company's downgrade news, its short-term setback should offer value investors an appealing entry price due to the company's long-term competitive advantages.
Disclosure: I/we have no positions in any stocks mentioned, but may initiate a long position in FLO over the next 72 hours.
I wrote this article myself, and it expresses my own opinions. I am not receiving compensation for it (other than from Seeking Alpha). I have no business relationship with any company whose stock is mentioned in this article.