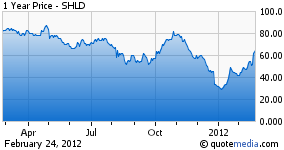 After having announced back in December that it would be dropping up to 120 underperforming stores, Wednesday Sears (NASDAQ:SHLD) reported, along with its dreadful quarter, that it would be selling 11 stores to General Growth Properties (NYSE:GGP) for the princely sum of $270 million.
The market went ballistic; this huge number seemed to validate the theory that there was a lot of value to unlock if one looked at Sears as some kind of liquidating trust, selling real estate left and right. After all, we were just talking about 11 stores, and they seemed to be flying at $27 million a pop -- this included leased stores. Twenty seven million dollars and Sears had literally thousands of other stores to sell (nevermind the rest of the 100-120 underperforming ones).
But, as with other fairytale stories, reality reasserts itself sooner or later. In this case, reality was reestablished by GGP gloating that one of the properties was in its most profitable mall and Sandler O'Neill analysts saying that this particular store fetched $250 million of the $270 million total.
So … on one hand, Sears is not just dropping underperforming stores; it actually seems to have sold one of the crown jewels. You certainly don't turn around a retailer by selling the most profitable stores, even if you delay its closing by two years. On the other hand, excluding this profitable asset, the other 10 stores were sold for a measly average of just $2 million, sinking any idea that selling stores is the way to riches.
Also, Sears' lenders, namely those financing Sears' "Amended Domestic Credit Agreement," can't be too happy to see Sears selling and spinning off profitable assets, as what will remain under SHLD will be increasingly challenged to service borrowings.
Conclusion
The market seems to have ignored, or simply not have known, that Sears was in fact selling what should be one of its most profitable assets. This reeks of desperation and is in stark contrast with what you'd expect to be a long term plan towards higher profitability. For sure, Sears managed to put away the short term liquidity fears, but seems to have done so partly by compromising its long term profitability.
This move by Sears does little to change my conviction that Sears is still a short, though one prone to being squeezed hard due to the low float and presently euphoric market conditions.
Disclosure: I am short SHLD.