While most domestic airliners were forced to reduce fares in 2015 to pass on fuel savings to passengers, JetBlue (NASDAQ:JBLU) was able to keep fares steady year over year from 2014 to 2015. The graphs below show yearly passenger revenue metrics achieved by JetBlue and select competitors. It is clear on both the PRASM and Yield charts that in 2015 JetBlue outperformed rival airliners.
It's important to map per seat mile metrics against average stage length when comparing competitive pricing positions. Shorter stage length flights charge a premium per mile as landing/take-off costs are spread out over fewer miles.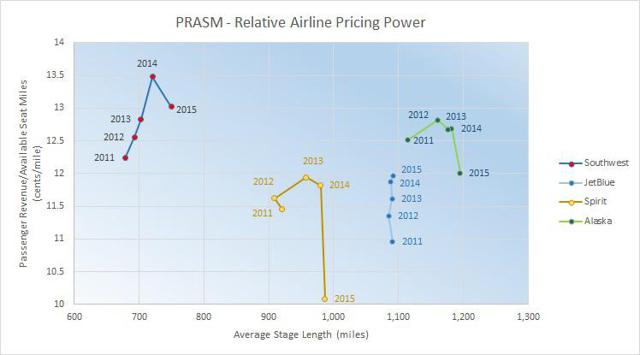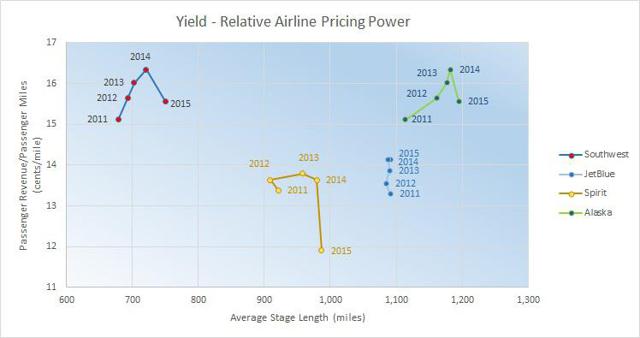 Sources: JetBlue Airways Corporation 2015 10-K, Spirit Airlines, Inc. 2015 10-K, Southwest Airlines Co. 2015 10-K, Alaska Air Group, Inc. 2015 10-K
From 2011 through 2014, JetBlue's PRASM and Yield trends are similar to those of its rivals, but in 2015 JetBlue is a clear outlier. Worst performer Spirit Airlines (NASDAQ:SAVE) had its PRASM number fall 14.7% year over year in 2015, versus JetBlue's 0.7% increase. Southwest Airlines (NYSE:LUV) and Alaska Air Group (NYSE:ALK) had their PRASM numbers decrease by 3.4% and 5.4% respectively. JetBlue's 2015 increase in its relative pricing power versus rivals is evidence that customers are voting with their pocketbooks and choosing to fly JetBlue over others.
Airline investors must ask themselves whether they think JetBlue's pricing power in 2015 is the start of a change in the value customers see in JetBlue's service compared to other airliners. JetBlue shares are currently priced as if its fare-price outperformance in 2015 was a one-off and not a trend that will continue. If 2015 is the beginning of a multi-year trend of JetBlue attaining higher ground on the above charts, JetBlue's shares should outperform its competitors. JetBlue has won J.D. Power's "Highest in Customer Satisfaction among Low-Cost Carriers in North America" eleven years in a row. As all major carriers' practices converge toward the low-cost model, the carrier with the highest customer satisfaction should have the highest fares.
JetBlue, Southwest, Spirit, and Alaska Air Group all trade at equivalent earnings multiples; about 11 times 2015 earnings as of February 17, 2016. For investors that believe JetBlue offers airline passengers the best service for their buck, JetBlue shares could now offer the same.
Disclosure: I am/we are long JBLU.
I wrote this article myself, and it expresses my own opinions. I am not receiving compensation for it (other than from Seeking Alpha). I have no business relationship with any company whose stock is mentioned in this article.