By David Aurelio
TJX is expected to report results on Feb. 24 and analysts currently estimate revenue of $8.73 billion, up 5.2% year over year (YOY) and earnings of $0.94 per share, up 1.1%. The discount retailer is also expected to increase total same store sales by 3.0%.
EXHIBIT 1: StarMine Alpha Model Indicator Highlights for TJX

Source: Thomson Reuters Eikon/StarMine
Green light special
TJX has nine bullish indicators, five of which are within the top decile, and only two bearish indicators. Additionally, two out of four of StarMine's four credit risk models rank the company within the top 10% of North American companies. TJX scores a 97 out of a possible 100 on StarMine's Structural Credit Risk (SCR) model, which forecasts the probability of default within 12 months, and provides an implied credit rating of AA. Could TJX qualify for a rewards card?
Quality threads
The quality of earnings has been shown repeatedly to be an important indicator; those companies whose earnings come from sustainable sources are likely to generate better financial results over the longer term. TJX has a StarMine Earnings Quality (EQ) score of 94 on a scale of 1 to 100, with 100 representing the highest quality earnings. That puts the retailer firmly in the top decile of companies in North America, which is a bullish signal. A look into some of the model's components helps to show why TJX scores so highly.
EXHIBIT 2: TJX Return on Net Operating Assets vs. Specialty Retail Industry Mean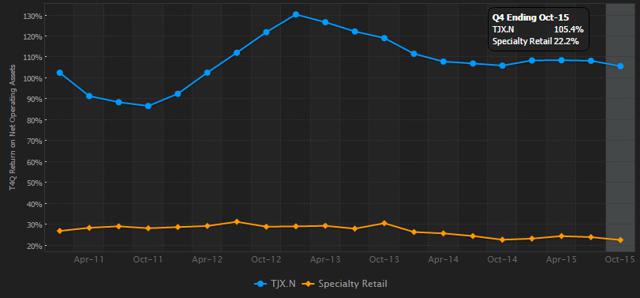 Source: Thomson Reuters Eikon/StarMine
The right projects
Over the past two quarters ending January 31, TJX has consistently exceeded the specialty retail industry mean trailing four quarter (T4Q) return on net operating assets (RNOA) by 85.2 percentage points. This means that management is selecting the right projects in order to capitalize on missed opportunities by other retailers.
EXHIBIT 3: TJX T4Q Operating Profit Margin vs. Industry Mean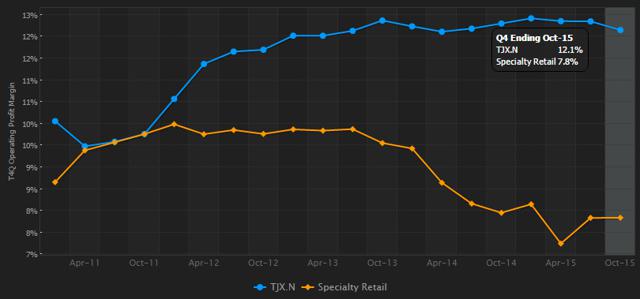 Source: Thomson Reuters Eikon/StarMine
Efficient operations
Over the past 16 quarters, TJX has successfully continued to pull away from the specialty retail industry's trailing four quarter operating profit margin (OPM), providing TJX with T4QOPM of 12.1% vs. the industry mean of 7.8%. Last quarters' T4Q operating income of $3.7 billion increased 4.7% from the prior year.
EXHIBIT 4: TJX T4Q Net Operating Asset Turnover vs. Industry Mean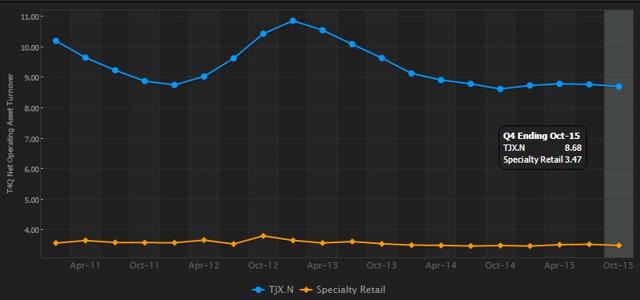 Source: Thomson Reuters Eikon/StarMine
Moving off the rack
Net operating asset turnover (NOAT) measures how efficiently a company uses its operating assets to generate revenue, and our model measures both the absolute level and the rate of change in asset turnover. TJX's T4Q revenue of $30.3 billion increased 6.0% from the prior year, while T4Q average net operating assets (ANOA) only increased 4.9% to $3.5 billion, allowing their T4Q NOAT to increase 1.0% to 8.68 and remain well above the industry median of 3.47. Discipline in capital allocation combined with operational efficiency has allowed TJX to maintain T4Q RNOA superior to that of the specialty retail industry. That's why TJX scores a 98 out of a possible 100 on StarMine's Earnings Quality Operating Efficiency component model.
When TJX reports earnings, analysts will be looking to see if the anticipated negotiating power and available inventory can continue into the spring, or if this deal is about to run out.
Disclosure: I/we have no positions in any stocks mentioned, and no plans to initiate any positions within the next 72 hours.
I wrote this article myself, and it expresses my own opinions. I am not receiving compensation for it. I have no business relationship with any company whose stock is mentioned in this article.