Goldcorp (NYSE:GG) is on a roll in 2016 as the stock is already up close to 30%. The stock's rise has been aided by the resurgence in gold prices this year, which is being driven by two key factors - volatility in the global equity markets and the potential supply gap in the gold industry.
More importantly, I think that Goldcorp will be able to keep up this impressive performance going forward as gold prices are likely to rise further. Additionally, the fact that Goldcorp carries strong fundamentals will be another reason why its performance will get better. Let's take a look.
Higher gold demand and low supply will aid better pricing
As discussed above, gold prices have improved this year and the trend is expected to continue as demand for the yellow metal is expected to remain strong this year despite an increase in the interest rates. As per a WGC report:
"The US Federal Reserve decided to start to normalise US monetary policy after seven years of near-zero interest rates - it lifted the federal funds rate to 0.5 percent from 0.25 percent. While this has strengthened the dollar, demand for gold in US dollar terms is not always the most relevant factor for most investors, the WGC said.

"In fact, our research shows that higher interest rates are not necessarily bad for gold," it added

Physical demand for gold is global, it said, noting that more than 90 percent is from outside the US, primarily China and India."
Additionally, gold will also benefit from a rise in central bank buying. In fact, central banks have been net buyers of gold for the past couple of years, and the trend is expected to continue next year. The following chart clearly indicates that gold buying by central banks has been strong of late: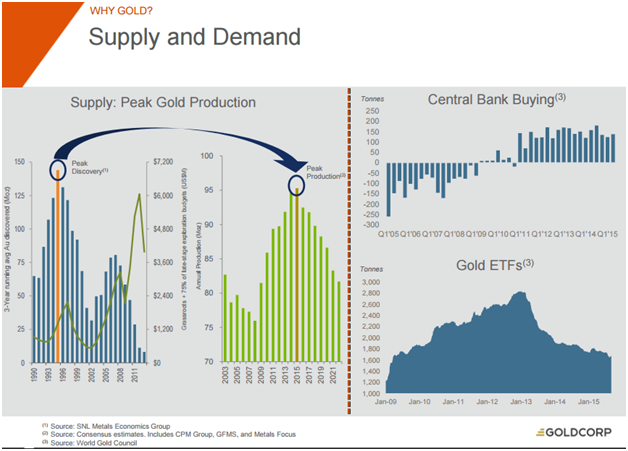 Source: Goldcorp
Also, as the above chart shows, the supply of gold is set to come down due to weak production. After hitting an apex in 2015, gold miners will see a drop in their production on an aggregate basis as the discovery of the yellow metal has taken a hit in the years after 1995. Hence, there are positives to consider in the gold patch that investors should not ignore, and this might help Goldcorp make a comeback.
Goldcorp's strong fundamentals will aid its recovery
There are two key points about Goldcorp's operations that will help it do better going forward. The first is its robust balance sheet, while the second is its strong asset base that carries low costs and high grades. As shown in the chart given below, Goldcorp's balance sheet is one of the lowest levered in the industry.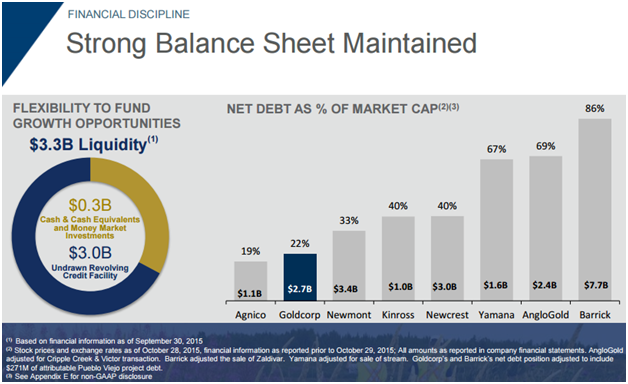 Source: Goldcorp
As a result, the company has to bear low interest expenses as compared to its peers, and this has impacted its cash flow in a favorable manner. In fact, despite low gold prices over the past year, Goldcorp has managed to increase its operating cash flow, while peers such as Kinross Gold (NYSE:KGC) and Yamana Gold (NYSE:AUY) have witnessed a decline. This is shown below: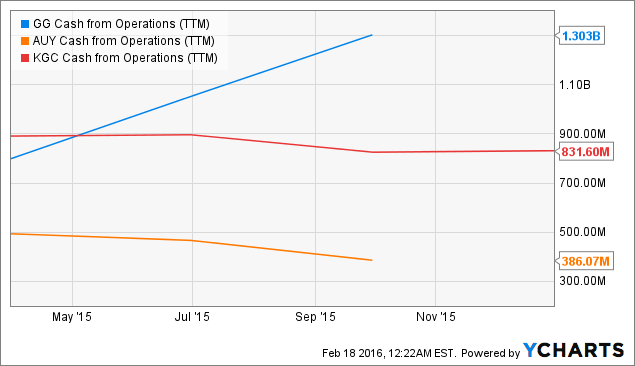 GG Cash from Operations (TTM) data by YCharts
The advantage of having a strong cash flow situation is that Goldcorp can continue making investments in its assets and increase production profitably. This will, in turn, positively impact Goldcorp's cash flow profile. For instance, in the third quarter, Goldcorp was able to increase its free cash flow by $243 million on the back of mines such as Penasquito and Cerro Negro.
The Penasquito mine, for example, had a very low all-in sustaining cost of $467 an ounce last quarter. These low costs were achieved as a result of an increase in the mining rate, the implementation of remote mucking and drilling at its mines was another positive. Looking ahead, Goldcorp should be able to record further cost reductions at this mine since it has now brought its natural gas-fired electric plant online, which has helped it lower energy costs.
Thus, as Goldcorp increases its production from such mines, its cash flow performance will improve further as the company continues to make infrastructure improvements in these areas.
Conclusion
Thus, there are a number of positives about Goldcorp that will help the company get better in the long run. It has robust fundamentals and a strong asset base, which it can use to capitalize on a probable improvement in gold prices due to favorable demand-supply developments. So, in my opinion, it will be a good idea to remain invested in Goldcorp for long-term gains.
Disclosure: I/we have no positions in any stocks mentioned, and no plans to initiate any positions within the next 72 hours.
I wrote this article myself, and it expresses my own opinions. I am not receiving compensation for it (other than from Seeking Alpha). I have no business relationship with any company whose stock is mentioned in this article.