Consumer Portfolio Services, Inc. (NASDAQ:CPSS) is an independent specialty finance company that provides auto loans to individuals that have limited credit history, lower incomes or lower credit scores, due to issues in the past. These loans are secured by late model used cars as well as new cars. This company is based in Irvine, California and it has been in business since 1991.
Auto stocks have been hit hard in this market correction over fears about "peak auto" and a potential recession. The same could be said about financial and bank stocks. This company basically belongs to both the auto sector and the financial sector and that is probably why the shares have dropped by nearly 20% in the past few weeks. This mirrors the types of declines seen in many bank and auto stocks.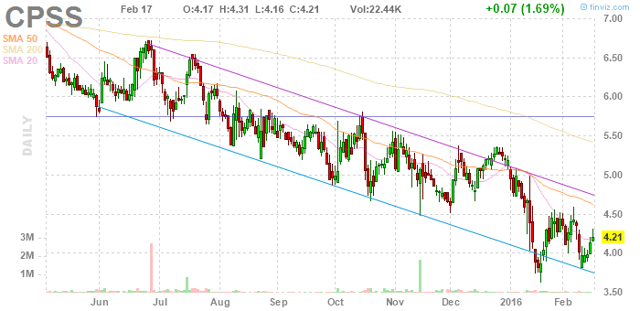 As the chart above shows, this stock was trading above $5 per share in December and now trades at just over $4. This stock is extremely cheap now due to overblown fears about a potential slowdown in the economy and in auto sales. It looks like this stock may have bottomed out at nearly $4 per share in January and it then retested that level again in February. That could be a bullish "double bottom" on the chart and another sign that potential downside risks are limited at these levels.
The U.S. auto industry has been enjoying record sales lately and that is causing some concern about "peak auto." This is the belief that sales are so good now that it must be all downhill from here. I don't agree with that assessment for a few reasons: There is no reason for auto sales to suddenly plunge, especially when jobs data in the U.S. is continuing to show solid improvement. Interest rates remain at extremely low levels and recently have declined even further. That is another positive as it makes auto financing cheaper. Low oil prices are another big positive for consumers and the economy in general. My belief is that auto sales could be poised to remain strong for at least a couple more years and therefore this level of "peak" or record sales could last for a lot longer than many investors believe.
If you look at the stock prices in the auto sector, you would think this industry is in shambles because stocks like Ford (NYSE:F) and General Motors (NYSE:GM) are trading near 52-week lows and sell for just about 5 to 6 times earnings. However, if you read the financial reports from the major automakers, you would see that business is very good. For example, in late January 2016, General Motors announced a $4 billion increase in its share buyback program, it raised the dividend, and increased earnings guidance for 2016. This kind of confidence by GM's management does not suggest they expect sales to drop this year. I think the recent market correction has put many investors in a "the cup is half empty" mood and that is why it is possible to buy GM and other auto sector stocks at bargain prices now.
Consumer Portfolio Services shares are trading at dirt cheap levels now. For example, analysts expect this company to earn $1.16 per share in 2016. That means it is trading for less than 4 times earnings. Based on this, it basically can earn its entire market cap in just around 48 months, which is less than the length of many car loans. This stock also looks very cheap when looking at book value which is about $6 per share. Insiders also seem to think this stock is too cheap to ignore. Greg Washer, a director, bought 10,000 shares and Chris Adams (another director) bought 13,000 shares in the last weeks of 2015.
By looking at the fundamentals, this stock is very cheap and it seems to have been unfairly punished like many stocks just out of overblown fears. If you look at the credit side of this company, it also suggests that the business fundamentals are solid. Just a couple months ago, Moody's affirmed and upgraded $679 million worth of asset backed securities for this company. It is important to remember that the loans this company makes are secured by vehicles and that means the potential downside risk from any default is limited. It is also important to remember that cars are just about the last thing consumers are willing to give up making payments on because they need their car to go to work, take their kids to school, and have a life of mobility. That is why many people were more willing to give up on their homes in the Financial Crisis, but not their cars. Home values can drop significantly in a recession, but cars do not. It is also far easier and much faster for a lender to take action on a loan that is backed by a vehicle, if needed. Furthermore, the default rate for auto loans was just about 1% in January 2016, which is just about the same level it was a year ago. This proves default rates remain extremely low and there is no uptrend in default rates. For all of these reasons, the perceived risk of defaults appears to be extremely overblown and not nearly as likely or as significant as many investors or shorts would like to believe.
In summary, this stock trades for less than 4 times earnings, insiders were buying not long ago at even higher levels, and loans secured by vehicles are far more likely to perform (even in an economic downturn) than many investors realize. The economic fundamentals in the U.S. economy also appear solid with the job market continuing to show strength. Also, low oil prices are a big positive for younger people with limited credit histories, lower income consumers and the middle class. All of these are significant positives for Consumer Portfolio Services. Analysts at Zacks Investment Research have given this stock an "A" value score (describing it as a "great value stock") and they have set a buy rating. The consensus analyst price target is $8.50 per share, which suggests considerable upside. Longer term, that price target seems very reasonable as it would imply a PE ratio of just around 8 times earnings. In the short term, I think this stock is poised to rebound back towards somewhere between $4.65, which is the 50-day moving average and $5.44, which is the 200-day moving average. Please follow me for future updates and stock picks.
Data is sourced from Yahoo Finance. No guarantees or representations are made. Hawkinvest is not a registered investment advisor and does not provide specific investment advice. The information is for informational purposes only. You should always consult a financial advisor.
Disclosure: I am/we are long CPSS, GM.
I wrote this article myself, and it expresses my own opinions. I am not receiving compensation for it (other than from Seeking Alpha). I have no business relationship with any company whose stock is mentioned in this article.