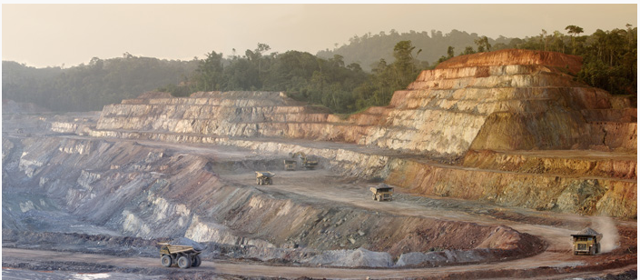 Rosebel mine. Source: IAMGOLD website
IAMGOLD (NYSE: IAG) has just reported its fourth-quarter earnings results. The company has previously provided its production and AISC results for 2015 and guidance for 2016, and these numbers did not change. In this article, I'll focus on new information and implications for the future.
In 2016, IAMGOLD expects to allocate around $250 million to capex with $155 million going to sustaining capital and $95 million going to development capital. Westwood remains a key recipient of the development capital. When the company provided the update for the Westwood mine, I was not impressed. I still think that the mine is somewhat problematic unless it proves the opposite.
This year, the mine will operate on a reduced schedule with ramp-up to full capacity over the next four years. In my view, this year will be decisive regarding the market's perception of the Westwood mine. One more problem - and the market will assign an additional discount to IAMGOLD's shares. So far, there were no reports about anything out of order at the mine, and IAMGOLD's stock was free to rally along with others as gold rushed to $1250 per ounce due to being a defensive asset of choice.
Given the current company's guidance, IAMGOLD will not be free cash flow positive this year at gold price of $1200 per ounce. The primary reason for this is that IAMGOLD plans to spend $95 million on development capital and $47 million on exploration. Both expenses are creating value, but I just wanted to point out that IAMGOLD could be cash flow positive at $1200 per ounce if it chose to do so.
Currently, there are no problems with liquidity as the company finished the year with $691.3 million of cash, cash equivalents, restricted cash and gold bullion. It will be interesting to watch in the subsequent quarters whether IAMGOLD chooses to hold gold bullion or starts selling it at market prices. In other words, the question is how bullish is IAMGOLD on gold prices?
The company does not have liquidity problems, so it can wait for even higher gold prices to sell its gold reserve. On the other hand, IAMGOLD's selling of gold from reserves in the first quarter will be a serious signal that the company expects lower prices in 2016 and possibly beyond.
As I stated a number of times in my articles dedicated to IAMGOLD, the company's shares will be highly sensitive to gold prices because of the relatively high costs. For IAMGOLD, there is a serious difference between a $1100 gold and a $1200 gold and this fact stands behind this year's 60% rally in the company's shares. I expect that this level of sensitivity will remain in 2016.
The company continues to push costs down - both cash costs and all-in sustaining costs. All-in sustaining costs will see bigger improvement this year as the company sold its oil hedge positions in the fourth quarter of 2015. However, IAMGOLD remains a higher-cost producer and gold price downside could easily push IAMGOLD's shares back to the levels seen at the beginning of 2016.
The current gold rally helped all gold companies. This is the proverbial tide that lifted all boats. The stock market rewarded both cost leaders for being best and cost laggards for the fact they moved away from the cliff. Interestingly, one of the most stable companies, Agnico Eagle Mines (NYSE: AEM), is up around 30% since the beginning of the year, significantly lagging IAMGOLD. I think that this fact highlights my thesis that it was the gold price which was the biggest driver for IAMGOLD - not the internal company developments.
If we forget about the gold price for a minute, we will see that IAMGOLD has stable production (2016 guidance is a bit lower than production of 806,000 ounces that was achieved in 2015), higher costs, a mine whose ability to perform is yet to be determined and a significant liquidity cushion.
In IAMGOLD's case, there are both pros and cons, but I don't think that positive factors will be able to support the share price when gold prices pull back. As I stated in my article about my first impressions from the Barrick Gold (NYSE: ABX) report, I believe in a pullback from this rally and view the rally as a chance to sell gold positions at favorable prices. In case of such a pullback, IAMGOLD will quickly retreat back.
Disclosure: I/we have no positions in any stocks mentioned, and no plans to initiate any positions within the next 72 hours.
I wrote this article myself, and it expresses my own opinions. I am not receiving compensation for it (other than from Seeking Alpha). I have no business relationship with any company whose stock is mentioned in this article.