Constellation Software (OTCPK:CNSWF) reported another year of impressive results continuing its phenomenal history of building shareholder value. With arguably one of the best track records in Canada, the stock has recently pulled back from all-time highs.
While the company has received a fair amount of coverage on Seeking Alpha, hopefully this report is additive to your investment research. This report will detail (1) Recent Results (2) Recent Acquisitions (3) Operating Margin Expansion (4) Organic Growth Slowdown (5) Mark Leonard's Aura and (6) Concluding Thoughts.
Part 2 entitled "Where do we go from here?" will be published in a few days.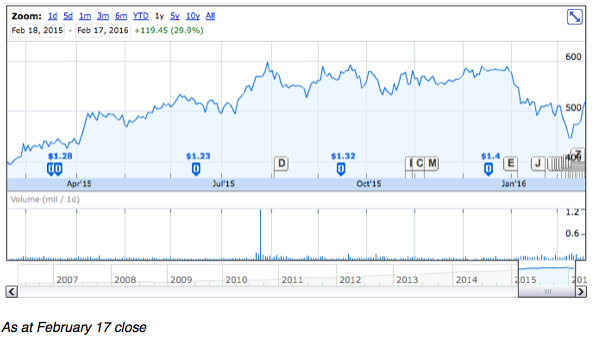 (1) Recent Results
On February 17th, the company reported Q4 2015 results. In the quarter, revenue grew 16% y/y while adjusted EBITDA grew 28%. As a result of a lower tax rate in the quarter, adjusted net income increased 36% to $5.55 per share. Consensus estimated revenue and EBITDA at ~$490 million and ~$130 million, respectively.
Constant currency organic growth was 4% as lumpy hardware sales were up more than 40%. Reported organic growth was -1% as foreign exchange continues to eat into top line sales growth. Note: despite being a Canadian company, Constellation reports in USD where more than half of revenue is generated.
The company spent ~$235 million on acquisitions in 2015, up from $124 million in 2014 but down from $532 million in 2013 when TSS was acquired. Net debt to EBITDA is ~1x and cash from operations was more than sufficient to fund the dividend and acquisitions.
(2) Recent Acquisitions
The business model at Constellation is built upon acquisitions. While they are critical to an investment thesis, it is not a process based on spending frivolously. Management has a highly-tuned process of buying small, high-quality businesses at good prices.
I introduced and explored the process in an article about Enghouse systems. For further reading, please check out Enghouse: Executing on a Proven Acquisition Playbook.
To summarize, I would describe Constellation's acquisition playbook as follows:
Operating a capital-light business model with high recurring revenues
Redeploy excess cash towards acquisitions
Acquire mission critical software with low operating costs but high switching costs
Dominate small, less competitive market niches
Manage business to ROIC
Avoid large amounts of debt
Operate decentralized
In recent quarters, the company has bought several small-to-mid sized companies. Yet to find another large business like TSS. One might notice a recent trend: acquisitions often include "unwanted" assets from larger software firms, including some bought during cyclical downturns such as Datamine.
In February, its subsidiary Harris acquired SIV.AG - a European provider of utility billing, financial and customer care outsourcing solutions. Harris has a large existing utility business and its management team will look to impart its philosophy at SIV.AG.
In November, Springer-Miller was acquired from Par Technology (NYSE:PAR) for roughly $20 million. Springer-Miller products include business management software for hospitals, hotels, spas and golf properties (among others). This compliments the existing suite of products held under the Jonas name and includes the Club Solutions assets bought from Fiserv (NASDAQ:FISV) in 2013.
In October, subsidiary QuadraMed bought Hospital software from Quality Systems (NASDAQ:QSII) for $5 million (sales had been declining sharply). In September, it bought Market Leader from Zillow (NASDAQ:Z) for $23 million. This after Trulia bought Market Leader for ~$350 million in 2013 but the division had since seen significant declines in revenue.
In July, Constellation's Vela division bought mining software business Datamine from CAE (NYSE:CAE) for around 1x sales - or an estimated $50 million. And in June, they bought Australian business Megabus, which provides retail enterprise software for the tire and automotive repair industry.
In May, Harris bought hospital software business Picis from UnitedHealth for about $80 million - one of its largest acquisitions and building on CareTracker the year before. Consider that in 2007 Picis raised $155 million in equity and Constellation paid half that.
The inability to land a large acquisition is not for lack of trying. On the Q3 conference call, management mentioned it was invited to several $100 million-plus acquisitions but pricing remains too high and was not selected for the only one it bid for.
The latter point highlights the discipline management continues to operate under - even after they lowered hurdle rates in order to compete with private equity for larger deals. Arguably, the company could have paid up to close a deal - and the market would've love it - but they remained true to the process.
(3) Margins Expanding
On the Q3 conference call, CEO Mark Leonard highlighted that, at 27%, EBITDA margins have peaked. He would prefer to reinvest in the business to spur organic growth than see margins further expand.
In Q4, adjusted EBITDA margins were flat with Q3 and we should expect margins to be flat-to-down from here. Not only has management telegraphed the decline but sometimes low-priced acquisitions have lower margin or are losing money.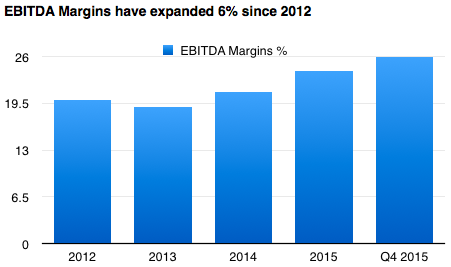 The story for the past several quarters has been higher margins fueling outsized earnings growth. Much can be attributed to restructuring at the European's TSS segment where management has shed low-margin professional services work in favor of more recurring software revenue.
(4) Organic Growth Slowdown
As mentioned, the company has struggled in recent quarters to ignite organic growth, which has been trending below the long-term average of around 4%. In his 2013 letter to shareholders, CEO Mark Leonard detailed the challenges of rising margins and the need to reinvest in the business:
For anyone who has studied the industry, it is difficult to imagine a 5% perpetual swing in organic growth that doesn't have an offsetting impact upon operating margins. That said, there's still tremendous valuation and strategic leverage if organic growth can be increased with reasonable levels of investment. If managers have the discipline to monitor the IRR's on their investments in organic revenue growth, then they've taken a critical step towards understanding the most powerful lever in software
Still, margins keep rising. Part of this is due to the successful integration of TSS as mentioned. Another factor is Constellation's compensation system, which promotes return on invested capital. On the Q3 conference call management also talked about slightly altering the compensation system to focus more on organic growth while retaining the core ROIC foundation. Speaking about the challenges involved in the changing compensation system:
One of the lessons I learned about compensation early on inside of Constellation is that once you put a system in place, if you change it, the paranoia associated with changing compensation is enormous. And it takes years for people to trust you again and to realize that what you've done was to their benefit.

And so whatever we do, it won't affect the existing compensation system; it will be additive to that system. And we wanted to create an environment where people who aspire to be general managers inside of Constellation, to run business units - hopefully, we'll be running a couple hundred more, five years hence - people who aspire to be in those roles will make decent money and have a chance to build wealth and careers.

And we want that to be very, very clear to everyone who either comes up through the ranks and enters those particular roles or joins us from the outside, does an apprenticeship and enters those roles - or comes with an acquired business and enters those roles. We want those people to be lifers. That's what we're looking to do. And the comp system has to be designed to pull that off.
The current compensation system is a mix of ROIC plus total growth creating the risk that acquisition becomes far too big a priority and organic growth, which often indicates the success of your products and health of your business, is minimized. That said in constant currency, Q4 was actually a modest acceleration from recent quarters.

(5) Mark Leonard's Aura
It is challenging to put into words the unique aura surrounding Constellation's CEO. From declining to participate in national articles in the Globe and Mail to rarely speaking at investor conferences, his elusiveness has only perpetuated the aura.
Perhaps his most candid and forthcoming comments are in the annual letter to shareholders. Last year he reduced his compensation to zero and curiously opted to pay for his own travel:
Last year I asked the board to reduce my salary to zero and to lower my bonus factor. CSI had a great year, so despite those modifications, my total compensation actually increased. This year I'll take no salary, no incentive compensation, and I am no longer charging any expenses to the company.

I've been the President of CSI for its first 20 years. I have waived all compensation because I don't want to work as hard in the future as I did during the last 20 years. Cutting my compensation will allow me to lead a more balanced life, with a less oppressive sense of personal obligation. I'm paying my own expenses for a different reason. I've traditionally traveled on economy tickets and stayed at modest hotels because I wasn't happy freeloading on the CSI shareholders and I wanted to set a good example for the thousands of CSI employees who travel every month. I'm getting older and wealthier and find that I'm willing to trade more of my own cash for comfort, convenience, and speed ... so I'm afraid you''ll mostly see me in the front of the plane from here on out.

I love what I'm doing, and don't want to stop unless my health deteriorates or the board figures it's time for me to go. We have an impressive board. I trust them to determine when I'm no longer adding value as the senior executive in the company.
One share will allow you admittance into the ever expanding AGM in May. I encourage anyone who can to attend - the insights and dialogue alone is worth the entrance fee. If unable, reading a few conference call transcripts will provide plenty of insight into the unconventional (and sometimes quirky) way of thinking at Constellation Software.
(6) Concluding Thoughts
2015 was another solid year in terms of acquisitions but one where the forward earnings multiple reached nearly 25x earnings. Despite some challenges generating organic growth, the process remains unchanged and with a clean balance sheet, management continues to march their growth strategy forward.
Next up will be Part 2 entitled "Where do we go from here?" The second article will explore the outlook for the company, the challenges as they grow larger, changing market dynamics and the balance sheet among other topics. I'm sure readers have a variety of thoughts and, as always, I welcome them in the comments section.
Disclosure: I am/we are long CNSWF.
I wrote this article myself, and it expresses my own opinions. I am not receiving compensation for it (other than from Seeking Alpha). I have no business relationship with any company whose stock is mentioned in this article.
Editor's Note: This article discusses one or more securities that do not trade on a major U.S. exchange. Please be aware of the risks associated with these stocks.