To me, the measure of a true asset, or pot of gold, is one that works for me and provides income. A pot of gold is any income received without having to work at a job, as you might say it works for me. Even better, I have to do nothing other than collect cash from it. I do not have to sell anything or work at doing anything to get the payment. I have other assets, some would say, like my paid-off home. However, it is still not a true asset as it still costs money as in property taxes, upkeep and insurance. It can increase in value as time goes on, but don't count on it. It would actually be a liability if it were not paid off.
We also have vehicles and a boat that are paid off, but just sit in the garage and cost money. I do not include them as true assets, as they cost money as in repairs, gas and insurance. They most often also go down in value as they age and definitely are not growing income. Collector cars and boats are a whole different story, and I am just referring to the ordinary run of the mill vehicle we buy for our transportation or recreational needs. I can get money for them if I sell them, but they do not provide income like most true assets, or my pots of gold. A rich person, and we are talking rich in money, can usually be characterized by their number of true assets and most of them you cannot actually see. A big house or an expensive car really is not a real asset and should not be viewed as such, but unfortunately is the means many folks are measured by as being successful or rich.
To retire, an alternative income provider must be located or real assets are needed that do just that. These true assets, I have concluded are stocks, real estate that provides income, bonds and royalties. This is not inclusive, and I am sure you could provide other meaningful income providers. I have only brushed over the real asset topic, and now I want to discuss my retirement pots of gold.
My Stock Portfolio: Pot of Gold #1
I did not find my stocks under a rainbow, I worked for them and had a plan to get them.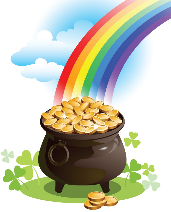 My last article was about my 74 stock portfolio, which is now only 73. My goal in 2016 is not to increase the number of stocks I own, so far so good.
Now to my very first stock and the beginning of my stock portfolio pot of gold.
Altria (NYSE:MO):
Consumer Defensive Sector with a BBB+ credit rating. Five-year dividend growth rate (DGR) of 8.8%.
One way to start investing is through your workplace stock options. My husband did this every week through payroll deduction. He just did it, and we learned not to miss the income. I want to suggest enrolling in any employer IRA or 401(k) offered, especially those with matching funds. Do not throw away free money matching, just do it.
Back in the 1980s owning MO was really like owning a huge conglomerate of products, not just tobacco products as it is now. Mike Nadel, a golden, and humorous author, wrote an excellent article on MO; please read if you care to know specifics. I will mention the spin-offs we received from MO over the years. They were Philip Morris (NYSE:PM), Kraft, now merged into Kraft Heinz (NASDAQ:KHC) and Mondelez (NASDAQ:MDLZ). We have always dripped the dividends and continue to do so for each of these companies. This is the beauty of compounding at its best. We, are not, as yet in the distribution phase, but look forward to harvesting the rewards someday. These holdings in combination comprise 6.3% of our portfolio value (MO + PM are 4.9%). It currently is a bit overvalued, but still provides a very nice reliable dividend.
Xcel Energy (NYSE:XEL)
Utility Sector with an A- credit rating. Five-year DGR of 4.4%. It has multiple interests in coal, electric and natural gas, with two nuclear power plants in MN. It also operates in CO, MI, NM, ND, SD, TX and WI. It has a few wind and solar plants. The yield varies but currently is only 3.3%. I feel XEL is a bit overvalued. When the yield is 3.6-4%, most often it is a good buying opportunity. Try to buy at that historic yield to get the best total return.
I received this as a gift in the 1980s from my talented investing savvy grandmother. She bought each of her grandchildren $500 worth of XEL, or about 25 shares. I never touched it through thick and thin. It continues to be dripped and is now ~ 1,150+ shares. It remains a memorable golden gift. It is now about 2.2% of our portfolio.
W.W. Grainger (NYSE:GWW)
Industrial Sector with an AA- credit rating, dividend Aristocrat and Champion. It is mostly a parts supplier and is suffering a sector decline. It is a nice value right now with a historical yield of 2.4%. The low yield makes it a growth stock. The excellent 10-year dividend growth rate of 18% makes it attractive to own. We bought 15 shares in 1993 for $891 = ~$59/ share. It split 2:1 in 1998 to give us 30 shares. It now has a value of $192 per share. I added to it last year, a bit too soon, but remain pleased with the position in this excellent company and growth stock.
I am including the FAST Graph, as I still recommend it for nice growth, however, cyclical.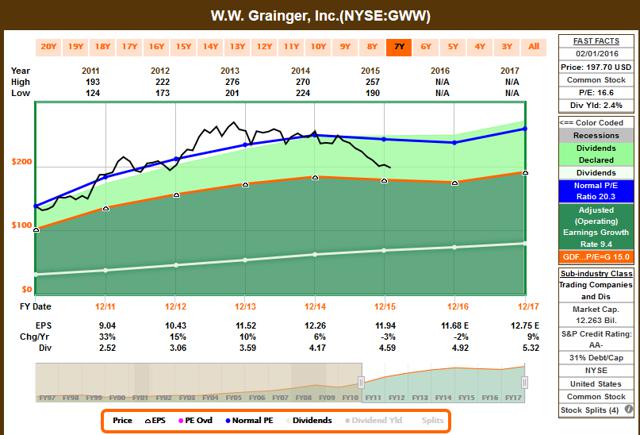 Utilities
I have found utilities to be the most stable sector that provides high yield.
I never had a real plan, but knew I wanted to create an investing portfolio like my grandmother and my parents. I was told to buy the best, and I was left to discover what that really meant. My parents steered me to the stocks, Southern Company (NYSE:SO), Verizon (NYSE:VZ) and AT&T (NYSE:T). They are all utility like, with really great reliable dividend payments. My current yields on cost are: SO, 5.2%; VZ, 5.4%; and T, 6%. I also know they are best purchased when the yield is historic and the stock price is the lowest.
SO is an example of a utility that has a very nice stable and reliable yield range and my very favorite. It represents 4.8% of the portfolio value and 5.3% in the income.
The FAST Graph below over 10 years shows this rather boring trend of minor ups and downs other than the dip in 2008-2009. Right now, it offers 4.3%, but I would hold off, as you can see it will fall closer to the gold line and should provide a minimum of 4.5-5% yield for a great and better value.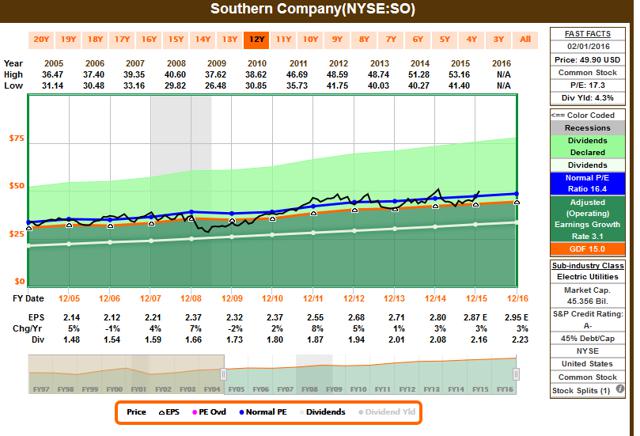 My stock portfolio is under my control, and I enjoy being its manager.
I have many other very pleasing holdings you can read about in my articles. The actual stocks are all listed on my SA profile by sector and portfolio value; the largest holding is listed first.
Social Security - Pot of Gold #2
The only way I knew to get SS on my own was by having a job, and that is just what I did.
SS can be golden, especially if you do not count on it; my husband and I did not. It has become that second pot of gold for us. We hoped SS would be there when we retired, but did not count on collecting it. The government has kicked the can down the road and SS is still around. My husband made the decision to collect SS at age 62. I have waited to my Full Retirement Age (FRA) of 66 to collect the spousal benefits. I placed my own SS on hold until age 70 when the benefit is at its maximum. I must reapply at that age to get my own benefit. I do not believe this option will be continued and one must be grandfathered to get this deferred benefit. If you are at FRA now, be sure to apply for the benefit. Dividend House, a contributor, has written an article about her family situation for SS benefits. It is a must read for anyone nearing SS and to create a plan. Keep in mind, Congress is changing the rules and the FRA is going up and not down. Do your best to collect the most you can and set a plan.
Pension - Pot of Gold #3
My pension is a bonus I receive from my employer, and I am indeed blessed to get it. They have also changed the rules and are transitioning out of this payment to IRA/401(k). Pensions are disappearing.
This is my most fixed income payment. It is a long-term bond substitute. I own no bonds currently; especially with the 10-year T bill rate of ~2%, I feel I can do better. I realize the pension could go away or go down, but never up. My past employer is still in business and reports pension funding every year, which currently is 90+% funded. I make it a point to read those reports every year.
So far so good for both the SS and pension. I have little control over what happens with them and remain grateful for each and every payment received.
My last and unmentioned golden rule was to save and try not to have debt. That has served us well, and we still practice it. We save for our vacations and our cars. The cars are usually 2-3 year old used ones too. It has become a difficult habit to give up and so we don't. We have treated ourselves to some nice vacations, but we saved the money first and it did come quite a bit later in life. Create your real assets and then treat yourself to luxury items.
We remain exceedingly happy, pleased and content with how we have succeeded and learned to invest. Mistakes have been made along the way, but I have really enjoyed the trip.
Hope this helps with building your own future pots of gold.
Happy investing.
Disclosure: I am/we are long ALL STOCKS MENTIONED.
I wrote this article myself, and it expresses my own opinions. I am not receiving compensation for it (other than from Seeking Alpha). I have no business relationship with any company whose stock is mentioned in this article.