If we're going to see a turnaround in Anadarko Petroleum (NYSE:APC), we're going to need to see a turnaround in oil, plain and simple. In terms of a fundamental outlook for oil, I'm still bearish and believe the WTI has yet to bottom, despite reaching $26/barrel earlier in the year. Cooperation from major players in terms of production cuts takes time and the right, profitable terms. Thus, I fully expect volatility to continue to attack the WTI. With APC down 16.63% YTD, perhaps it's time to consider Anadarko as a long in your rebounding portfolio as oil tries to find a bottom.

Source
Oil Fundamentals: Gaining Color
The best thing you can do on a short-term basis to protect your investment is filter noise from fact. Right now, traders are betting on an oil recovery and as you can see from many of the 13-F filings reported over the last few days, the risk/reward scenario is highly attractive for the LT. That means if you have extra cash on the sidelines, you should use this to lower your cost basis on investments like Anadarko if you got in at a higher level, say last year and have experienced losses.
In Wednesday's session, we had Iran support the OPEC statement that production is to be frozen at current levels. This "current level" of production is the highest it's ever been, given the fact that OPEC has to defend its market share, but nonetheless, knowing that no more than what is being produced now will hit the market is a sigh of relief. However, now that Iran's exporting sanctions have been lifted, we're still waiting to see what this massive wild card will do with its supply. That concerns me and leads me to believe that this will take some time before a formal agreement to cap production at current levels or even cut it to a lower level will be reached.
Meanwhile, we have WTI volatility at its highest since 2009, and U.S. production is failing to show any signs of retreat. It takes cooperation on all fronts and while OPEC certainly controls a larger share in the market, with Saudi Arabia being the largest single producer, we need to see the frozen current levels get capped for major oil equities to see a meaningful boost.
Anadarko's Leverage Still High
Take a look at the chart below. It's the WTI versus Anadarko over the last six months. The scale below is not on a percentage basis, but rather a pure dollar basis. What you have to immediately notice is the leverage associated with APC on runs and dips relative to the WTI.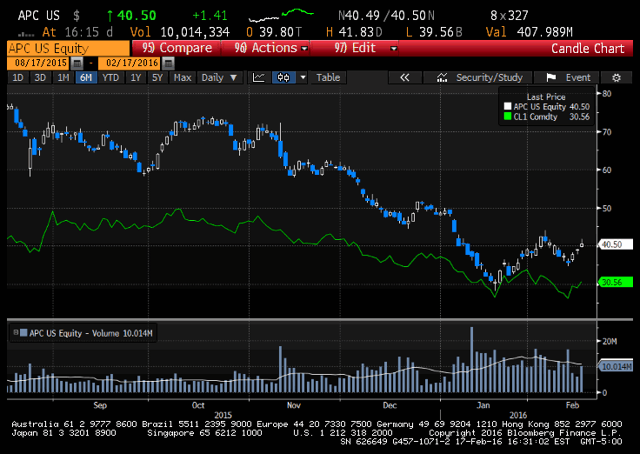 And the correlation between the two: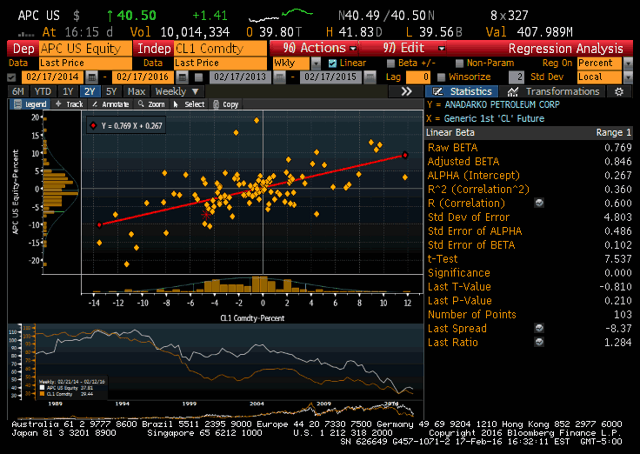 Source: Bloomberg
The company has $15.72 billion in LT debt, with only $939 million in cash. Quarterly interest expense is at $205 million, so annualized that's around $800 million that they have to pay out. Not the best use of fund in an environment where operating prices aren't favorable. Thus, paying down debt is a necessary entity moving forward. Nonetheless, this kind of debt creates ample leverage for the stock to generate alpha in your portfolio. From a liquidity perspective, the company's current ratio is 0.95, but its quick ratio is much lower at 0.38. The company's updated debt/equity is 101.9.
Go Long Now Or Wait?
Think about an investment in Anadarko in terms of the WTI. The WTI is currently trading at $30.57, has reversed the losses it experienced yesterday, and is up from its 52-week low of $26.05. When we think about the WTI's 52-week high of $62.58, we start to get a real favorable risk/reward scenario for Anadarko. Right now, the WTI is about 52.11% off of its 52-week high, but from a return perspective, the WTI would double in value to hit its 52-week high. Interesting, the same logic can be used to evaluate Anadarko. APC's 52-week low is $28.16 and its 52-week high is $95.94. That's incredible when we think that if it were to hypothetically hit that amount, it would represent a 236% increase on a return basis.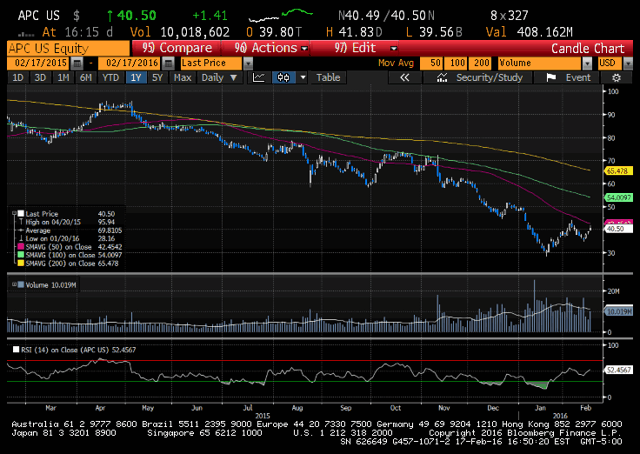 Source: Bloomberg
With the RSI pretty neutral, it's not the most optimal time to initiate entry and perhaps waiting for a down day is the best way to enter the stock. If you caught the late January dip to just above $30 share, then you're likely in an incredibly position for the LT, and really any sub-$40 entry is ideal.
The reason the stock may not present itself as an attractive option as a major oil company, especially in the short-term, is the lack of a current income component. The company cut its dividend by 81%, a little over a week ago and while the cost savings on this, to the tune of $450 million annually, will help the company gain liquidity and prop up capex, it comes as a large disappointment to current shareholders. That being said, the stock has a 0.49% yield, which is better than nothing.
Conclusion
I may enter APC because I like the company's asset exposure and additional growth projects coming online, as I talked about last time. I may also enter APC for the cost attractiveness relative to the WTI. That being said, this investment may experience a large amount of short-term turbulence and given the company's leverage, my tolerances may easily be reached one way or the other if the market fails to distinguish noise and fact.
Disclosure: I/we have no positions in any stocks mentioned, but may initiate a long position in APC over the next 72 hours.
I wrote this article myself, and it expresses my own opinions. I am not receiving compensation for it (other than from Seeking Alpha). I have no business relationship with any company whose stock is mentioned in this article.