Seeking Alpha articles by Paulo Santos and Mark Hibben regarding iPhone sales showcase extreme views on collapsing sales of this key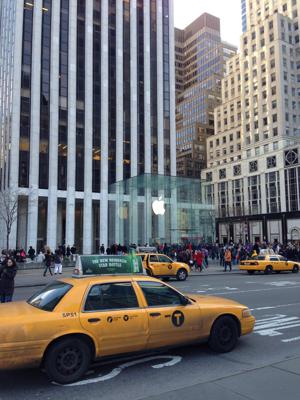 element of the Apple (NASDAQ:AAPL) portfolio. Santos argues the deterioration in iPhone sales is worse than feared. Hibben contends the bull case hanging onto the untenable position that lower iPhone sales will not adversely affect Apple margins.
The hard data support Santos. Apple had a solid beginning to 2015 with iPhone 6 and 6 Plus in strong demand, as the company finally entered the "phablet" market. But, by year-end the lackluster "enhancements" to iPhone 6S and iPhone 6S Plus saw the needle turn sharply lower as Apple conceded market share in most markets with only China showing a gain.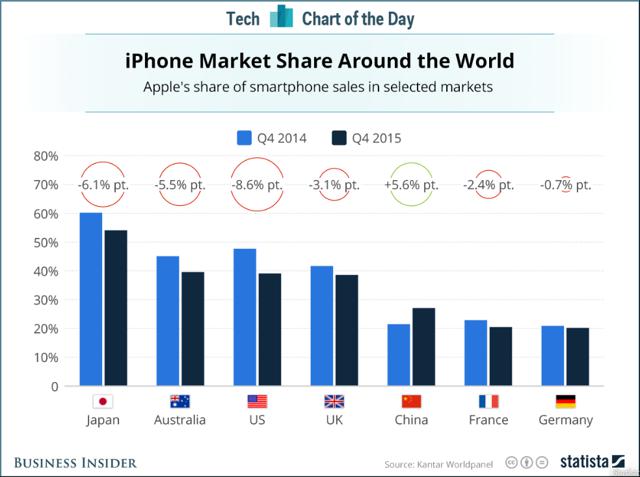 Source: Business Insider
Apple's reported sales of the iPhone have been overstated by growth in carrier inventory for several years with that inventory now over 20 million devices. While consistent with Apple's target of 5-to-7 weeks of sales in inventory looking backwards, that carrier inventory is definitely a problem for Apple if iPhone sales decline materially. Like Santos, I think they will.
The change in the key U.S. market is quite dramatic. In 2014, Apple and Android were neck-and-neck in terms of market share.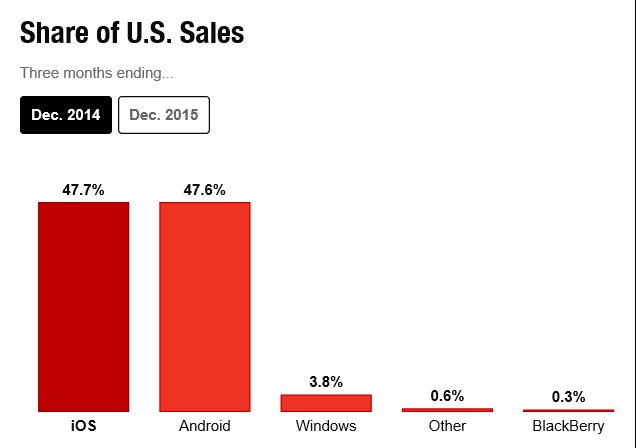 Source: Fortune
In the fourth quarter of 2015, Apple sales into the U.S. market were swamped by Android devices.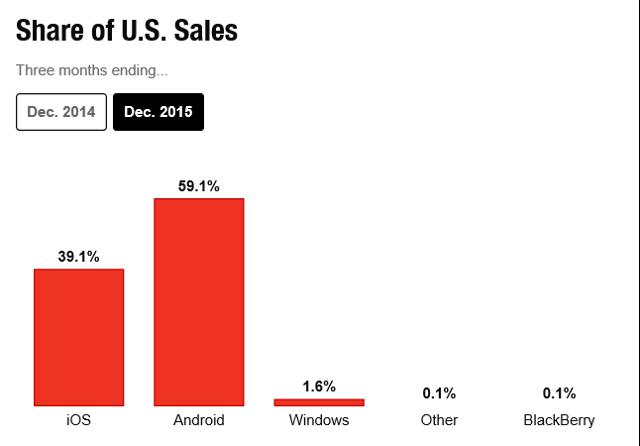 Source: Fortune
Apple's U.S. misfortunes were somewhat offset by its gains in China without doubt, but an eight-percentage point drop in share of U.S. sales is hard to ignore as a harbinger of things to come.
As you might expect, as one of the world's largest companies and perhaps second only to Alphabet (NASDAQ:GOOG) (NASDAQ:GOOGL) in terms of enterprise value, Apple gets a lot of ink and views are widely divergent. Drexel Hamilton analyst Brian White says iPhone sales in January 2016 were the best on record, based on his assessment of Apple suppliers and calls for a $200 price target.
That bullish view is supported by the elegant projection model developed by Frank Bass in 1969 which, when applied to iPhone, predicts an installed base at peak of 575 million users and annual sales of 288 million units in steady state. Those sales are largely replacements with new users estimated at 68 million a year, offset by defections.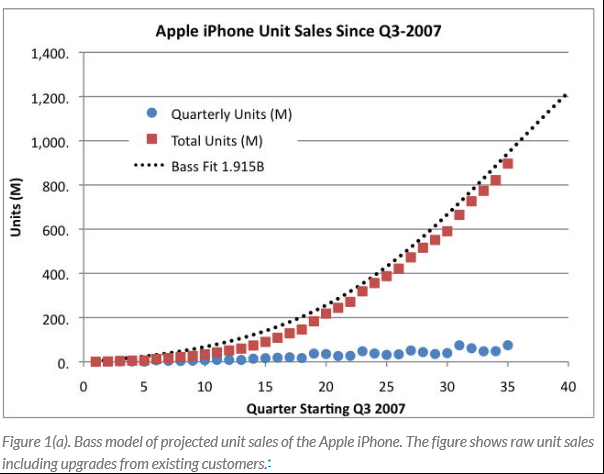 Source: ubiquity.com
The Bass model has been a reliable tool for forecasting technology product sales since its inception. It is, nonetheless, victim of its assumptions and, in the case of iPhone, those assumptions are a two-year replacement cycle and 25% new users each year. Both are suspect in my opinion. Smartphone technology is reaching to the point where incremental advances may not compel upgrades and the assumption of sustained 25% new users is without foundation.
The Bass model is in its essence a Riccati differential equation with constant coefficients. It is a reliable tool for forecasting providing the external world conforms to the coefficients. There is plenty of evidence that the trend in iPhone will diverge from the past, in my opinion.
The average replacement cycle for iPhone users is 25 months, with Chinese users replacing their device more often than Americans. In my opinion, the dramatic success of the larger screen version of the iPhone accelerated the cycle on a one-time basis.
The Bass model forecasts an equilibrium installed base of iPhone users of 575 million as described earlier. I think that is a reasonable estimate. What the Bass model does not account for is the life span of the device and what becomes of devices when first time buyers upgrade to a new iPhone.
According to the Consumer Electronics Association the average life of a smartphone is 4.7 years. Given the Apple reputation for quality, Apple fans might agree that number would be a bit longer in the case of the iPhone. Purchases of resale iPhones must tend to distort the Bass model overstating demand for new phones.
The Bass model is an empirical approach to fitting a curve over actual results to forecast future results. In the early days of the iPhone, the model was very accurate but, of course, there was a very small secondary market. As the product developed with explosive growth, the secondary market has no doubt burgeoned and is now substantial. Apple's 25-month replacement cycle is the beneficiary of a strong resale market allowing users to sell their existing phone to trade up to the latest one. The old phones are not taken out of service, but sold to other buyers who prefer an iPhone.
If you assume that one quarter of those users who replace their iPhones either sell or trade-in their old one and adjust the forecast unit sales of iPhones by the sales of used iPhones, you arrive at annual iPhone sales in an equilibrium at 228 million devices annually. That is about where iPhone sales are today.
That estimate would be fine, but is also victim to the assumption of 25% net new users annually. In my opinion, Apple pretty well shot its bolt when it introduced the larger-screened iPhone. Google Play has now passed the App Store in terms of the number and breadth of applications. Premium Android devices now outclass the iPhone on virtually every metric. And, my sense is that iPhone users are simply tired of short battery lives, limited expansion ability and very little integration with the Android world, which makes up over 80% of the global smartphone population.
Accordingly, I foresee continued weakness in iPhone sales over the coming quarters with a few upward blips as Apple flails away with its fading strategy by introducing a new small-screen device and a Hail-Mary pass with its new iPhone 7 this fall.
Investors should avoid the stock. I will short it on any move north of $100.
Disclosure: I/we have no positions in any stocks mentioned, but may initiate a short position in AAPL over the next 72 hours.
I wrote this article myself, and it expresses my own opinions. I am not receiving compensation for it (other than from Seeking Alpha). I have no business relationship with any company whose stock is mentioned in this article.