At the end of 2015, Occidental Petroleum Corporation (NYSE:OXY) ended the year with $4.4 billion in cash. Over the "coming months," Occidental expects to receive $900 million from its Ecuador settlement and $300 million from asset sales, implying a $5.6 billion cash balance heading into 2016. With its cash pile, Occidental Petroleum plans to reduce its debt load by $700 million this year as it continues to maintain ~$2.3 billion in dividend payments. The company had $6.883 billion in long-term debt and an additional $1.45 billion in debt maturing within a year at the end of 2015.
Occidental Petroleum is guiding to generate $3.6 billion in cash flow when extrapolating its Q4 2015 results, at $42/barrel oil pricing. With WTI/Brent now bouncing around $30/barrel, it's important to note that Occidental's cash flow streams may come in below that rate unless prices move higher. The company mentioned that for every $1/barrel change in Occidental's realized oil price, its cash flow would move up or down by $100 million. That would imply that Occidental will generate $1 billion less than expected if there isn't some sort of recovery, but to be fair, the general assumption is that prices will post some sort of recovery by the second half of 2016.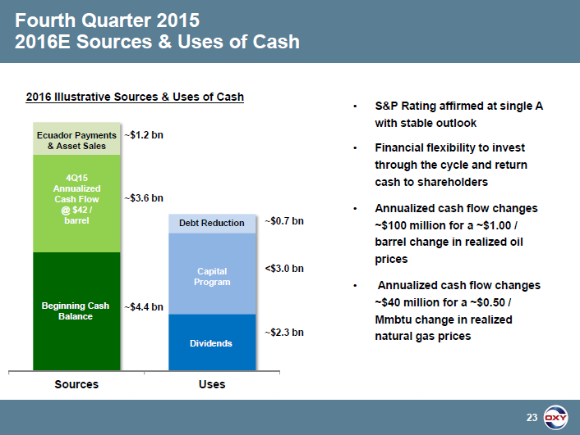 Source: Occidental Petroleum Corporation Presentation
It makes little sense to pay out more cash than your operations are generating, which appears to be the plan even after factoring in the reduction in capital expenditures. However, out of all the energy companies sporting hefty yields (4.4% yield as of this writing), Occidental Petroleum is best positioned to maintain such a payout.
Upstream
Occidental Petroleum grew its company-wide (excluding its divestitures) production streams by 14% in 2015 versus 2014, with its oil output up 15% year over year. In the Permian Basin, Occidental's unconventional production hit its 120,000 BOE/d target a year early in November (118,000 BOE/d in Q4), up 47% year over year. The Al Hosn sour gas development started up in January 2015, and added 35,000 BOE/d net to Occidental's production base last year. That should marginally increase this year as the Al Hosn complex is pumping out 60,000 BOE/d net to Occidental (as of Q4), but some planned turnaround efforts in 2016 will reduce that rate.
Even as Occidental Petroleum pushes its capex budget down to ~$2.9 billion in 2016 versus $5.6 billion in 2015 and $8.7 billion in 2014, the company still expects to achieve 2%-4% production growth from its "core" assets (excluding its recent divestitures). A large part of this is due to its major developments in the Middle East, including its Al Hosn sour gas project and the start-up of its Block 62 development in northern Oman. Combined, the Al Hosn development and the Block 62 development should add 35,000 BOE/d to Occidental's production base this year according to management.
Occidental is expecting its domestic output to drop as the company removes its foot from the pedal in regards to developing its natural gas weighted assets. Occidental has posted impressive growth out of its Permian Resources division, exceeding expectations as I stated above, and management sees production out of those operations growing "modest(ly)" this year. Production from its Permian EOR division is estimated to be flat in 2016, as the company capitalizes on the silver lining of the current downturn.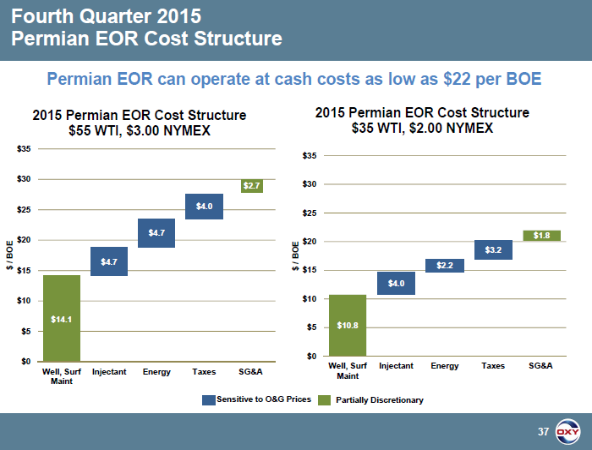 Source: Occidental Petroleum Corporation Presentation
As you can see above, Occidental's Permian EOR cash costs have declined to $22/barrel from $30/barrel, enabling the division to continue posting free cash flow at the bottom of the downturn.
Cheaper labor and third-party costs enable certain upstream operations to keep generating FCF in the brutal environment. Below is an excerpt from the company's conference call:
"Our assets in Colombia, ISND in Qatar, Block 9 in Oman, Permian EOR, Dolphin and OxyChem provide significant earnings, require relatively low maintenance capital and provide free cash flow in this low price environment. Our most recent addition to this list is our Al Hosn gas project which is a 30 year joint venture with ADNOC in Abu Dhabi."
Growing flexibility
On the downstream side of things, Occidental's expansion in Ingleside Texas is on track to start up in 2017. Occidental's downstream operations generate FCF as the company capitalizes on cheap American feedstocks, which it plans to keep doing through its Ingleside expansion. With the Al Hosn development operational and the ethylene cracker & Ingleside terminal nearing completion, Occidental will be able to keep pushing its capex lower if it needs to. Below is a look at the company's committed project capital rolling off, and check out this article to learn more about its Ingleside expansion.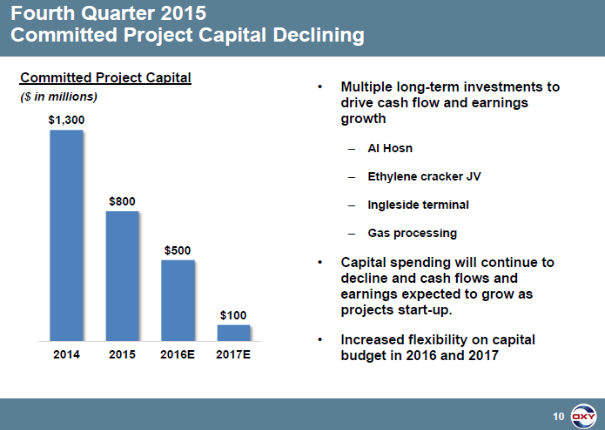 Source: Occidental Petroleum Corporation Presentation
Final thoughts
Occidental Petroleum remains one of the strongest energy companies out there financially, with downstream and some upstream operations capable of generating free cash flow at the bottom of the downturn. While its outspend will continue as its dividend payments stack on top of its capital expenditures, the company's cash pile will be able to easily cover any cash flow shortfall this year. Farther out, the possibility of a pricing recovery and additional financial flexibility will enable Occidental Petroleum Corporation to ride out the storm.
Disclosure: I/we have no positions in any stocks mentioned, and no plans to initiate any positions within the next 72 hours.
I wrote this article myself, and it expresses my own opinions. I am not receiving compensation for it (other than from Seeking Alpha). I have no business relationship with any company whose stock is mentioned in this article.