Background
Marathon Oil (NYSE:MRO) operates as an upstream exploration and production (E&P) company in North America and Africa. The company operates in three segments: North America E&P (predominately unconventional shale fracking in Eagle Ford, Bakken, and Oklahoma), International E&P (Equatorial Guinea and Libya), and Oil Sands Mining (Alberta, Canada).
At the time of this article, Marathon Oil's current price was $7.41 - close to its 52-week low of $6.52 - with a negative current P/E, a negative forward P/E and a dividend yield of 2.67%.
This analysis is based on information from MRO public SEC filings and press releases from the scope period 1Q14 through 4Q15.
Financial Statement Trends and Analysis
Record Loss of $793 Million
Marathon Oil's consolidated revenues correlate directly with the price of oil - peaking in 3Q14 and falling since. Marathon Oil's loss from continuing operations hit a record of $793 million in 4Q15. This was also the seventh straight quarter of consistent decreasing net income from continuing operations since 1Q14.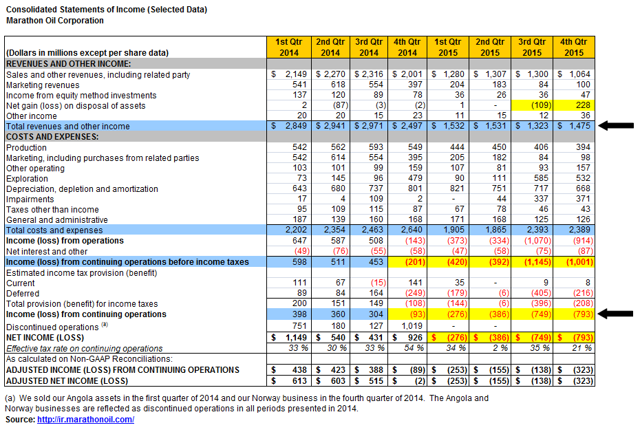 While Marathon Oil's revenues appear to have increased from 3Q15 to 4Q15, the increase was the result of a $228 million gain on the sale of Gulf of Mexico assets. Removing this gain (along with the 3Q15 loss of $109 million for consistency) provides greater transparency into Marathon Oil's operating revenue for the period in scope.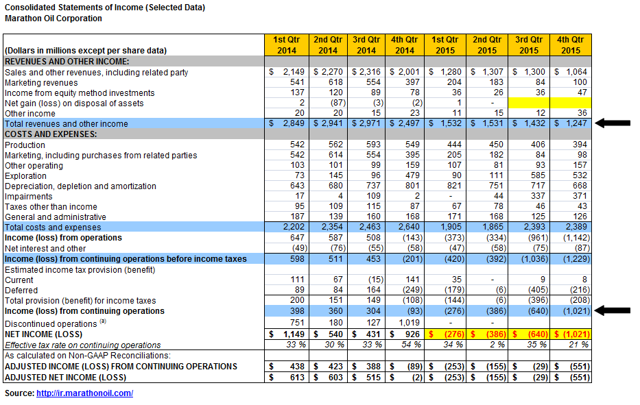 In addition, a review of income by operating segment reveals that the operating loss in North America more than tripled from 3Q15 to $219 million. This is concerning as the majority of capital expenditures have been spent in the North American shale plays.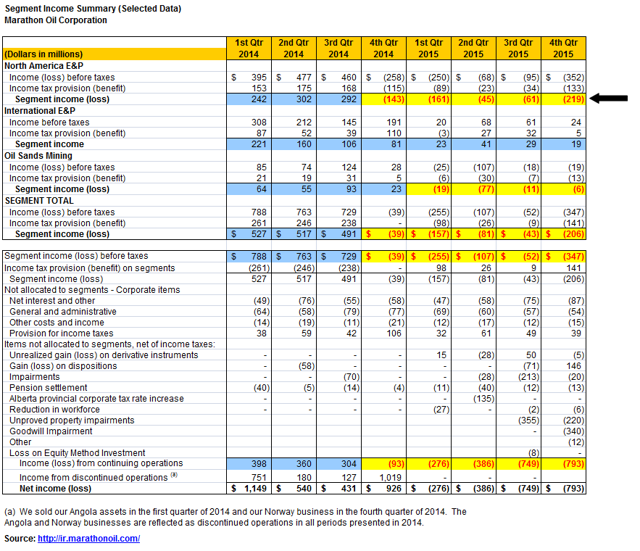 Finally, Marathon Oil had been successful in lowering expenses during the first two quarters of 2015 but expenses then increased due to substantial impairment write-offs and increased exploration expenses.
Record Loss per Barrel of Oil Equivalent (BOE) in North America of $9.27
The impairments and exploration expenses noted above have also increased the cost of producing a barrel of oil equivalent in North America to $45.32, resulting in a record loss of $9.27 per barrel produced in North America (and the highest cost since 4Q14).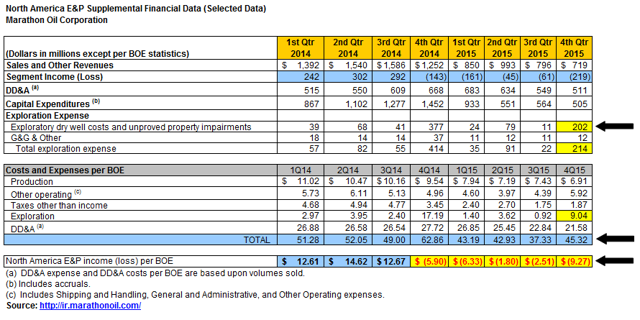 In addition, income from the International segment fell to a record low of $19 million for 4Q15 and the Oil Sands segment continues to incur losses for the fourth quarter in a row.
Cash and Short-Term Investments Depleted by 50% to $1.2 Billion
The impact of the record losses and production expenses are appearing in the balance sheet. Cash and short-term investment balances have been cut in half from 3Q15. While the balances in these accounts were lower in 1Q15, Marathon Oil borrowed $2 billion in 2Q15 to cover a potential cash crunch as well as to roll over the $1 billion in debt due in 4Q15.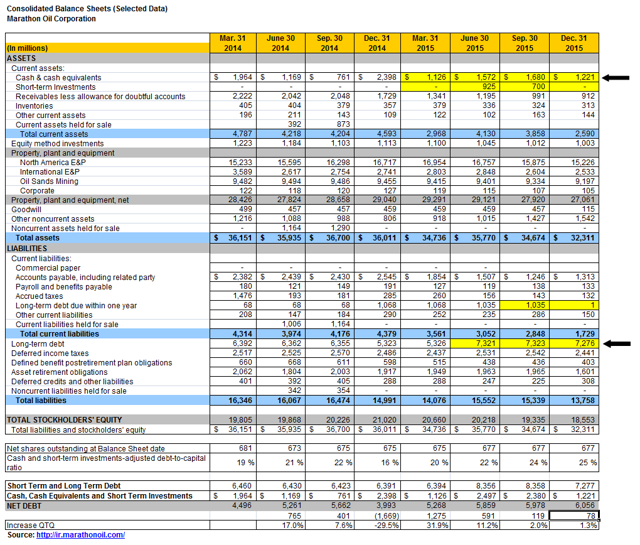 In addition, net debt (total of short and long-term debt less cash and short-term investments) is steadily increasing.
Additional Factors to Consider
Stock Buybacks and Dividend Squandered Cash
Marathon Oil completed $1 billion in stock repurchases in the first half of 2014 and paid approximately the same amount in dividends for the period 1Q14 to 4Q15. This combined amount equals the amount borrowed in 2Q15 to pay off long-term debt and for general corporate purposes. These buybacks were completed at an average share price of $34.48.
Saudi Arabia and Russia Agree to Production Freeze (at Record Levels)
Bloomberg stated on Feb 16, 2016 that Saudi Arabia and Russia agreed to production freezes at record levels. In addition, this agreement did not include Iran.
This decision is not likely to impact demand, and since the falling price of oil is a supply side issue, the news will be minimally positive for the price of oil.
Conclusion
Marathon Oil has been unsuccessful in rationalizing expenses to lower revenue realizations in the continuing commodity downturn. Strategies implemented have been short-term remedies to a long-term issue.
Management realizes this and increased the range of non-core assets targeted for sale to $750 million to $1 billion. As North America is considered core, this likely means the international segment will be divested as it is the only asset remaining with a value in this range.
Depending on timing and cash obtained from these divestitures, the next transaction will likely be tapping the $3 billion credit line (as an equity transaction will be the final action taken to protect the remaining assets of the company). This would also be heavily dilutive considering the low stock price.
Based on the above analysis, investors should liquidate positions as the stock price does not appear to have found a bottom and likely will go much lower.
Disclosure: I/we have no positions in any stocks mentioned, and no plans to initiate any positions within the next 72 hours.
I wrote this article myself, and it expresses my own opinions. I am not receiving compensation for it (other than from Seeking Alpha). I have no business relationship with any company whose stock is mentioned in this article.