Gold prices benefited from this week's Producer Price Index (PPI) indication of price increase (inflation) at the producer level. It helped gold to hold ground that I believe it would have otherwise lost this week. However, Friday's Consumer Price Index (CPI) Report could undermine that support if it fails to show the inflation the PPI data seemed to.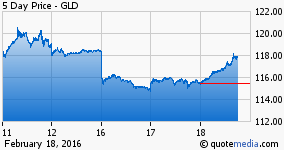 5-Day Chart of GLD at Seeking Alpha
At the close of last week, I boldly suggested investors should take this year's rich profits from their SPDR Gold Trust ETF (NYSE: GLD) holdings and wait for a new lower reentry point. It was effectively my calling of a near-term top for gold prices, and you can see in the chart here that gold followed my guide on Tuesday, 16th February.
On Wednesday, I would have expected gold to fall further, given the dollar should have continued gaining back lost ground on my premise. You can see here in the chart of the PowerShares DB USD Bull ETF (NYSE: UUP) that this was not the case. The dollar simply stabilized. Why was that?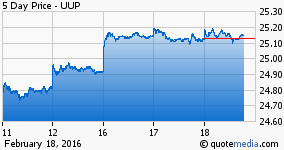 5-Day Chart of UUP at Seeking Alpha
I am nearly certain the dollar's recovery was stymied by the Producer Price Index, which was reported on Wednesday morning. Headline PPI showed a modest month-to-month increase of 0.1% for the month of January. Still, the gain in producer prices was above the economists' consensus expectation for a 0.2% decrease. The modest increase here was probably not the reason for gold's stability, though. A 0.4% increase in Core PPI was to blame for that, along with an upward revision to December's Core PPI to +0.2% from 0.1%. Economists were only looking for an increase of 0.1% for Core PPI, so the four-tenths increase was truly shocking. Given Core PPI excludes volatile food and energy price fluctuation, the data better reflects the true state of inflation. Though, it's important to note that when also excluding trade services, Core PPI only rose 0.2%.
Nevertheless, I believe the market priced some inflation risk into the dollar and gold. Inflation obviously eats at the value of the dollar, so the real cost of goods is increased. Thus, gold, considered by many to have currency value, and to perhaps be mankind's default currency, benefits from inflation. In fact, if inflation exists, even Fed rate hikes should not harm the value of the metal, at least not as much as it would otherwise. You can see how this would be so important for gold prices.
The problem with pricing this data into the dollar and gold is that at the producer level, much of our vast service sector is missed. The Consumer Price Index Report, due Friday morning, will capture what consumers are paying for goods and services these days. Economists are not looking for much price increase from the CPI data, but we note, they were not expecting it from PPI either.
Economists, on average, expect the headline CPI data to show a 0.1% decrease for January, versus the same-sized decline in December. Importantly, the consensus estimate for Core CPI is for a 0.1% increase, again matching the result for December. The range of forecasts extends only to as high as 0.2% for Core CPI, according to Econoday. Thus, barring a similar shock like we saw in the PPI data, CPI should reflect what we have gotten used to: moderate price change, and not scary inflation. Year to year, Core CPI was only up 2.1% in December.

Chart of Spot Gold for Thursday
If the CPI data offers no indication of inflation, it could undermine any positive impact gold may have garnered from the PPI data earlier this week. It's not inconceivable that gold's gain on Thursday was in anticipation of the CPI Report, given the PPI result. However, I believe rising tensions between Turkey and Russia are also feeding into its gains now.
| | |
| --- | --- |
| Precious Metals Relative Securities | 02-18-16 |
| SPDR S&P 500 Trust ETF (NYSEARCA:SPY) | -0.5% |
| PowerShares DB USD Bull ETF | +0.1% |
| SPDR Gold Trust ETF | +2.4% |
| iShares Gold Trust ETF (NYSE: IAU) | +2.5% |
| iShares Silver Trust ETF (NYSE: SLV) | +1.6% |
| Market Vectors Gold Miners ETF (NYSE: GDX) | +5.7% |
| Market Vectors Junior Gold Miners ETF (NYSE: GDXJ) | +7.1% |
| Direxion Daily Gold Miners Index Bull 3X Shares ETF (NYSE: NUGT) | +17.2% |
| Goldcorp (NYSE: GG) | +5.2% |
| Newmont Mining (NYSE: NEM) | +0.8% |
| Randgold Resources (NASDAQ: GOLD) | +3.3% |
| Barrick Gold (NYSE: ABX) | +6.1% |
Gold relative securities enjoyed a superb day Thursday. However, if Core CPI comes in as modest as is expected, then I believe the dollar can resume its recovery. That would weigh against gold, and so, this data point poses a threat to gold longs. I cover gold regularly and invite relative interests to receive my analysis of gold news by following my column here at Seeking Alpha.
Disclosure: I/we have no positions in any stocks mentioned, and no plans to initiate any positions within the next 72 hours.
I wrote this article myself, and it expresses my own opinions. I am not receiving compensation for it (other than from Seeking Alpha). I have no business relationship with any company whose stock is mentioned in this article.