A recent report that distilled spirits sales were growing at a rate that outpaced beer sales growth was great to hear. As recent investors in Brown-Forman Corporation (NYSE:BF.A) (NYSE:BF.B) we feel we may be set to see earnings growth accelerate. According to the Beverage Information Group's Handbook Advance 2016, 2015 was the 19th consecutive year on volume growth for distilled spirits. In fact, in the last ten years, US exports have more than doubled.

Brown-Forman is a company that few may know by name, but many will know through its brands. It was founded in 1870 and has built up an outstanding portfolio of leading alcohol beverage brands which include Jack Daniel's whiskey, Finlandia vodka, and Southern Comfort; although the latter is being sold off to Sazerac in a $544 million deal.
Let's get straight to the sale of Southern Comfort. Although it is a recognizable brand, sales have been struggling. In the most recent quarter, sales of Southern Comfort slumped by 7%, due largely to the increasing popularity and availability of Sazerac's own alternative, Fireball Cinnamon Whiskey. We feel the deal works for both parties and complements Brown-Forman's strategy of freeing itself of challenged brands, as well as non-core brands. It did a similar thing 9 years ago when it offloaded its wine business, and we are confident this move will be just as successful.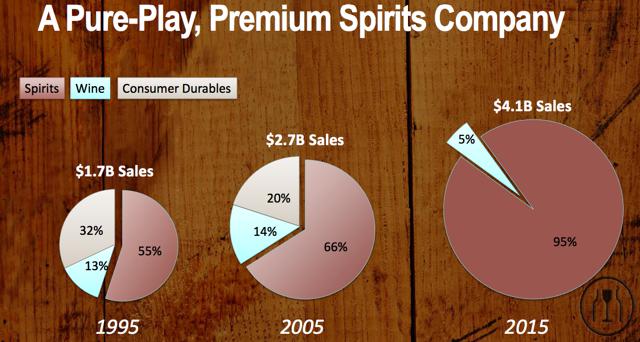 Source: Company Presentation
The reported boost in distilled spirits could ease the pressure being felt by currency headwinds as it is positioned extremely well to benefit following its evolution to a pure-play premium spirits company, as the graphic above demonstrates. Furthermore, in the most recent annual report, the company stated its belief that the market for American whiskey is growing even faster than total distilled spirits globally. This will be very helpful as like many companies in similar industries Brown-Forman has struggled with the strong US dollar. This is due to the fact the company has done a great job in the last ten years of growing its international business. As shown below, you can see how it has evolved from 40% of sales coming internationally, to 57% today.

Source: Annual Report FY 2015
Let's not forget though that currencies do change in time. That which is a headwind today, could be a very strong tailwind in a few years' time. We don't expect this to happen very quickly. In fact, we expect things will get worse before they get better, unfortunately. The US dollar will probably find its legs against most major currencies again later this year after a brief hiccup recently. So, for now, increased demand will need to be the driver for revenue growth and we feel confident it will be. Revenue growth is definitely what shareholders are craving, as in recent quarters it has just begun to run out of steam.
We are very pleased with the robust nature of the company's balance sheet. This has allowed the company to embark on a $1 billion share buyback program which was recently announced. Its strong balance sheet, together with the proceeds from the Southern Comfort and Tuaca sale and its growing cash flow, will allow it to continue to return capital to shareholders. Great news for shareholders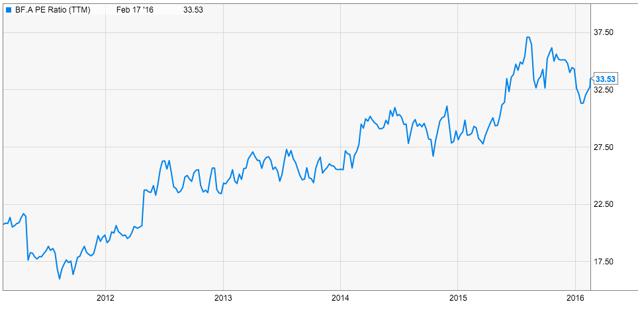 Source: YCharts
Although the shares are a little on the expensive side now compared to where it would normally trade (shown above), we believe the company will report strong growth in earnings ahead of consensus this fiscal year which justifies the perceived premium. We are forecasting earnings per share of $3.60 compared to the analyst estimate of $3.45, and next year, we expect earnings per share of $3.90 on revenue of $4.45 billion. Eventually, as earnings start to grow modestly, we would expect the shares to trade at around 27 times earnings. But this might be a good few years as we see earnings growing by 10% per annum for the next five years. This forecast excludes any weakening of the US dollar. When the US dollar does eventually weaken, it will be a major catalyst to further earnings growth in our view.
We have a one-year price target of $117 for Brown-Forman, giving upside of just over 7%. But like many of our investments, we see more long-term gains for patient investors. We still feel the growth of whiskey has a lot left in the tank, and will keep the company's distillery extremely busy in the next few years.
Disclosure: I am/we are long BF.A.
I wrote this article myself, and it expresses my own opinions. I am not receiving compensation for it (other than from Seeking Alpha). I have no business relationship with any company whose stock is mentioned in this article.