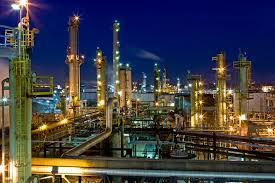 Marathon's (NYSE:MPC) Detroit refinery at night. Source: Marathon Petroleum Corporation.
Last week, it was reported that Phillips 66 (NYSE:PSX) dumped crude oil in Cushing at a deep discount to NYMEX futures prices. A key reason was that refinery margins have dropped, reducing the financial incentive to process crude into products.
In the Energy Information Administration (EIA) statistics released for the week ending February 12, 2016, underlying fundamentals imply more pain ahead. The bottom line: petroleum product stocks stand 93 million barrels (mmb) higher than a year ago...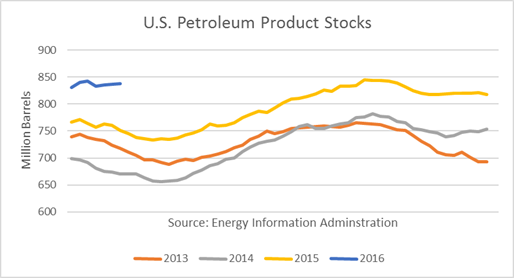 ...while the total product demand thus far this year is lagging the year-ago trend by 0.9%.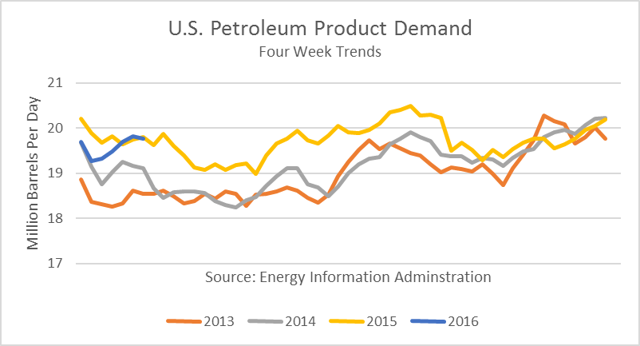 Gasoline stocks rose by 3.0 mmb last week and ended at 258.7 mmb. That is the highest weekly estimate in EIA's weekly database going back to 1990.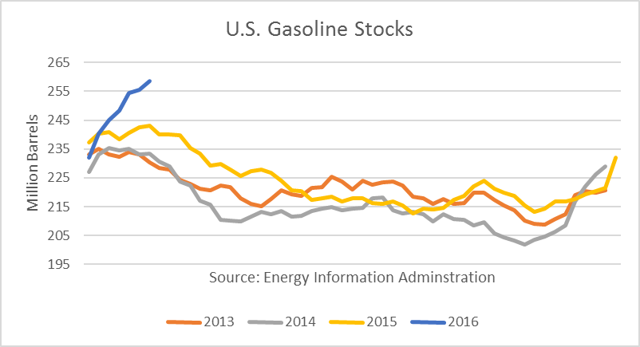 Furthermore, it has occurred during a period when refiners are decreasing crude runs for maintenance purposes, thereby reducing their outputs of product.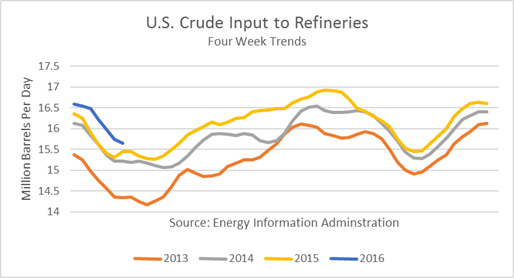 The primary reason for the product demand lag is the 17.5% drop in distillate demand year-to-date. This is due to warmer-than-normal weather. Home heating oil-weighted heating degree days in this heating season are 19% lower than normal and 18% lower than the prior heating season.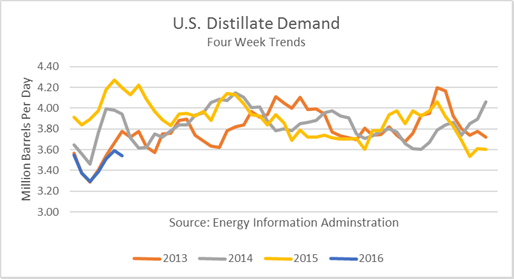 January was the warmest on record by a large margin while also claiming the title of "most anomalously warm month" in 135 years of record keeping. The month was almost 2°F above normal.
The Arctic stands out as the most abnormally warm place on the planet. According to NASA, temperatures in some parts of the Arctic averaged up to 23°F above normal for the month. The first half of February has continued the trend of pronounced heat in the Arctic with no signs of it letting up soon.
The impact on world winter heating needs may continue for years to come. The big driver is human-caused climate change, according to a Climate Central analysis. "It seems to me quite likely that we have taken the next step up to a new level," National Center for Atmospheric Research climate scientist Kevin Trenberth told Climate Central last month.
Producers
Despite beliefs that U.S. crude production must decline quickly as a result of low prices, the trend in output of crude and other supply remains steady and above the year-ago level.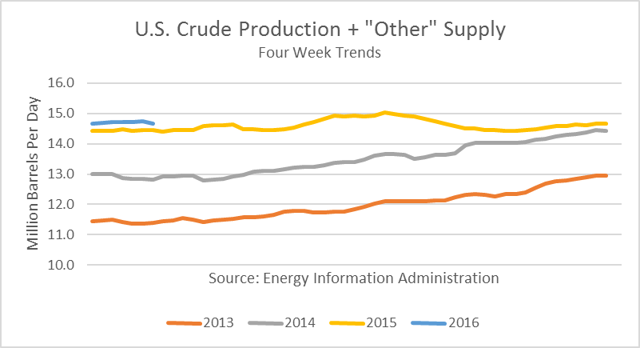 Other supply is natural gas plant liquids, renewable fuels, and refinery processing gain.
According to a comment in a recent article I published on Seeking Alpha, Triangle Petroleum (NYSEMKT:TPLM) (a Bakken E&P) said on their last earnings call, for the quarter ended 10/31/15, they had 18 DUCs. They said they could maintain production for 5 quarters without the need to stand up a rig.
Rigs involved in completion of DUCs are not counted in the Baker Hughes (BHI) Rig Count data. This is likely a reason why the market has been fooled by the lack of correlation between the Rig Data and production. In North Dakota, the state extended the period for completing DUCs by another year last autumn. It has been estimated that completing DUCs in North Dakota can add more than 100,000 b/d in production.
At the same time, net crude imports are rising, averaging 6.9% higher than a year ago.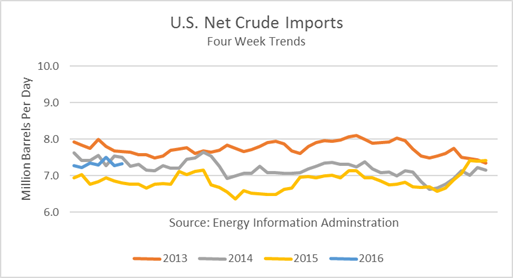 Crude stocks posted a new record high of 504.1 mmb, 78.5 mmb higher than a year ago. Crude stock surpluses exist in each region of the U.S., with the largest surpluses in the Mid-west and Gulf Coast.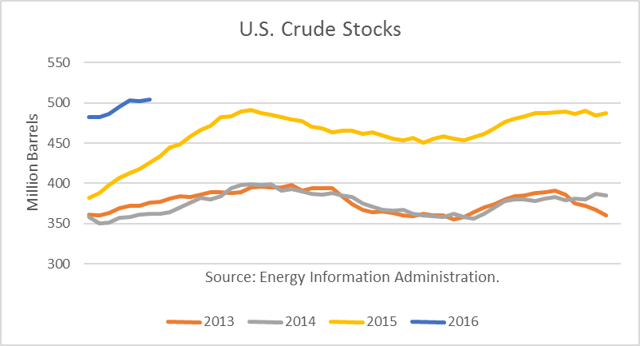 Conclusions
For much of 2015, the oversupply of crude devastated crude producers, who were not hedged. But refiners actually benefited as the cost of crude dropped faster than their product sales prices.
As the data for early 2016 indicates, growing surpluses in petroleum product stocks, unmatched by demand gains, provides downward pressure on refining margins. The outlook for winter fuel demand in future years does not look encouraging due to climate change.
If Russia and Saudi Arabia "freeze" production at their high January levels, U.S. crude imports may continue to trend higher as they have recently. Inventories would continue to rise relentlessly while refinery turnarounds keep crude demand low.
Disclosure: I/we have no positions in any stocks mentioned, and no plans to initiate any positions within the next 72 hours.
I wrote this article myself, and it expresses my own opinions. I am not receiving compensation for it (other than from Seeking Alpha). I have no business relationship with any company whose stock is mentioned in this article.