Federal Realty Investment Trust (NYSE:FRT) isn't your typical real estate investment trust, or REIT. For starters, it has increased its distribution annually for nearly 50 years. But in all that time, it's only amassed a portfolio of some 90 properties. That's because it doesn't do things the same way as other REITs, which is exactly why you'll want to put this one on your wish list.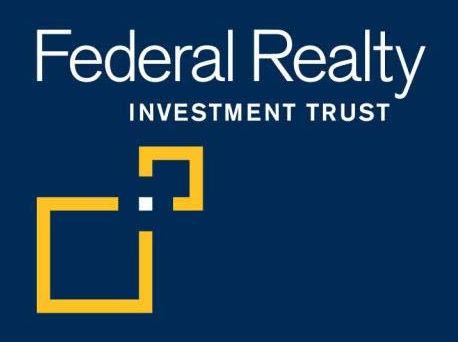 Growth!
Most REITs follow a pretty simple business model. They use stock and bond sales to fund property acquisitions. One of my favorite examples here is STAG Industrial (NYSE:STAG). The industrial-focused REIT IPOed in 2011 with around 90 properties. By the third quarter of 2015, that was up to 281 properties. The IPO was for 13.75 million shares. At the end of the third quarter, it had 68.1 million shares outstanding. Clearly, portfolio growth and share count growth have gone hand in hand.
This isn't a dig at STAG. In fact, it's pretty impressive that the REIT has managed to grow so quickly. However, this model runs into problems when stock prices fall and the equity markets get tight. For example, despite having an at-the-money stock program in place, STAG didn't issue any shares in the final quarter of 2015. Why? Its share price spent most of 2015 falling. The stock is now more than 33% below where it started 2015.
Which is why a company like Federal Realty is so interesting. This REIT has been around since 1962. It has nearly 50 years of annual dividend increases under its belt. It owns just 90 or so properties. And, to give a comparison between STAG and Federal Realty, between 2011 and 2015 FRT's share count increased from just 63 million shares to 69 million. Federal Realty is doing something completely different.
Intense property management
Part of the reason for Federal Realty's success with such a small portfolio is that it owns retail and mixed-use properties. It's a different market than STAG's industrial assets. However, there's more to it than this. One of Federal Realty's key focuses is on owning "projects." These are basically big construction and redevelopment efforts that span multiple years.
Essentially, these projects provide built-in growth opportunities. There's no need for Federal Realty to seek out an ever-expanding list of acquisitions. It just has to keep moving forward on the backlog of work it's got in-house. At this point, the company believes it has as much as 15 years' and $4.5 billion worth of work built-in right now. Will it make acquisitions over that 15-year span? Yes. Will it need to do so to keep growing the business? No.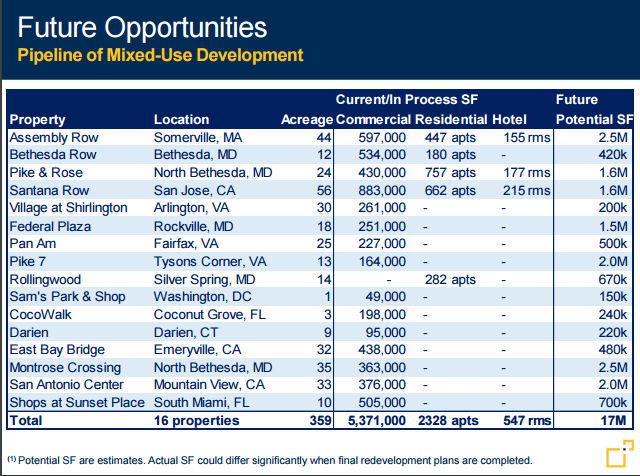 But Federal Realty's view of the entire world is altered by this development and redevelopment focus. For example, when A&P declared bankruptcy, the REIT had to decide what to do with four properties the struggling grocery chain leased. Management was pretty confident it could have let the leases go through the bankruptcy process and come out effectively whole, with a new tenant picking up the leases.
But Federal Realty didn't do that. It chose to pull the properties back in-house and look for an opportunity to redevelop the assets. Not just the grocery store property, however, it sees this as an opportunity to upgrade entire shopping centers. That, it believes, will lead to higher profits down the line.
Imagine the impact that could take place if an A&P changed to a Whole Foods. That would change the entire feel of a shopping center, and would likely lead to higher rents throughout the property. (I've seen this exact thing happen in my own area several times.) This is intense property management - thinking about what an asset can be, not what it is. It takes time and money, of course, but these types of actions keep a property relevant and vital. It's what allows "old" properties to keep raising rents and pushing FRT's top and bottom lines higher without the need to rely solely on acquisitions.
And that's the big-picture view of Federal Realty that makes it different from your typical REIT. Yes, it needs to have access to capital, but not to the same degree or in the same way as a REIT that's focused on buy, buy, buy. But, perhaps more important, when the stock markets cool off, Federal Realty's growth opportunities won't disappear.
The wish list
Right now, Federal Realty yields about 2.6%. That's not a great number when you compare it to some out-of-favor industrial names, in my opinion. Moreover, the price-to-trailing FFO ratio is a whopping 27, way too rich for my blood. So now isn't the time to buy this REIT if you are looking for a value price.
However, if you look back at the REIT's history, the shares traded at a nearly 6.5% yield during the 2007-2009 recession and almost 10% at the turn of the century. So, there are occasional pockets of opportunity. Which is why I've got it on my wish list. I don't expect an opportunity to buy it in the short term, but I want to keep watching just in case.
If you are looking for a REIT that isn't a slave to acquisitions, that looks at its properties as long-term investments, and that, quite frankly, just does things a little different from the pack, you should put Federal Realty on your wish list, too.
Disclosure: I/we have no positions in any stocks mentioned, and no plans to initiate any positions within the next 72 hours.
I wrote this article myself, and it expresses my own opinions. I am not receiving compensation for it (other than from Seeking Alpha). I have no business relationship with any company whose stock is mentioned in this article.