Two years ago, I set out to provide a few examples of stocks which one should consider owning in the face of increasingly stagnated global economic growth, lack of wage growth, financial instability and an overall risky investment environment. I wrote a short series covering a few stocks, including Kimberly-Clark (NYSE:KMB), Suncor Energy (NYSE:SU), Barrick Gold (NYSE:ABX), and Abbot Laboratories (NYSE:ABT). My assumptions then with regard to the future of global economy and the stock markets - which my theory was based on for the above mentioned stocks to be a good long-term investment - have so far proven to be correct. Kimberly-Clark is proving to be an especially popular investment lately. It is more or less flat for the year so far, which may not sound like such a great achievement, but it is not something that many companies can claim to have achieved so far this year.
Investors are not buying and holding on to Kimberly stock because they expect it to deliver exponential growth like they expect with the likes of Facebook (NASDAQ:FB) and other growth stocks. Investors expect Kimberly to remain a solid company, which should retain or even grow its stock value in the long term, with a product lineup and a business model that makes it resilient through tough times, and which can achieve relatively slow, but steady, revenue growth in the long term. A solid history of dividend payments is also an attractive feature of this company. It is nothing spectacular by any means, but it has been a steady 3%, give or take, for a long time now.
For the full year 2015, sales in dollar terms declined by 6% due to the exchange rate effects.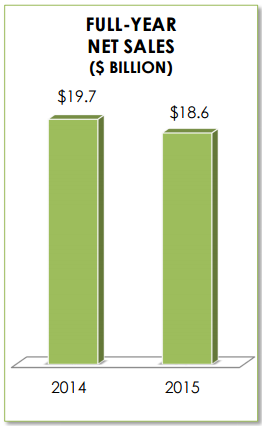 (Source: Kimberly-Clark presentation)
But cost of products sold declined by over 8%, which shows that there are balancing mechanisms in place, unlike many other US-based multinational companies, which have been heavily hit by the effects of the strong dollar. This resulted in an increase in operating profits, even as many other multinational companies suffered profitability-wise.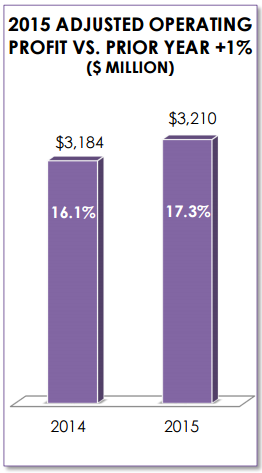 (Source: Kimberly-Clark presentation)
If the reverse happens and the dollar weakens, Kimberly may not necessarily benefit from the resulting dollar revenue increase, because costs of operations overseas will also rise together with the rise of foreign currencies in relation to the dollar. I personally think, however, that having a company which is proving to be stable in the face of an increasingly unstable global currency environment is a much better asset for one's portfolio in the long term.
Product resilience
As I pointed out two years ago when I wrote about the long-term potential benefits of investing in Kimberly-Clark, its product lineup is almost impervious to what I am assuming to be a long period of slow global economic growth, which started with the 2008 crisis and will likely continue for many more years, or even decades. This is why I see products such as disposable infant and adult diapers, Kleenex tissues, paper towels and many others as what make this company a very desirable asset in one's portfolio.
Just taking infant diapers as an example, there is no way that parents living in a society where the disposable diaper has become common will chose to go back to the practice of using cloth, which needs to be washed before re-use. Furthermore, any developing nation, which is currently well below the global GDP/capita average and catching up, such as India, will see a huge increase in the switch to disposable diapers. Incidentally, India alone is seeing about 27 million babies born each year, so the potential market for disposable diapers is huge as long as wages there and in other similar developing countries start to approach something similar to those in China or Eastern Europe 0 in other words, as more and more people will see wages in the $500/month or over range.
The same thing can be expected to happen in the adult diapers department. In the past decades, we have seen a huge increase in demand for this product in the developing world as life expectancy rates increased dramatically. We may never see an equally dramatic increase in life expectancy in the developing world. Nevertheless, there is huge potential there as well, given the sheer size of the population of the developing world. As economic wealth increases, living standards, including nutrition, sanitation and medical care will become increasingly adequate for more and more people joining the global middle class. It therefore goes without saying that the growing ranks of global senior citizens will continue to swell as mortality rates stemming from the decline in poverty.
While demand for such products should see a steady trend of growth as long as there is a continuation of global economic convergence, it is important to highlight the fact that even when times are hard, the market gains made during good times should not see much of a reversal. The products that Kimberly-Clark offers to the consumers become indispensable once they become accustomed to using them.
Earnings per share poised to continue to increase
Thanks to continued share repurchases as well as continued steady improvement in product sales volumes, Kimberly-Clark is able to maintain continued improvement in its EPS.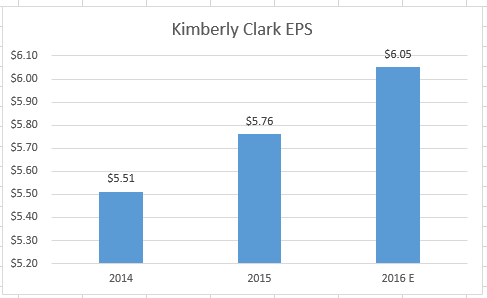 (Data source: Kimberly-Clark year-end presentation)
Note: For the graph, I used the average guidance, which is for EPS of $5.95-6.15 for 2016.
As I pointed out already, there is really not much out there which could derail Kimberly-Clark's current trajectory of improving EPS, supported by sales volume growth of its products, with a profitable outcome. Share buybacks will therefore most likely continue, creating value for investors who buy and hold this stock.
Global economic prospects make this company look very attractive
The history of the global economic cycles suggests we are due for a recession, given the average length of past cycles. Ordinarily, this should not be of great concern - after all, it has been happening every decade or so for the past decades. What worries me in regard to the next recession is the shape we are in, as we are getting closer to entering one.
At the end of 2007, as was the case in previous years when a recession started, the Federal Reserve interest rate was not near 0%, but at 4.25%, which was already lower due to a steady cut starting in the fall of that year. There was plenty of room to cut, all the way down to almost zero, which helped fight the recession. Right now, we are at a rate of less than .5%, which means that realistically speaking, as long as there will be a new recession this year or next, there will be effectively no interest rate reduction tool available to fight the downturn. Japan and the eurozone do not have any room to move on interest rates either, nor are they close to being able to raise rates anytime soon. Even China, which started the 2008 crisis with a central bank interest rate of 7.5%, now is down to 4.35% and more likely to go lower by the time a global downturn begins.
On the fiscal front, things are not looking all that well either. The United States entered the last recession with a debt/GDP ratio of 65%, while now it will do so with a ratio that is over 100%. The eurozone also had a debt/GDP ratio of 65% entering the last recession, while now it is over 93%. Japan's debt/GDP ratio was already a formidable 167% in 2007, before the recession hit, while now it is at over 230%. China entered the recession with a debt/GDP ratio of 32% in 2008, while now it is over 41%. It is not a dramatic increase by any means, but as we have learned, there is a far more dramatic increase in debt in China at the business, finance and consumer levels.
Total global debt increased from $142 trillion at the end of 2007 to $199 trillion by the second quarter of 2014.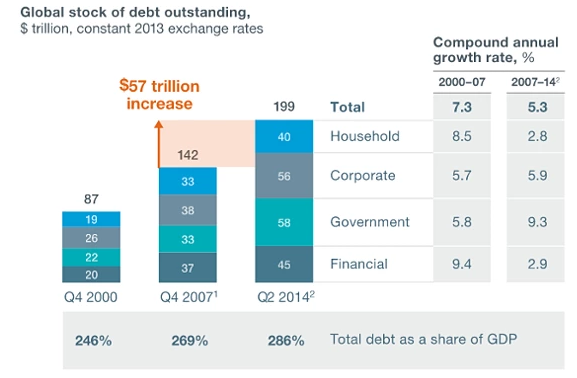 (Source: The Guardian)
As we can see, average growth of debt did slow during this period to 5.3%, from 7.3% in the previous seven years. The size of the global economy only increased by about 2.8% per year during the same time period, however; therefore, this situation has hardly been one of debt deleveraging. The debt burden is becoming greater, relative to our collective carrying capacity, and therefore interest rates can be expected to remain very low for the foreseeable future in order to help us cope.
Within the context of low interest rates as far as the eye can see, Kimberly-Clark is about as perfect a substitute for a bond as can be, without actually buying a bond. It is safe and resilient in the face of good times and bad. It most certainly looks more attractive than most sovereign bonds with a similar yield. If we look around, we see yields on Italian 10-year bonds at less than 1.6%, while personally I would feel a lot more comfortable owning Kimberly stock which yields almost double in dividends.
Given that times are looking increasingly bad for most companies and the overall global economy, there is no point trying to chase growth stocks, which might fail to grow as much as is priced into the stock already. I have been covering Tesla (NASDAQ:TSLA), which is one such stock that has been battered by diminishing expectations for the past half a year or so, declining from its high in July 2015 by about 40% currently, despite continued robust growth in deliveries. Bond yields with yields similar to Kimberly dividends are mostly far more risky, in my view, compared with owning Kimberly stock. As I pointed out, the company is well positioned to continue with steady earning in the face of currency fluctuations, while a foreign currency-denominated bond puts the risk of currency devaluation squarely on the holder of the bond. There are simply few investment alternatives out there which carry reasonable risk, while delivering the same potential return. That is something more and more investors have realized, which is why it is a stock which is proving to be resilient even as the broader markets have been selling off.
Disclosure: I/we have no positions in any stocks mentioned, and no plans to initiate any positions within the next 72 hours.
I wrote this article myself, and it expresses my own opinions. I am not receiving compensation for it (other than from Seeking Alpha). I have no business relationship with any company whose stock is mentioned in this article.