Celator Pharmaceuticals(NASDAQ:CPXX) is a clinical stage biotechnology company focused on combination therapy to improve patient outcomes in cancer. The company recently announced it has reached the number of events required for analysis in their phase 3 trial. Shares are up over 30% on this news, along with a recent Zacks report on this small-capitalization stock. With a mean analyst price target of $12.50 and a current price of $1.80, shares will fly on positive phase 3 data. With very strong phase 2 data, we feel it is likely the data will support a NDA approval. Shares are worth at least $2.75 per share with a greater than 50% chance of positive CPX-351 data.
Celator produced strong data during its phase 2 trial of CPX-351. Overall, CPX-351 produced higher response rates (66.7% vs 51.2%, P = .07), meeting predefined criteria for success (P < .1). The company showed more patients responding to treatment and greater overall survival than the control arm within the high risk secondary AML market. The valuation is way out of line given positive phase 3 data probabilities(see below). We looked at potential stock price movements based on positive and negative data from the phase 3 trial of CPX-351. For the downside price, we looked at cash balances and other trials the company has underway as providing a downside at most of $.5 per share as we do not expect a bankruptcy upon negative data. For the upside, we believe shares should trade around $5 below analyst price targets, given there are still substantial commercialization risks around bringing CPX-351 to market.

Source: Author Analysis
Celator has numerous other products in pipeline. Celator is not only CPX-351, although this is their most advanced candidate with the most potential to move shares higher in the near-term. Celator takes various combinations of efficacious compounds and delivers them at the right time and place so they are as effective as possible. Celator is moving other products towards commercialization, the company also has CPX-1, which is a liposomal injection of irinotecan and floxuridine, which is targeted to treat GI tumors. However, the company has the ability to expand their technology to many other drug regimes and create other CPX-351 like inflection points for investors.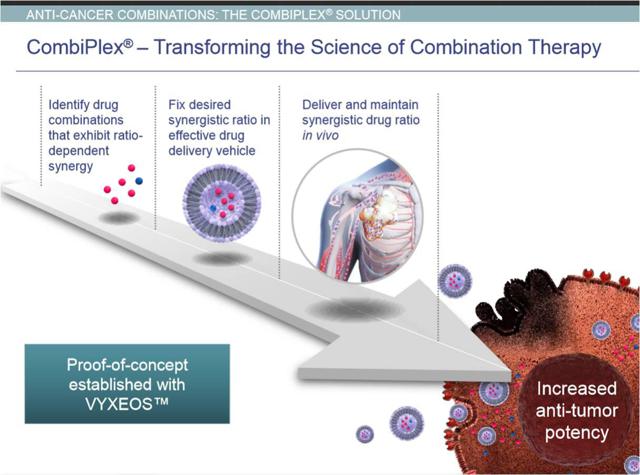 There are several key risks to the stock including the fact that current investors are betting on positive phase 3 results for CPX-351 which is a highly binary event. Additionally, Celator will have to pursue additional financing to commercialize CPX-351 and their capital raise may dilute existing investors. Finally, Celator has no history of commercializing and marketing products and may struggle during this process.
Overall Celator is a good stock for risk tolerant investors to own who are looking to make an attractive risk-reward bet on successful trial data. Given the strong data the company has produced thus far in its trials and the broad nature of the company's technology if the data is unsuccessful we believe shares are attractive at the current price.
Disclosure: I/we have no positions in any stocks mentioned, and no plans to initiate any positions within the next 72 hours.
I wrote this article myself, and it expresses my own opinions. I am not receiving compensation for it (other than from Seeking Alpha). I have no business relationship with any company whose stock is mentioned in this article.
Editor's Note: This article covers one or more stocks trading at less than $1 per share and/or with less than a $100 million market cap. Please be aware of the risks associated with these stocks.