I'm very pleased to say that several of the stocks recently featured in my premium service, where I take a much deeper dive, were first highlighted in my ongoing series: The Tuzz Report Idea Generator. This series is truly a great way for me to uncover intriguing small-cap ideas by constantly being on the lookout for new academic studies, digging through time-tested screens and closely following well-respected value investors with enviable track records. I sincerely hope it has generated some great investment ideas for my readers as well. Last edition's screen on financials with a low P/E and high insider buying was lucky in its timing, but may be even more relevant if the market rebound continues. It can be accessed here if you're looking for inexpensive names with a potential catalyst in this beaten up sector. As always, please let me know if there is anything I can do to improve the series or if there is something you would like to see discussed.
13-F Season:
It took me about twenty pages of reading David Einhorn's book, Fooling Some of the People All of the Time: A Long Short (and Now Complete) Story, to realize I was at a major disadvantage when it came to equity analysis. Greenlight Capital was going into battle with millions of dollars to spend on research, a building full of Ivy-League analysts and an outside network of intellectual gold that included other extremely intelligent money managers, private investigators and industry experts. I had the internet, a company report and an Excel spreadsheet.
I highly encourage you to read Einhorn's book to get a good grasp of the amount of research that goes into a name at many of the most successful money managers. It will make you realize how valuable 13-F filings can be. I realize that there are many caveats to relying on these dated reports, but outperformance is possible through cloning great investors. An outstanding book on the topic was recently published by Meb Faber of Cambria Investment Management titled Invest With The House: Hacking The Top Hedge Funds, another recommended read.
I follow a number of value investors that have outperformed over long periods of time and each quarter I sift through their positions. Sometimes a company will start to appear in more than just one portfolio. Why not start your analysis on these already vetted names? Here's the very simple screen that I normally run.
The screen:
Market Cap less than or equal to $2 billion
At least 5 of the value managers that I cover made a purchase in the last three months
No value managers in my universe sold the stock in the last three months

Energy Stock Screen:
I recently read an article by Patrick O'Shaughnessy that covered the keys to investing in energy stocks. You can find it here on his website. He ran backtests on common investing factors in the energy sector from 1963 to 2013. He highlighted the following metrics as being especially effective at identifying energy stocks that delivered outsized returns: EV/EBITDA, ROIC, External Financing, Shareholder Yield and 6-month price momentum. Below, I try to recreate the screen using the tools at my disposal for small-cap companies.
The screen:
Market Cap less than or equal to $2 billion
Only companies in the Energy sector
EV/EBITDA less than or equal to 7
ROIC greater than or equal to 10%
Shareholder yield greater than or equal to 5%
Unfortunately, the external financing variable was more than my screener could handle so I had to leave it out. I don't believe it's crucial to the results as many of the other variables were just as effective, if not more so. In case you want to take an extra step to calculate this metric, O'Shaughnessy's definition for external financing is: total amount of net capital raised (debt & equity issued minus debt & equity retired/bought back) divided by the average assets of the company. The less external financing needed, the better.
The 6-month price momentum was also left out as it really makes little sense, as nearly the entire group is down substantially. Even dropping the measure to find stocks that have returned better than -50% resulted in just a few names.

Smart Money:
There seems to be a bitter divide in the value investing community when it comes to stock screens. Some investors dislike them, believing that they're only good for finding value traps. Others use them strategically to highlight potential ideas and believe that they are a big time saver. I'm a fan. There're only so many hours in the day and any tool I can utilize to make my investing life easier, I'm all for it. That being said, it is just the very beginning of the research process.
As I mentioned before, I also analyze the 13-F filings of successful value investors. Many of these companies screen well and I can quickly understand why the manager sees value, whether it's accelerating sales, impressive returns on equity, low valuation based on EV/EBITDA, etc.
There are other times, however, when a quick glance through the financials of a company gives me absolutely no clue as to why these smart investors are buying shares. This is when I start to get very interested. Anyone can screen for a list of low price to book companies and dig through the rubble. It's much harder to find companies that may be changing for the better, but whose financials show no sign of improvement yet.
Syneron Medical Ltd. (NASDAQ:ELOS) is a developer and manufacturer of non-invasive medical equipment used for hair removal, wrinkle reduction and other skin treatments. The company's stock price has really stumbled along ever since bottoming in 2009, reflective of operations. Revenues rose slightly over the last twelve months, but EBIT and earnings per share have been negative the last five years and have deteriorated recently. While the company has a large cash position, it is half of what it was four years ago and the company's book value has been in decline since 2008. ELOS doesn't scream deep value either. Price to tangible book is 1.43 and price to sales sits at .94.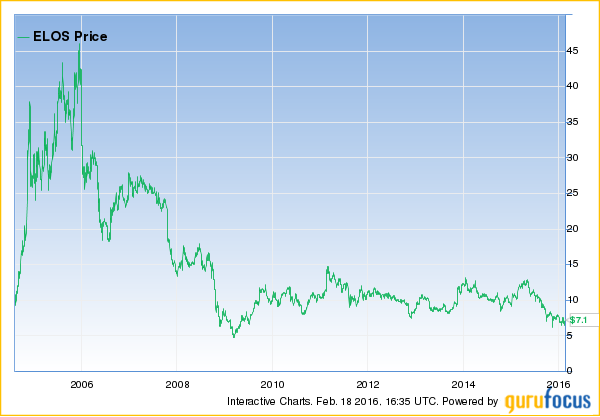 So why did firms led by investing legends Chuck Royce and Ronald Muhlenkamp purchase the $260 million micro-cap last quarter? Whatever the reason, it goes beyond improving fundamentals that can be quickly pinpointed in the company's financials. It looks like I have another name to research this weekend.
Doyle Publishing has nailed the drop in Arcos Dorados (NYSE:ARCO). You can read their most recent article on the company here. Operations improved shortly after the South American McDonald's franchisor came public but then deteriorated over the last two to three years. Sales, margins and earnings have trended downward. Cash has dropped and debt levels have remained high. Value investors can point to a price to sales ratio of .16 and EV/EBITDA of just over 5 as indicators of a cheap company, but on first glance there is little to suggest that operations are poised to improve.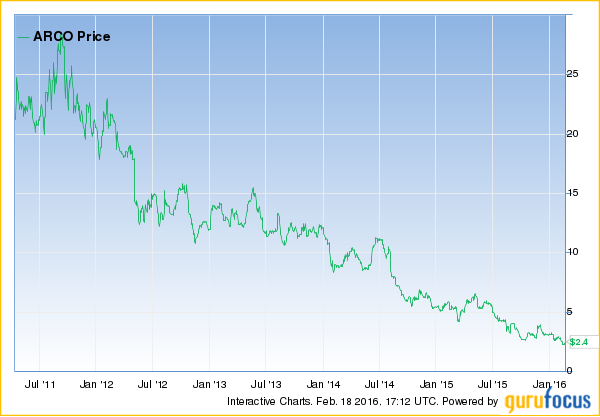 Why are value investors such as Jeff Auxier, Jim Simons and James Barrows buying a $2 stock? Perhaps they believe in the old adage that "value is its own catalyst", or more likely there is something more to the story. Admittedly, their holdings are small, but all three investors added to their positions in the last quarter.
Best of Small-Cap Seeking Alpha:
Alpha Gen Capital might be on to something here. Raven Industries (NASDAQ:RAVN) has just under a dollar a share in cash, no debt and has had a high ROIC historically. There is also some smart money buying into the name.
Alpha Gen Capital
Investors Are Extrapolating Far Too Weak Future Results For Raven Industries

Thank you very much for reading and have a great weekend. If you enjoyed the article and believe in my approach to finding compelling small-cap value ideas, please consider the Tuzz Report which is my premium service where I refine these ideas and present actionable, detailed analysis.
Ideas that were featured graphically, but not in text: Analogic Corporation (NASDAQ:ALOG), FARO Technologies Inc. (NASDAQ:FARO), Horace Mann Educators Corp. (NYSE:HMN), Haverty Furniture Companies Inc. (NYSE:HVT), Kraton Performance Polymers Inc. (NYSE:KRA), the Rubicon Project, Inc. (NYSE:RUBI), Saia, Inc. (NASDAQ:SAIA), Yelp Inc. (NYSE:YELP), Alon USA Partners, LP (NYSE:ALDW), Air Lease Corporation (NYSE:AL), Atwood Oceanics, Inc. (NYSE:ATW), Blueknight Energy Partners, L.P. (NASDAQ:BKEP), Emerge Energy Services LP (NYSE:EMES), SAExploration Holdings, Inc. (NASDAQ:SAEX), Seadrill Partners LLC (NYSE:SDLP), Star Gas Partners, L.P. (NYSE:SGU) and VTTI Energy Partners LP (NYSE:VTTI).
Additional disclosure: This list is just a starting point for further analysis. Please do your own due diligence before investing.
Disclosure: I/we have no positions in any stocks mentioned, and no plans to initiate any positions within the next 72 hours.
I wrote this article myself, and it expresses my own opinions. I am not receiving compensation for it (other than from Seeking Alpha). I have no business relationship with any company whose stock is mentioned in this article.
Editor's Note: This article covers one or more stocks trading at less than $1 per share and/or with less than a $100 million market cap. Please be aware of the risks associated with these stocks.