Recently, I wrote a couple of articles on the Canadian pipeline companies. If you're interested, the articles are linked below for your convenience:
From those 2 articles, readers showed the strongest interest in the Canadian telecoms. So, in this article, BCE Inc. [TSX:BCE](NYSE:BCE), Rogers Communications Inc. [TSX:RCI.B](NYSE:RCI), and Telus Corporation [TSX:T](NYSE:TU) will be discussed.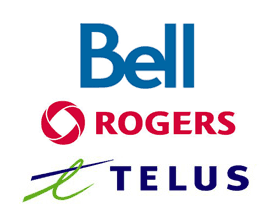 The telecoms generate stable cash flows from their operations. So, their dividends are pretty safe. With the strong U.S. dollar against the Canadian dollar, it makes good sense for American investors to consider BCE, Rogers, and Telus. On top how the businesses perform, American investors will also get a boost on the forex when the Canadian dollar heads higher against the U.S. dollar from higher commodity prices because the Canadian dollar is a resource-based currency. It takes only about US$0.73 to convert to C$1 while the historical norm may take US$0.80-0.86 for C$1, indicating American investors can buy Canadian assets at a 7-13% discount.
Overview
| | | | | | | |
| --- | --- | --- | --- | --- | --- | --- |
| Ticker | Price (1 year ago) | Price Now | Price Change | Yield (1 Year Ago) | Yield Now | Yield Change |
| TSX:BCE | C$55.7 | C$58.7 | +5% | 4.7% | 4.7% | 0% |
| NYSE:BCE | US$44.6 | US$42.7 | -4% | | | |
| TSX:RCI.B | C$45.8 | C$49.9 | +9% | 4.2% | 3.9% | -7% |
| NYSE:RCI | US$36.7 | US$36.3 | -1% | | | |
| TSX:T | C$43.4 | C$39.2 | -10% | 3.7% | 4.5% | +22% |
| NYSE:TU | US$35 | US$28.5 | -19% | | | |
Prices and yields are based on the listed securities on the TSX as of February 18 closing.
Source: Google Finance
BCE's price gain from a year ago and its dividend increase let its yield remain the same. Rogers' yield decreased solely due to price appreciation. Telus' yield increase stands out the most because it had a price decline and dividend grew 10% in 2015.
BCE
BCE is well-positioned in all its business segments. From 2014 to 2015, the telecom has shown subscriber growth in its main businesses: wireless (1.6%), high-speed internet (3.5%), and TV (3.6%). Its local telephone subscribers have declined by 6.2%, but that is expected from declining usage as people switch to mobile phones.
BCE also achieved year-over-year growth in its revenue, earnings per share [EPS], and free cash flow [FCF]. Specifically,
its revenue increased 2.2% to C$21,514M

its adjusted EPS increased 5.7% to C$3.36

its FCF increased by 9.3% to C$2,999M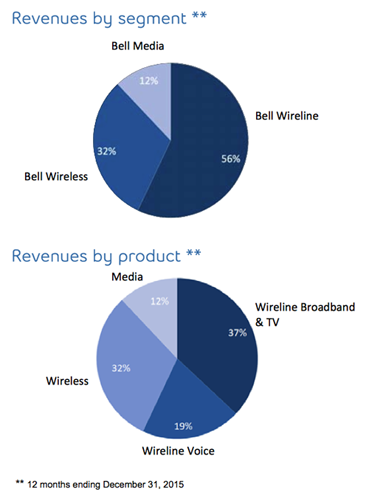 Source: BCE Q4 2015 Investor Fact Sheet (pdf)
Notably, 81% of BCE's revenues are generated from growth services (Wireline Broadband & TV, Wireless, and Media). BCE has assets in television, radio, and digital media, including CTV, Discovery Channel, and Crave TV.
In Q4, BCE achieved 204,000 wireless and wireline broadband net customer additions (of which 74,000 were IPTV net adds and 39,000 were internet net adds), which drove EBITDA growth of 2.5%.
BCE continues to expand its 4G LTE network and plans to cover 98% of Canadians by the end this year while LTE-Advanced coverage with speeds of up to 335 Mbps (and average download speeds of 25 to 100 Mbps) is expected to cover about 75% of Canadians by year end.
At the same time, BCE is also optimizing its service and data capacity. While improving its wireless network and technology, BCE plans to maintain an industry-low capital intensity ratio (i.e. the percentage of wireless revenues) of about 10% this year.
BCE is in the second year of its C$20B capital program to 2020. This year BCE plans to invest about C$3.7B.
2016 Guidance
In 2016, BCE anticipates:
its revenue to grow 1% to 3%

its capital intensity to be about 17%

its adjusted EPS to grow 3% to 6% to C$3.45 - C$3.55 per share
Rogers
Rogers Communications is a leading diversified communications and media company in Canada. It is Canada's largest wireless provider. Sorted by revenue, Roger's business segments include Wireless (56% of operating revenue), Cable (26%), Media (15%), and Business Solutions (3%).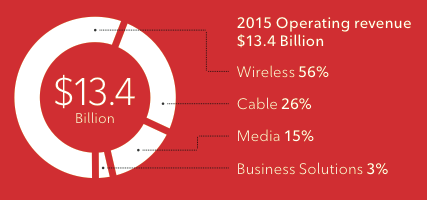 Source: Rogers 2015 Annual Report (pdf)
Rogers' year-over-year metrics from 2014 to 2015 are as follows:
its revenue increased 4.3% to C$13,414M

its adjusted EPS decreased 2.7% to C$2.88

its adjusted net income decreased 2.7% to C$1,490M
Rogers' FCF grew at an average rate of about 6.5% each year from 2013 to 2015.
Rogers' revenue growth is attributed to its Wireless and Media segments which experienced growth of almost 5.5% and 16.7%, respectively. Rogers provides wireless voice and data communication services to about 9.9 million customers under the brands of Rogers, Fido, chatr, and Mobilicity. Its LTE network covers roughly 93% of Canadians. Additionally, it offers wireless roaming across the United States and over 200 other countries. Furthermore, Rogers is the Canadian leader in the deployment of machine-to-machine communications and Internet of Things applications.
Rogers provides cable services to 4.2 million homes in Ontario, New Brunswick, and Newfoundland, which is roughly 31% of the Canadian cable market. Rogers also offers media such as sports entertainment, digital media, television, and radio broadcasting.
52% of Rogers' media revenue comes from sports. For example, Rogers owns the Toronto Blue Jays Baseball Club and holds a 37.5% investment in Maple Leaf Sports & Entertainment, owner of the Toronto Maple Leafs, the Toronto Raptors, and Toronto FC. On top of that, Rogers' television assets include 7 regional and national Sportsnet channels, 7 city stations, which reach about 89% of Canadians, and 5 OMNI Television multilingual channels.
Rogers is a little over a year into its multi-year plan to deliver sustainable revenue growth and to convert that growth into solid margins and cash flows. So far, it's showing revenue and FCF growth. We have yet to see profit margin improvement, though. Rogers' 2013 operating margin was 23%, its 2014's was 20.7%, and its TTM's was 19.5%. Rogers' 2015 capital intensity was 18.2%, a reduction of 0.2% from 2014.
2016 Guidance
In 2016, Rogers anticipates:
its revenue to grow 1% to 3%

its adjusted operating profit to grow 1% to 3%

to lower capital expenditures from C$2,440M to C$2,300-$2,400M

its FCF to grow 1% to 3%
Telus
Telus is the fastest-growing Canadian telecommunications company. However, it's also the only one without a media business. Sorted by revenue, Telus' business segments include Wireless (56% of operating revenue) and Wireline (44%).
Telus serves 12.5 million customers, including 8.5 million wireless subscribers, 1.5 million residential network access lines, 1.6 million internet subscribers, and 1 million Telus TV customers.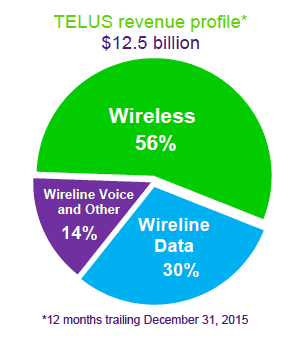 Source: Telus Q4 2015 Fact Sheet (pdf)
Telus' year-over-year metrics from 2014 to 2015 are as follows:
its FCF increased by 2% to C$1,078M

its ROE improved by 50 basis points to 18.3%

its wireless revenue increased 5.3% to C$6,933M

its wireless subscribers grew 2.1% to 8,457,000

its wireline revenue increased 2.8% to C$5,569M

its residential network access lines decreased by 5.7%, but high speed internet subscribers increased by 6.2% and total TV subscribers increased by 9.7%

its net debt to EBITDA increased from 2.19 times to 2.66 times
I believe Telus' shares have dipped recently due to Shaw Communications Inc's [TSX:SJR.B](NYSE:SJR) entrance into the wireless space by acquiring Wind Mobile, as well as experiencing an economic slowdown in Alberta. Wind is scheduled to upgrade to provide 4G LTE services by 2017, but Telus already has a 4G LTE network in place. Telus has an interactive coverage map for its network. So does Wind Mobile.
Telus has a history of returning capital to shareholders by share buybacks and dividends. From 2004 to 2015, it bought back C$5.1B worth of shares and paid out C$7.6 billion worth of dividends. Specifically in 2015, Telus returned a total of C$1.6B to shareholders in share buybacks (C$635M worth of shares) and dividends.
At the same time, Telus continues to invest in its networks, spectrum, and efficiency. It expects to spend about C$2.65B in its networks and spectrum and C$175M in restructuring and other costs.
Telus has maintained its operating margin between 19 and 20% from 2013 to 2015. Its 2015 capital intensity was 21%, the highest among the group.
2016 Guidance
In 2016, Telus anticipates:
its revenue to grow 2% to 3%

its basic EPS to grow 5% to 12%

its capital expenditure to increase 3%
Dividend Growth
BCE
BCE has increased its dividend for 7 consecutive years at a CAGR of 8.1%. It last increased its dividend in Q1 2016 by 5% to an annual payout of C$2.73 per share. BCE targets its FCF payout ratio to be 65-75%.
As at February 3, 2016, BCE had 865.6 million of outstanding shares. Its initial forecast for its 2016 FCF generation is C$3,125 to C$3,350 million which would imply growth of 4.2-11.7% from 2015. It would also indicate a payout ratio of 70-76%.
Rogers
Rogers has increased its dividend for 11 consecutive years. In the past 5 years, Rogers increased it at a CAGR of 8.4%. Based on its usual schedule, it was supposed to increase its dividend in the first quarter, but it has only maintained its quarterly dividend at C$0.48 per share.
Some companies cut their dividends after freezing them, but I don't think Rogers will be one of them. Rogers payout ratio based on its 2015 FCF is 59%, based on net income is 72%, and based on adjusted EPS is 66%. So, Rogers' has the ability to pay its 3.9% dividend.
Telus
Telus has increased its dividend for 12 consecutive years. In the past 5 years, Telus increased it at a CAGR of 10.9%. Based on its usual schedule, it should increase its dividend in the second quarter. This year, it plans to increase its dividend by roughly 10%.
Telus targets a payout ratio of 65-75%. Its quarterly payout of C$0.44 per share implies its payout ratio is about 71% based on its earnings estimates.
Valuation
BCE has a P/E of 17.4 while the consensus analyst EPS growth is about 7.2%.

Rogers has a P/E of 17.3 while the consensus analyst EPS growth is about 5.4%.

Telus has a P/E of 15.1 while the consensus analyst EPS growth is about 6.8%.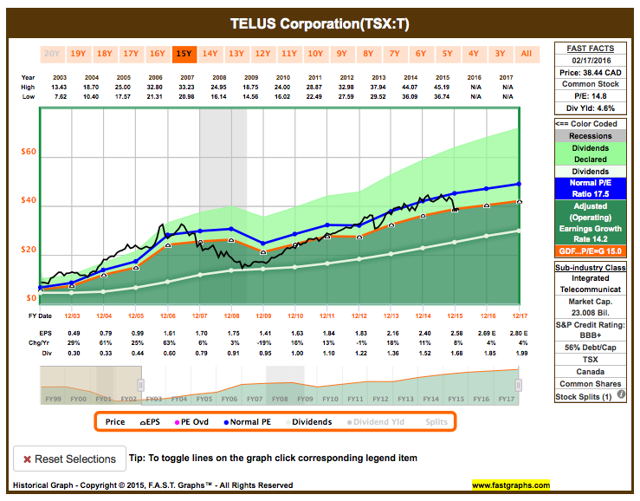 Credit ratings and debt levels
BCE has an S&P credit rating of BBB+ and debt/cap of 40%

Rogers has an S&P credit rating of BBB+ and debt/cap of 67%

Telus has an S&P credit rating of BBB+ and debt/cap of 56%
Conclusion
All 3 companies have sustainable yields. I like the more diversified businesses of BCE and Rogers. However, Telus is priced at the cheapest multiple with decent growth.
BCE has yielded 5.1% or higher in the past. So, patient investors could wait for a higher yield before investing. However, its lower yield and higher multiple maybe due to its expected higher growth so these could be the new normal for awhile.
Rogers has yielded 4% or higher in the past. So interested investors should wait for a pullback, especially since it has frozen its dividend for now.
Telus's yield of 4.5% is historically high for the company in the past five years. So, I think it's a good time to consider Telus' shares.
Share in the comments below!
Which telecoms do you have on your watchlist?

Do you have other Canadian dividend companies you're interested in? Comment below and I might just write about it.
If you like what you've just read, follow me! Simply click on the "Follow" link at the top of the page to receive an email notification when I publish a new article.
Disclaimer: This article consists of my opinions and are for educational purposes only. Please do your own research and due diligence and consult a financial advisor and or tax professional if necessary before making any investment decisions.
Disclosure: I am/we are long TU, ENB,TRP, IPPLF.
I wrote this article myself, and it expresses my own opinions. I am not receiving compensation for it (other than from Seeking Alpha). I have no business relationship with any company whose stock is mentioned in this article.
Additional disclosure: I'm long TSX:T, TSX:ENB, TSX:TRP, and TSX:IPL.
Editor's Note: This article discusses one or more securities that do not trade on a major U.S. exchange. Please be aware of the risks associated with these stocks.