By Parke Shall
We continue to follow the price of oil very closely, as it seems like one of the items that is dictating where the stock market is going to go on a day-to-day basis.
The excitement of last week came from several items that put a floor under the price of oil. Unfortunately, this week, it is looking like none of those items hold water and we expect that oil could head back to $26 a barrel, or maybe even lower.
We wanted to write this article to lay out what put the bottom on the prices last week and what disproved those news items this week. We think oil could be moving back under $30 once again, albeit perhaps briefly before finding a floor once again. However, we think it's important enough for us to employ a short term hedge against our oil companies, which we'll talk about later.
The main news item last week was that OPEC countries were getting together and discussing a freeze on production. This freeze was being led by countries like Russia and had included countries like Venezuela. Initial headlines looked like this,

There was a little disappointment last week that Iran was not going to participate in the production freeze, but the Iran oil minister's comments that he would like to see some balance return to the market seemed to be enough to prop up the market for 36 or 72 hours. After this news was released, oil went from about $28 a barrel to about $31 a barrel overnight. There were meetings and summits last week where numerous OPEC and non-OPEC energy ministers spoke to one another, and it was concluded that a freeze would take place, and that Iran was not going to participate. Still, the small amount of news was enough to steady the market for most of the week this week.
On top of that, API numbers released this week actually showed a drawdown in crude inventories versus expectations of a build. Those headlines looked like this,

And then promptly, both of these stories were taking out back and shot by the end of this week.
It has now been reported from several news outlets that Russia is not going to be taking place in any production freeze. New headlines look like this,

Iran has basically ignored what is going on and will be doing as they please, they've exclaimed. They've been commenting that they want to produce on pre-sanction levels, which means ramping up production much further than it is right now. And to make things worse, EIA inventories came out yesterday and absolutely crushed the oil market when they showed a build not only in crude, but in gasoline and distillates as well. Those revised headlines looked like this,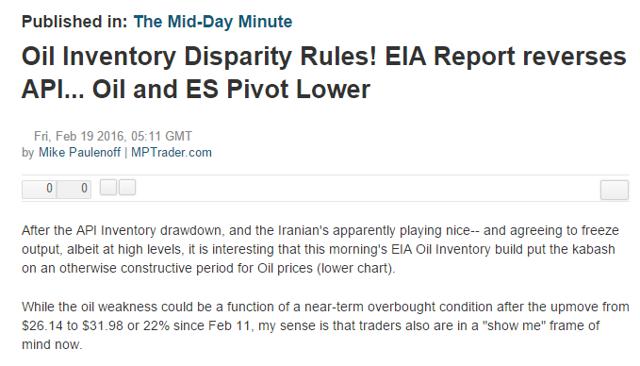 All of this flipping and flopping within the span of just days!
The crazy thing? After working itself up in a frenzy, nothing materially has changed since oil was around $26. That's why we expect it to head lower in coming sessions.
It was a short lived set of rumors and circumstances while it lasted. However, reality is now going to set in once again. It is the contention of ours that oil still may be heading lower in the short-term and that we will once again look to try and find some support around $26. As a trade for those who are long some oil companies like we are, we may look to short oil futures while keeping our long position on in oil companies as a hedge. For more on some of the companies that we are looking at to buy in this volatile market, you can read a recent article we wrote about picking stocks in this market here.
But for now, expect oil to once again head lower.
Disclosure: I/we have no positions in any stocks mentioned, and no plans to initiate any positions within the next 72 hours.
I wrote this article myself, and it expresses my own opinions. I am not receiving compensation for it (other than from Seeking Alpha). I have no business relationship with any company whose stock is mentioned in this article.