"The world doesn't need any of us to think smaller - the world needs us all to dream bigger, to be bolder, and to figure out what makes us come alive."
- Abby Falik
"To buy when others are despondently selling and to sell when others are avidly buying requires the greatest fortitude and pays the greatest ultimate rewards."
- Sir John Templeton - 1958
Introduction
The investment markets can be a treacherous place, even for the best companies, and the most knowledgeable investors. What is in favor one day may be out of favor the next, and even the seemingly strongest companies, with formidable histories of sales, earnings, and dividend growth, can be cruelly cast aside by the combination of unforeseen events and the relentless march of time.
With over twenty years of active participation in the modern capital markets as a trader and investor, and with over thirty thousand hours of market history archived in my mind, from my study as a market historian, almost nothing surprises me now. I have experienced booms and busts first hand, and I am blessed to be alive to share my stories.
One of the most fascinating investing experiences that I have had was purchasing shares of Genworth (NYSE:GNW), for under $2 per share in the fall of 2008, and watching the ensuing roller coaster ride.
After riding the momentum of the cyclical bull market recovery to slingshot to almost $20 per share in the spring of 2010, Genworth's shares fell out of favor, staged a recovery, and have once again come nearly full circle, for the third time, as new worries regarding the quality of their insurance businesses and the company's management team have surfaced.
Upon further research and investigation, Genworth share are unequivocally cheap, and they are qualified to be profiled as the next entry in my "Too Cheap To Ignore series of investment research.
Thesis
Out of favor, undervalued stocks have the potential to be big winners in 2016.
Is GNW Out Of Favor? Yes.
Genworth has been mired in a water torture decline for the past three years, and this bloodletting accelerated in 2016, with shares off 48% through the close of the stock market on Wednesday, February 18th, 2016.
The year-to-date losses are striking on their own merit, even with the S&P 500 Index, as measured by the SPDR S&P 500 Index ETF (NYSEARCA:SPY), down 6% to start 2016. The sharp sell-off comes on top of a 56% decline in GNW shares in 2015, and a 45% decline in 2014.
Cumulatively, over the last five years, Genworth's common shares have lost 86% over their value, and even more from their spring 2014 highs. In contrast, SPY has rallied 44% over the past five years, so yes, Genworth is definitely out of favor.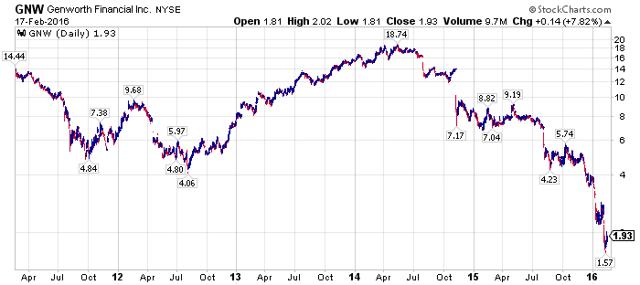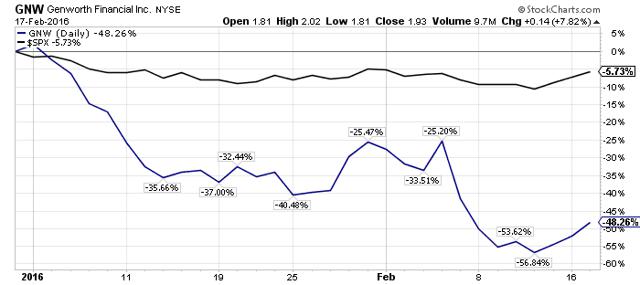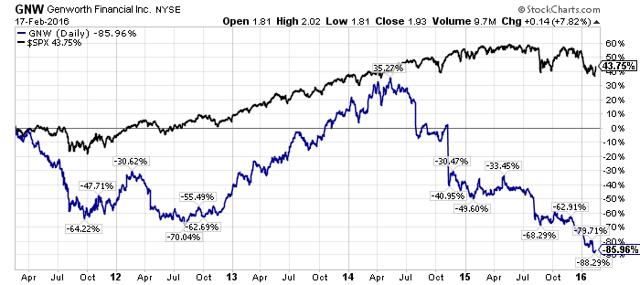 Genworth operates in a variety of insurance businesses, including mortgage insurance, both in the U.S. and in Australia and Canada, long-term care insurance, life insurance, and annuities. For a peer performance comparison, I have depicted the performance of GNW shares compared to multi-line insurers The Hartford Financial Services Group (NYSE:HIG), Lincoln National Group (NYSE:LNC), and the number two U.S. mortgage insurer, Radian Group (NYSE:RDN) in the chart below.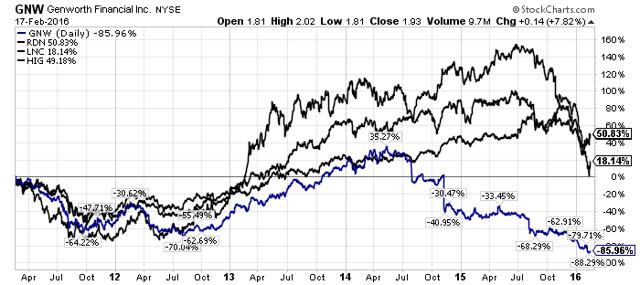 As evident in the above graph, Genworth shares have dramatically underperformed other insurance companies, notably diverging in 2014, when the company posted an unexpected $0.80 operating loss. The discrepancy in peer share prices should prompt a curious analyst to see why the divergence has occurred.
Is GNW Undervalued? Absolutely.
With General Electric's (NYSE:GE) transformation from a financial company to an industrial company nearly complete, many investors probably forget that this initial pivot in strategy by GE, away from the regulated, low-return world of insurance, traced its roots to 2004, when GE spun a majority of their mainline insurance businesses into Genworth, via an initial public offering.
Ever since then, investors have applied a discount to GNW shares, yet even when viewed in that light, the company's valuation multiples, today, stand at all-time lows as the table from Morningstar.com illustrates.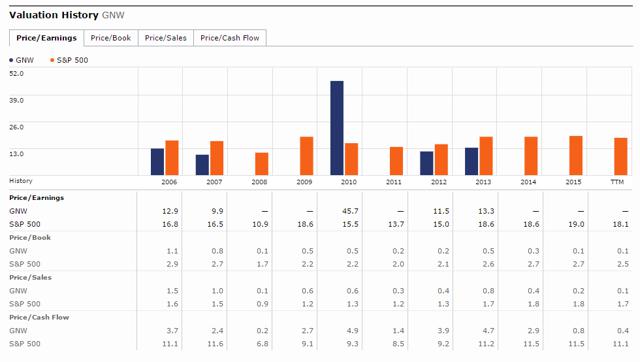 When looking at Genworth's price-to-book value (P/B), price-to-sales (P/S), and price-to-cash flow ratios (P/CF), all of the metrics are cheap compared to the S&P 500 Index. More importantly, Genworth shares are historically cheap, on a relative basis, versus the company's own prior multiples.
Are GNW Shares Heavily Shorted? No.
With 23 million shares short, roughly equal to approximately 5% percent of the company's float, Genworth Financial has a modest short interest. In fact, with roughly 80% of the available shares held by institutional investors, and a stock price that has been in a perpetual decline, it is surprising that the short interest is not higher.
Déjà vu
The investment landscape during the fall of 2008 remains a vivid memory in my mind. In November, I went on a due diligence research trip to Miami, Florida, and had a terrific time meeting with Bruce Berkowitz, and his team at Fairholme, eating appetizers at the Four Seasons hotel, where Mr. Berkowitz was living while waiting for a house to be built. While in Southeast Florida, I also visited several hedge funds, dined at a wonderful restaurant named Manny's, swam in the ocean as a tropical storm lingered, and bought stocks, including shares of General Growth Properties (NYSE:GGP), one of my all-time best trades, shown from my Schwab statement below:

More relevant to this article, I purchased shares of Genworth, for almost the same price that they trade at today, as shown below.

Regrettably, I did not hold my shares in GNW through the spring of 2010 rally. I sold them, to buy other things in 2009, because I did not have enough capital to buy all the cheap bargains I was finding. The environment reminds me very much of today's environment, where there are many out of favor stocks, trading at historically cheap multiples. Amazingly, almost eight years after first purchasing GNW, the shares are almost right back where they started, offering perhaps another chance at participating in a turnaround.
With a current market capitalization of roughly $1 billion, Genworth's stock market capitalization pales in comparison to its GAAP stockholders' equity, which is shown in the table below, lifted from Genworth's 4Q 2015 Earnings Presentation, which was provided to investors on February 5th, 2016.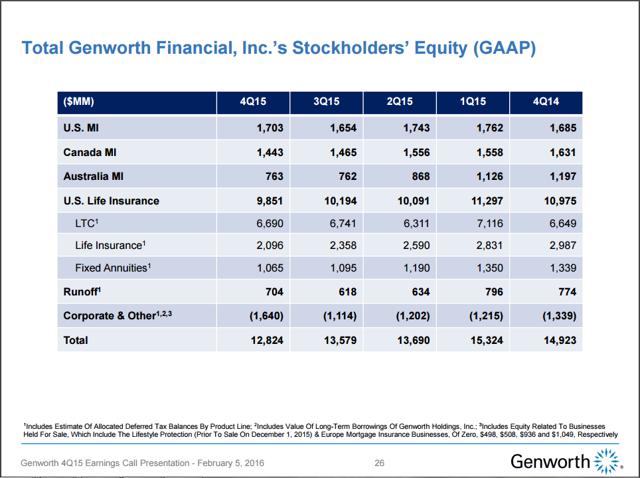 While Genworth has seen their GAAP stockholders' equity decline by 14% year over year, and this has spooked investors, shares remain historically cheap, and are once again revisiting their 2008 lows. Going forward there are several catalysts that could unlock value for common stockholders.
Catalyst #1 - Increased Credibility Drives Revaluation
While the low interest rate environment has negatively impacted all insurance companies, and firms ranging in quality from industry leaders, like MetLife (NYSE:MET) and Prudential Financial (NYSE:PRU), to industry laggards, like Genworth, have seen their stock prices decline, Genworth's management has struggled delivering on prior initiatives, and that has hurt the company's credibility and its share price.
Investors might say that a conservative management potentially over-reserving is a good thing, but Genworth simply needs to build credibility, and for a change, they delivered upon their stated objectives in 2015.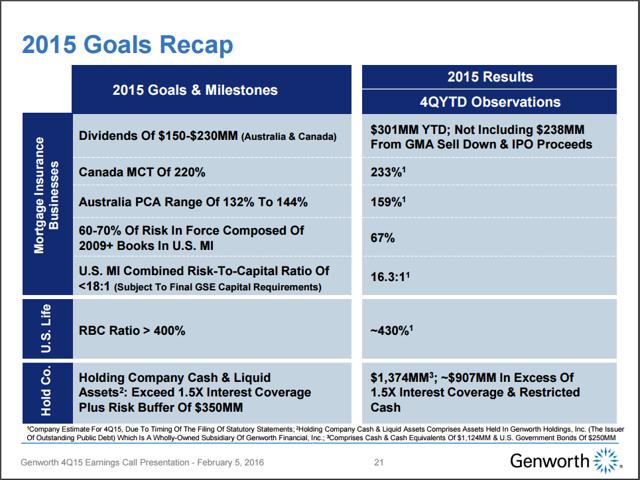 When Q4 2015 earnings were released, Genworth's shares sold off on a seemingly positive quarter, including strategic decisions surrounding the company's life insurance and annuity segments, prompting a "throw in the towel" response from existing shareholders.
The reaction of investors made it clear that there is more work to do in 2016, and to management's credit, they laid out seemingly attainable goals, and have defined these objectives for all to see, as shown below.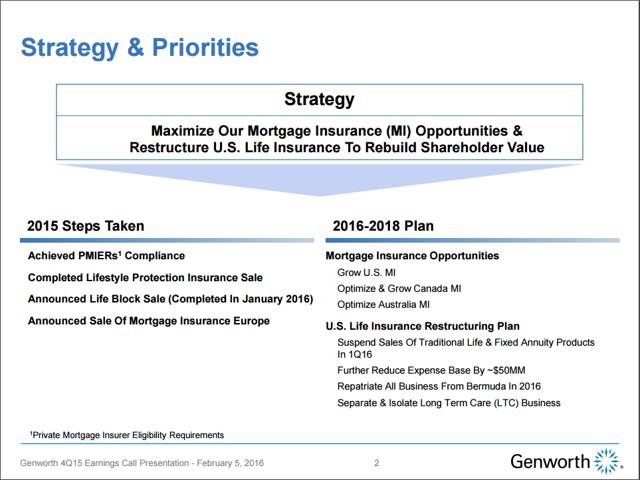 Simply delivering upon these goals and building credibility, with both the analyst community, and their existing investor base will go a long way towards improving the share price of GNW.
Catalyst #2 - Mortgage Insurance Keeps Outperforming
Genworth has sought to grow market share in their U.S. mortgage insurance business, while monetizing the cash flows and asset values from their market leading mortgage insurance operations via their Canadian and Australian subsidiaries.
So far, they have delivered on their goals in the mortgage insurance line, even though the operating environment, in the U.S., and internationally, does not look as rosy as it did two years ago, when private money was clamoring to get into the sector.
The combined dividends received from Australia and Canada totaled $301 million in 2015, exceeding Genworth's initial goal of $150-$230 million. Notably, this amount did not include the Australian IPO proceeds.
The stated goals for 2016 are more modest, with expectations of $100-$150 million in dividends from Australia and Canada. Built into these estimates is the anticipation that Canada and Australia will both face more challenging housing markets, as these two commodity exporting countries work through the depression impacting the global commodity market.
The market is not convinced that Genworth can navigate these potholes, and thus simply meeting expectations in the mortgage insurance business will be a big positive for shareholders.
Catalyst #3 - Growth In Long-Term Care Propelled By Increased Premiums
Genworth's management has made a conscious decision to focus on their long-term care and mortgage businesses, while strategically ring-fencing their life and annuity operations. In long-term care, Genworth has successfully increased premiums as illustrated below.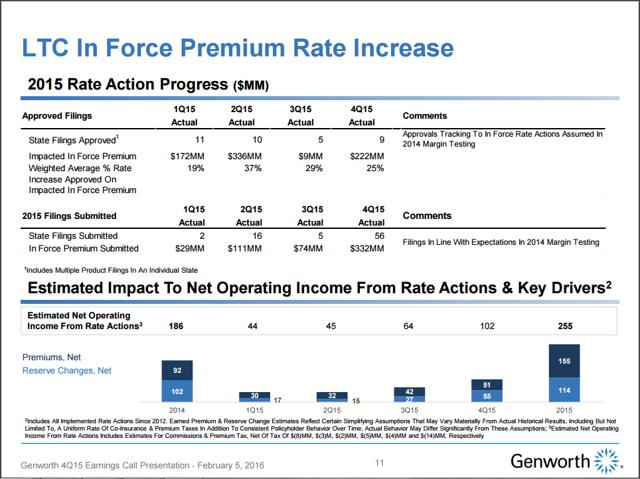 The increased premiums will, over time, partially offset the negative impacts of the current low interest rate environment.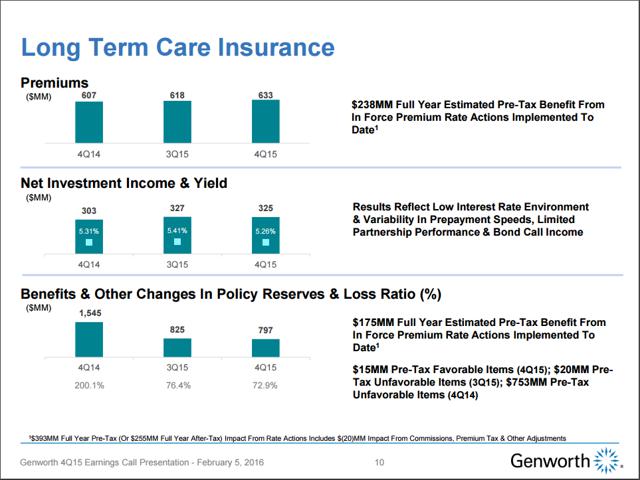 Independent analysts, like S&P Capital IQ, believe that Genworth's decision to focus on long-term care and the mortgage insurance businesses expose Genworth to more earnings volatility.
With that negativity built into the share price already, even the bearish analysts acknowledge that a stable long-term care segment could be worth more, by itself, than the entire current market value of GNW shares. To summarize, simply delivering solid results without any surprises in long-term care, would spur a recovery in GNW shares.
Risks - Regulators & Cash Held Hostage
Ever since spinning off from General Electric (NYSE:GE) in 2004, Genworth has faced one problem after another. First, the downturn in the U.S. housing market threatened the solvency of the entire company. As the company recovered from this near death experience, persistently low interest rates challenged the long-term earnings power. Then, Genworth had to take unplanned write-downs. Now, there is considerable angst as to when Genworth can access its cash across business lines, while everyone waits for a shoe to drop on its Canadian and Australian mortgage insurance divisions. The reaction to Genworth's decision to stop issuing new life insurance policies, perfectly encapsulated the pessimism surrounding the company.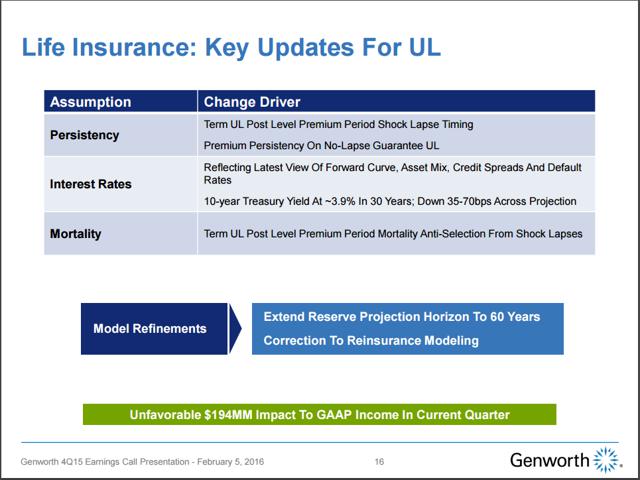 While cash at Genworth's Holding Company improved in 2015, the following graphic illustrates the importance of continued dividends and payments from Genworth's operating companies.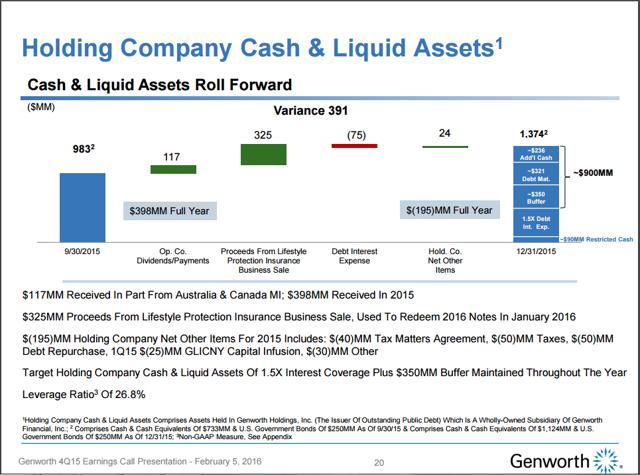 Surviving can be a skill, and the fact that Genworth has navigated this environment without significantly diluting shareholders has been a positive, but there remains an overhanging fear that the company is one unexpected blow away from insolvency.
Thus, a further drop in interest rates, a renewed downturn in the investment markets, or a further slump in the housing markets, are all events that could threaten the perceived viability of Genworth going forward. Building on this, Genworth is dependent upon regulators to allow capital to flow across their business lines, and a restriction could lead to a full-fledged restructuring. The lack of confidence and a summary of the challenges that Genworth faces was reflected in A.M. Best's recent ratings downgrade.
Quantifying The Upside In Common Shares
In an environment where interest rates stabilize, let alone normalize, and the mortgage insurance businesses, and the long-term care businesses merely meet expectations, with no unexpected surprises, shares of Genworth offer substantial upside from the current share price.
In fact, to simply trade at the low end of their historical valuations, shares of GNW could appreciate by three times or more. Not long ago, in October of 2014, hedge superstar John Paulson believed shares were worth significantly more than $20 per share in a break-up of Genworth's business lines.
Today, independent analysts are more bearish. S&P Capital IQ has a $3 price target for shares of GNW, based on a historically low 3.5 multiple on 2016 operating earnings per share of $0.85. The $3 target is less than GNW's book value, implying a conservative estimate, as S&P Capital IQ is skeptical of GNW's ability to avoid additional charges in their long-term care insurance line.
Reuter's average analyst price target is $4.50 for GNW shares, only slightly higher than S&P Capital IQ's price target.
Clearly, management has lost credibility with their frequent pivots in strategy, and this skepticism is hampering a fair multiple on operating earnings. If management is able to navigate this pessimism, and deliver on their forecasts, I can model potential upside in Genworth's share to over $10 per share.
Portfolio Strategy & Deep Value Investing
The primary appeal of buying dirt cheap companies selling at or near all-time low valuations is that a rebound could spark significant share price gains, with shares having the potential to double, triple or more. The other side of this coin, however, is that a further weakening of a distressed company's business prospects could wipe out equity holders, who have the lowest position in a company's capital structure.
To offset this risk, when buying distressed companies, investors should consider buying a basket of distressed names. From my perspective, investing in out of favor companies is similar to venture capital investing, where you know going in that you will have some companies that fail, wiping out shareholders, but the winners and their corresponding share price gains will more than make up for the companies that do not make it.
To illustrate the merits of this approach, I have been using the following table I have put together, comparing a 10% basket of distressed companies with the remaining portfolio in cash (Portfolio B) to a more traditionally invested portfolio.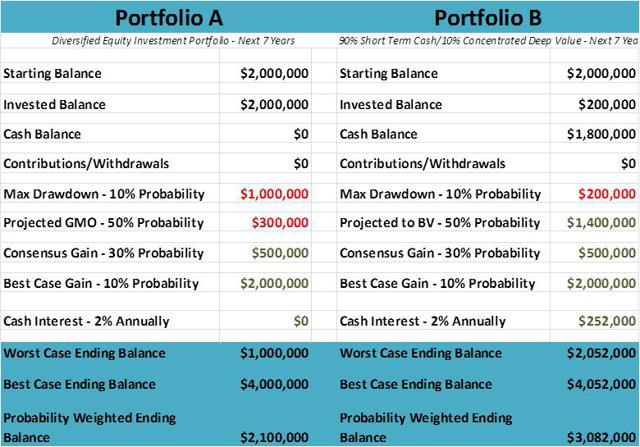 Recently, I have written extensively on portfolio strategy, and I cover this topic extensively in "The Contrarian premium service.
Conclusion: Genworth Financial Is A Risk Worth Taking
Investors today, have the capability to buy shares of GNW near their all-time lows, with some of the uncertainty removed. In the world of insurance, actuaries model the statistical probabilities to set premiums and deliver returns for the insurer. Viewed from this scientific prism, shares of Genworth are unequivocally undervalued, yet investors keep waiting for the next shoe to drop.
Past events have justifiably made investors skeptical. Thus, simply delivering solid operating results, without any surprises, should allow GNW shares to appreciate to levels more in-line with their peer group and the company's own perennially discounted historical valuations, driving a handsome return for investors from these beaten down levels.
The prospect of an out-sized return does not exist in isolation, and there are many risks for Genworth shareholders, including the possibility of a formal restructuring. However, at these prices levels, much of the known bad news should be baked in, making Genworth an attractive investment from a risk/return perspective. Long Genworth.
Disclosure: I am/we are long GNW AND SHORT SPY.
I wrote this article myself, and it expresses my own opinions. I am not receiving compensation for it (other than from Seeking Alpha). I have no business relationship with any company whose stock is mentioned in this article.
Additional disclosure: Every investor's situation is different. Positions can change at any time without warning. Please do your own due diligence and consult with your financial advisor, if you have one, before making any investment decisions. The author is not acting in an investment adviser capacity. The author's opinions expressed herein address only select aspects of potential investment in securities of the companies mentioned and cannot be a substitute for comprehensive investment analysis. The author recommends that potential and existing investors conduct thorough investment research of their own, including detailed review of the companies' SEC filings. Any opinions or estimates constitute the author's best judgment as of the date of publication, and are subject to change without notice.