Introduction
Back in September, I argued Owens & Minor (NYSE:OMI) deserved more shareholder love as the company was generating a robust amount of free cash flow. I was expecting an annualized free cash flow of $125-130M, resulting in a free cash flow yield of almost 6%. Since that first article, the company's share price has increased by approximately 12%, so it does look like the market has been giving Owens & Minor (hereafter 'OMI') some more love!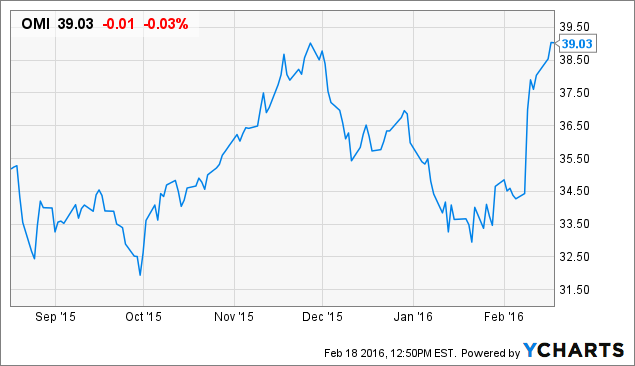 OMI data by YCharts
As expected, OMI posted superior cash flows
The financial results in the fourth quarter were a little bit disappointing as there was no revenue growth nor an increased gross margin, but there were some important improvements. The SG&A expenses fell by approximately $8M whilst the acquisition-related expenses also fell by $11M. This pushed the operating income higher by almost 45% to $58M. As the tax rate remained relatively stable, OMI reported a net income of $32.1M or $0.51/share, more than twice as much as the net profit it generated in the same quarter last year.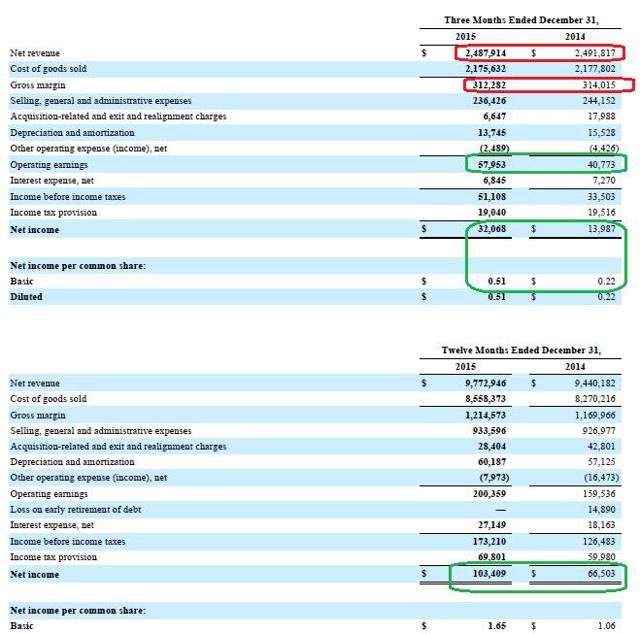 Source: SEC filings
Looking at the full-year financial results, the total revenue increased by approximately 3.5% to $9.77B whilst the operating income increased by 25% to $200M. After paying almost $70M in income taxes, OMI's bottom line was showing a net income of $103.4M, or $1.65/share.
One of my main elements that supported my original thesis in September was the fact the company's free cash flow was consistently higher than the net income. Whilst a net income of $103M in the entire financial year 2015 is a pretty decent result, it would be very neat if my target of $125-130M in adjusted free cash flow would indeed have been achieved.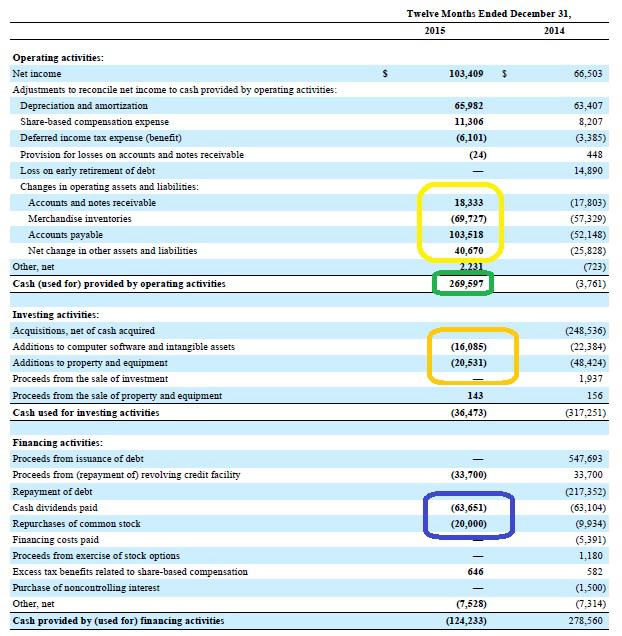 Source: SEC filings
OMI generated a total operating cash flow of $270M, but this result was influenced by major changes in its working capital position. I think it makes more sense to work with the adjusted operating cash flow, so I have calculated the adjusted operating cash flow whereby I removed these WC changes from the equation. The final result was still pretty impressive, as the adjusted operating cash flow was approximately $177M. And as OMI reported a total capex of just $37M, the company's full-year adjusted free cash flow was $140M. not only is this indeed 36% higher than its full-year net income (another reason to make sure you also have a look at any company's cash flow statements as well), the full-year result is also 10% higher than the midpoint of my expectations ($127.5M).
The balance sheet continues to improve, does this pave the way for more shareholder returns?
Generating $140M in free cash flow on an adjusted basis is great, but it also matters to me how a company is spending the cash.
And, well, OMI isn't doing anything crazy with its hard-earned dollars. It's still rewarding its shareholders with a pretty nice dividend (OMI has now been paying a dividend for 86 consecutive years!), and the quarterly dividend of 25 cents cost the company almost $64M. As the financial situation continues to improve, OMI has hiked the dividend by 1% to $0.2525 per quarter, or $1.01 per year for a current dividend yield of 2.61%. That's not a lot, but it's still pretty good.
OMI Dividend data by YCharts
The total amount spent on shareholder rewards was $84M as OMI also repurchased $20M worth of shares, and an additional $34M has been spent on reducing the company's debt as it repaid a revolving credit facility. As you can see, OMI hasn't done anything special or exotic with its cash, and that's exactly what I would have liked to see.
The balance sheet has strengthened a bit as the net debt/EBITDA ratio for instance fell to less than 1.5, indicating OMI has reached its cruising speed and doesn't have any repair works to do. I do hope this means the company will spend a little bit more on share repurchases, as this could result in a double advantage. Not only would its EPS-result increase, but by repurchasing 1% of the outstanding shares per year, OMI could continue to hike the dividend by 1% per year without having to spend an additional dollar on the dividend payments. And buying back 630,000 shares per year would cost the company just $25M, so it's not like it would overspend on share buybacks.
Investment thesis
I argued OMI deserved more love and now the share price is trading 13% higher, I'm already a happy man (as I bought myself a very small position). The increased dividend is a nice bonus, as is the fact the company's free cash flow is approximately 10% higher than what I was expecting.
It looks like the P30 I advised to write in the previous article will expire worthless, which means you can keep the $1 option premium in your pocket. As the option premiums have been decreasing in the recent past, I probably won't roll over this position but would rather want to wait for higher option premiums.
Disclosure: I am/we are long OMI.
I wrote this article myself, and it expresses my own opinions. I am not receiving compensation for it (other than from Seeking Alpha). I have no business relationship with any company whose stock is mentioned in this article.