For nearly a century, the U.S. was both an exporter and importer of crude oil. The United States government restricted the export of most domestically produced crude oil (NYSEARCA:OIL) starting in 1973, a time when U.S. oil production was in decline. US oil production since 2007 has increased by more than 80% to 9.5 million barrels a day. The U.S. still imports a lot of oil, but the share of petroleum from foreign sources, 27% in 2015, is at its lowest level since 1985.
Following the historical decision by Congress last December to lift a 40-year ban on exporting oil, shipments started to leave the U.S. ports to different destinations across the world. ConocoPhillips (NYSE:COP) and NuStar Energy LP (NYSE:NS) were the first to send off an oil tanker of freely traded U.S. crude for export, which departed from the Port of Corpus Christi, north of the Texas border with Mexico late December 2015. This was followed by several tankers by Enterprise Products Partners (NYSE:EPD) which headed to Switzerland, France, and Italy. US oil reached many destinations in South America, Europe, and Asia.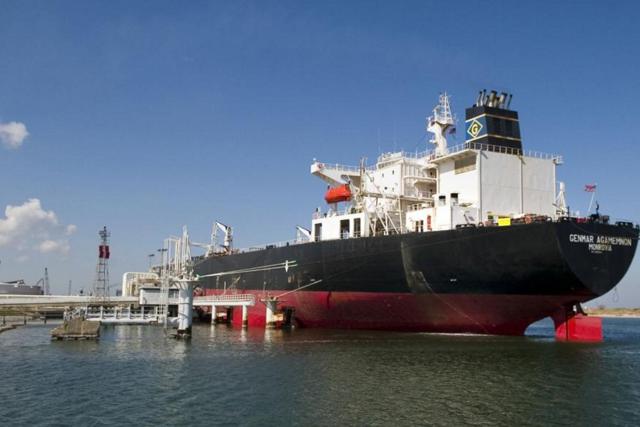 An oil tanker in Corpus Christi, Texas. Photo credit: Eddie Seal/Bloomberg
Current Excess in Oil Production
The "fracking" revolution has led to an excess supply of light crude oil type. The "Light Tight Oil" (also known as shale oil abbreviated LTO) is the shale crude oil produced from fracking operation fields such as Bakken, Permian and Eagle Ford, which combined, account for 89% of US shale oil production. LTO Oil is lighter and sweeter (higher quality) than the standard West Texas Intermediate [WTI] which is typically produced in North America.
Prior to lifting the export ban, US oil producers were facing two severe problems:
The extra oil they were producing could not be exported due to the ban. Only limited exports were allowed by special permits issued by the US government.
At the same time, LTO oil did not have a place in the US markets despite the fact that the country is still importing large amounts of oil. The problem stems from the inability of most US refineries to efficiently process the extra amounts of light crude coming from shale oil producers. These U.S. refineries were mostly designed to process heavier crudes as they were built before the shale oil revolution, and are not prepared to process large amounts of the lighter oil produced by the US shale producers. This led to a bottlenecked oil supplies, and ended recently by closure and bankruptcies of several of these oil producers, especially after oil prices reached multiyear lows.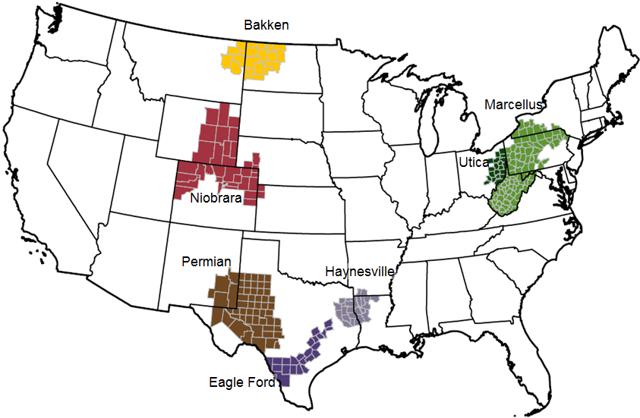 The main shale oil and gas plays of the USA (euanmearns.com)
Three new possibilities for US Oil Exporters
Export current excess of LTO Oil: Currently, almost all of the excess oil in the US is LTO type. This type of oil has a home abroad as several international refineries, such as in Europe, were designed to process lighter crude coming mainly from Russia, Africa, and part of Saudi Arabia. The US producers have the ability to immediately start exporting significant volumes.
Export Heavy Crude: Up until 2 months ago, US oil producers were held captive to the US refiners' demand as they were unable to sell oil on the international markets because of the ban (noting some exceptions due to certain exemptions by the US Government). Now all types of US oil, heavy type and LTO, can be sold anywhere. The heavier crude WTI that is mostly needed by US refiners can also be sold abroad, putting US refiners in direct competition with their international counterparts.
Create and Export medium grade oil: Now that oil can trade freely, US producers can take advantage of Canada's heavy- type oil which is already flowing to the US through the northern pipelines. Canada's oil, produced from Oil Sands, is one of the dirtiest types of oil and needs to be mixed with LTO to become usable. By blending Canadian oil with LTO, US Oil Producers can create a more suitable product, similar to WTI, for export to medium-grade refineries overseas, thus unlocking massive volumes of the most desirable oil throughout the globe.
The lifting of the ban on exports is not only a game changer for US Oil Producer and other related industries; it will have wide and global implications.
Dynamics Playing in Favor of US Exporters
Although US oil exports are expected to have a slow start due to reasons such as the US infrastructure's inability to handle large export volumes and the currently low prices of oil, the picture looks pretty good given a horizon of two years and onwards.
Oil Demand and Oil Prices: 2015 saw one of the highest volume increases in global oil demand this century, according to the Energy Information and Administration (EIA). The growth was dominated by increased demand for gasoline fueled by lower oil prices. Gains in demand were noted in Europe and non-OECD Asia-notably India. Demand growth will continue in 2016 and 2017 according to the EIA, while supply growth is expected to slow down. The EIA forecasts that prices of crude oil will start to recover during 2016. Based on projections by the EIA and several banks and analysts, it is widely expected that oil prices will reach $40 to $50 a barrel oil in 2016 as slower supply and demand volumes will start to balance by the year-end of 2016. High oil demand coupled with higher Oil prices mean higher revenues for oil producers in general, and US producers and exporters in particular.
International Refineries: In contrast to their US counterparts, many South American and European Refineries are generally simpler and designed to process lighter grades of crude. For example, European refineries are configured to process light, sweet oil coming from Africa and the Caspian region (Russia) and are able to immediately absorb LTO Oil coming from the US.
Energy Dependence: Many countries view the U.S. energy leadership will help bolster America's allies, and strengthen the global energy market against future disruptions. Let us take the European Union (NYSEARCA:EU) for example. The EU imports more than half of all the energy it consumes. Its import dependency is particularly high for crude oil (more than 90%). Many countries are also heavily reliant on a single supplier, including some who rely entirely on Russia. This dependence leaves them vulnerable to supply disruptions, whether caused by political or commercial disputes, or infrastructure failure. For instance, a 2009 gas dispute between Russia and transit-country Ukraine, left many EU countries with severe shortages. In 2014, the European Commission released its "Energy Security Strategy" aiming to ensure a stable and abundant supply of energy for European citizens and the EU economy. This policy included measures to be taken by the EU to diversify supplier countries and routes. Absorbing US oil through imports will help them achieve this goal.
Export Advantages of LTO Oil: Export dynamics do not work solely on oil prices, as the quality of the oil produced plays a big role. Light crude oil receives a higher price than heavy crude oil on commodity markets because it produces a higher percentage of gasoline and diesel fuel when converted into products by an oil refinery. Furthermore as the world has been shifting to cleaner environmental policies, LTO is becoming more attractive due to its cleaner composition especially in developed economies such as Europe as it results in fewer pollutants.
Break-even cost: Not all US producers will be losing money by exporting oil at the current oil price levels. Following increased production efficiency, the break-even cost of US Shale producers have gone down significantly in the past year. It is estimated that the average break-even price to produce oil in US shale industry is currently around $50 a barrel, with a wide variation depending on the region. Some producers were reported to be able to break-even at levels as low as $30 a barrel.
Further drilling efficiencies: Further drilling efficiencies by US shale oil producers will continue and could result in an additional decline in costs by 20-30%. For example efficiencies such as horizontal well drilling resulted in dramatic cost improvements.
US Government Action: The US Government has a lot to gain from increased US oil exports as they are expected by the year 2020 to increase government revenues by $13.5 billion, to create 300,000 new jobs and to reduce government deficit by $22 billion. It is likely additional measures will be taken in the future by the US government to support US oil producers , such as introducing new bills that would also speed natural gas exports and hasten approval of new pipelines across public lands.
Potitical Allies: The political influence of the US on its allies will result in market share gains for US crude exports in these friendly countries.
Export Potential and Destinations
1- European Union (EU): The EU represents one of the best markets for US oil export for many reasons:
US oil will help the EU achieve their oil diversification and Energy Security goals.
Many European refiners are configured to take US oil of the LTO type.
EU is more aware of pollution effects of heavy oil and has been basing its policy to shift to a cleaner one by importing lighter oil.
EU countries are mostly close allies of the US and likely to give a larger share of their imports to US producers.
2- Mexico and Latin America:
Many refiners in Latin America are able to process US oil of the LTO type.
While overall crude production in Latin America is growing, light crude production is declining. US oil type LTO is very much in need to be mixed with the heavier oil produced there. It was noted very recently that Venezuela, a large oil producer and exporter, is already snapping up US oil barrels to mix with their heavy crude to make a more marketable blend.
This region has historically been one of the US largest trading partners and is expected to be a natural home for US oil due to the geographical proximity.
Certain US oil producers, notably Pioneer Natural Resources Co. (NYSE:PXD), have been actively working with its midstream partners to secure export facilities along the U.S. Gulf Coast to ship to Latin America.
3- East Asia: Buyers in Japan and South Korea have welcomed the arrival of U.S. barrels. Same situation as the EU, US oil will diversify their oil imports which currently rely heavily on the Middle East. "The U.S. crude exports will result in contribution to Japan's energy security," said Yoshihide Suga, Japan's chief cabinet secretary.
4- China: The world's biggest oil importer has already reported its interest to buy U.S. oil as the country's independent refiners seek lighter crudes to mix with heavier feedstock.
5- India: India's biggest refiner began testing with American crudes since 2014 in anticipation that the ban will be lifted. "We are indeed looking forward to U.S. crude coming into the market," said B. Ashok, the chairman of Indian Oil Corp.
The "New Order" of Global Oil Supply
Future crude oil Production cuts will come from OPEC, Not from the USA: Several studies were made recently projecting oil prices to reach $40-$50 range this year due to increased oil demand and reduced supplies. Several of these reports point that oil production cuts will mostly be made across the board, but with notable reductions coming from the USA rather than OPEC and Russia. Although I agree with the conclusion that Oil is heading to $40 - $50, my opinion is different in respect to where the future supply cuts will come from. This difference probably stems from the timing of these studies which were conducted prior to the lifting of the oil export ban. By lifting the export ban, the US government has effectively turned the table around:
The lifting of the export ban will unleash massive new and steady supplies across the globe.
Through its action, the US government has effectively injected its oil producers with steroids. By giving producers access to the international markets, the US government has significantly expanded their survival limits to withstand lower oil prices as these companies can access new sources of revenues generated by exports. US producers will now be able to sustain much longer, likely exceeding the survival ability of most OPEC countries including Saudi Arabia who has another 4 or 5 years before possibly facing bankruptcy (according to IMF).
In my opinion, most future cuts will have to come from Russia, the Middle East and OPEC countries, while US producers will end up getting the Lion's share of the global oil market. I believe that OPEC countries have started to realize that the game is over, as evidenced by the recently led new joint efforts by Russia and Saudi Arabia to reach an agreement to freeze output in order to put a floor to oil prices. This sudden softening of tone by Saudi Arabia and Russia happened just two months after the lift of the export ban. Is this sheer coincidence?
My next research (Part 2) which will be released early next week will cover the following:
Projected increase in US oil exports and its implications.
Why Midstream Oil Companies (MPLS) and Oil tankers will be the main beneficiaries of US oil exports.
How to bank on US Oil exports with Fat Dividends up to 20%.
Join us at High Dividend Opportunities in our journey to uncover high-dividend stocks trading at bargain prices, and benefit from live alerts to pick them up. "High Dividend Opportunities" is dedicated to bring you the most profitable and newest high-dividend ideas. For more info, please click here.
Disclosure: I am/we are long AMLP, ETE.
I wrote this article myself, and it expresses my own opinions. I am not receiving compensation for it. I have no business relationship with any company whose stock is mentioned in this article.