Oil prices have seen a lot of volatility this week, after Russia and some OPEC countries (Saudi Arabia, Qatar and Venezuela) agreed to freeze production at January levels. Before the meeting, the market had expected a production cut and was disappointed at first, which sent oil prices lower, but oil prices recovered from their weekly lows. The effect of said production freeze will not have any material impact on the global supply and demand situation, and thus will not lead to a substantially higher oil price.
Analysis
Russia, Saudi Arabia, Qatar and Venezuela stated they would freeze production at January levels. January production stood at 10.9 million barrels a day in Russia, which is a post-soviet record, whilst Saudi Arabian production stood at 10.2 million barrels a day, which is slightly below last summer's number but still the highest January number for more than three decades. This basically means that these two major players in the oil markets did not decrease production levels (and thus the supply surplus) at all, Russia and Saudi Arabia just agreed to not further increase production and not widen the supply - demand gap further.
The deal further includes that Qatar and Venezuela will not increase production either, but this isn't new information either. Qatar is a less important player in global oil markets anyway (since the country's wealth is based on its huge natural gas resources), and Venezuela is seen as not able to increase production from the current level. The fact that these two countries will not increase production is thus something markets expected anyways and will not affect the supply and demand situation.
Supply will be affected by two other OPEC countries though, Iran and Libya: After export bans being lifted earlier Iran looks to increase production, and thus stated that they support the Russia / OPEC agreement, but will not participate. Iran has stated before that the country is looking to expand production by up to one million barrels a day, which will further increase the supply glut over the coming months if no other oil players cut production materially. Since Iran's capacity is big enough to increase production by one million barrels a day (and this would just be a return to pre-sanction production levels) it will be hard to persuade Iran of freezing production at the current level -- after all, when Saudi Arabia and Russia are producing at (or near) record levels, why shouldn't Iran do the same?
The next country which could grow production is Libya: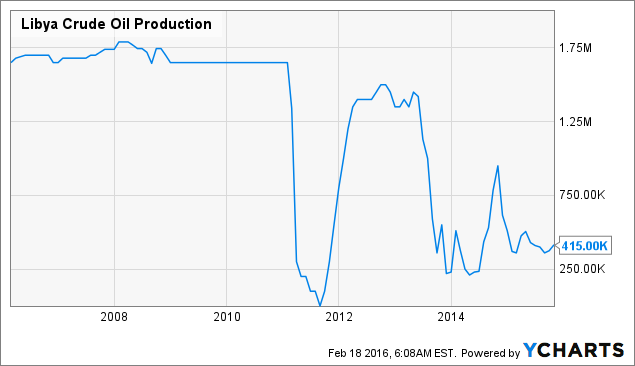 Over the last ten years Libya's oil production stood around the 1.5 million barrels a day level most of the time, but in recent months production has dropped to about 400,000 barrels a day. This was based on turmoil in the country and fighting between separate clans and factions. The country's internationally recognized government fights with other local governments about control over the country's energy assets, including ports and production facilities. The bull case for the price of oil would be a further production cut, although that would be very limited since production is already down to 400,000 barrels a day and it is unlikely that Libya's production drops to zero. The bear case however would be that the country's different factions are able to find peace, or at least make terms about exploring the country's oil resources together -- in this case Libya's oil production could soar by a million barrels a day (or even more) to pre crisis levels.
Additional supply growth (which further increases the oil glut) comes from the oil majors: Exxon Mobil (NYSE:XOM), Chevron (NYSE:CVX), BP (NYSE:BP) and Total (NYSE:TOT) have reported growing production in 2015, Shell's (NYSE:RDS.A) (NYSE:RDS.B) production is down slightly:
These five corporations, which are the largest publicly traded producers, grew total production by half a million barrels a day -- or three percent -- in the last quarter, thus adding to the already high oil supply.
When we look at the IEA's data, we see that the supply glut is not really getting smaller:
| | | | |
| --- | --- | --- | --- |
| | Global supply | Global demand | Supply surplus |
| Q3 2014 | 94.3 Mboed | 95.4 Mboed | -1.1 Mboed |
| Q4 2014 | 95.4 Mboed | 94.8 Mboed | +0.6 Mboed |
| Q1 2015 | 95.1 Mboed | 94.5 Mboed | +0.6 Mboed |
| Q2 2015 | 96.3 Mboed | 95.0 Mboed | +1.3 Mboed |
| Q3 2015 | 97.0 Mboed | 96.5 Mboed | +0.5 Mboed |
| Q4 2015 | 97.1 Mboed | 96.4 Mboed | +0.7 Mboed |
With global oil production at a record high in the fourth quarter, global oil supply surplus has been 0.7 million barrels a day, which is higher than the average of 0.4 million barrels a day. Q4 surplus has been the second highest over the last one and a half years and is up yoy as well as in comparison to the third quarter.
Takeaway
Since all of these factors (additional supply from Iran and possibly Libya, growing production from the supermajors, growing supply surplus) work against an increasing oil price, the OPEC - Russia agreement will not push oil prices materially higher, especially since production is not getting cut, but rather frozen at record levels.
If Russia and OPEC decided to cut production by five percent, this would take out about 2 million barrels a day of global production and have an immediate effect on oil prices, but it seems neither of the two is at the point where they want to do that.
Disclosure: I/we have no positions in any stocks mentioned, and no plans to initiate any positions within the next 72 hours.
I wrote this article myself, and it expresses my own opinions. I am not receiving compensation for it (other than from Seeking Alpha). I have no business relationship with any company whose stock is mentioned in this article.