Gold prices took off in mid-January as it became apparent that the Fed is no longer hell bent on raising short-term interest rates again any time soon. Low interest rates compete less with gold, which in its physical form has negative yield (due to storage costs) that only price appreciation can overcome.
That's exactly what we've gotten in the new year, as gold rose above $1,240/ounce before pulling back to $1,207. That's a nice move from its December low in the $1,050 area. Is it gathering steam for its next leg up? If so, you can play the current pullback in several ways.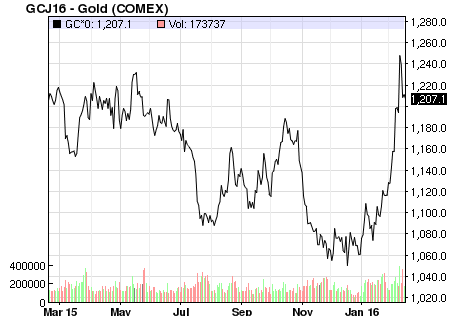 Gold-Backed ETFs: The SPDR Gold Trust ETF (NYSEARCA:GLD) is backed by physical gold and in lockstep with gold prices, although like all ETFs, some slippage can occur. The chart below shows ETF shares recent bust-out.
After registering a December bottom of $100.50, shares rallied rapidly up to $119 before taking a breather. Still, at the current price of $115.50, that's a nice 15 percent return in about 2 months. The chart shows that the shares rallied on good volume, whereas the current pullback has seen volume drop off.
A move above the $125.23/share resistance level of January 2015 will clear the way for a new, significant up-leg. iShares Gold Trust (NYSEARCA:IAU) competes with GLD, and although GLD is more expensive to hold, it's typically cheaper to trade because each share represents more gold.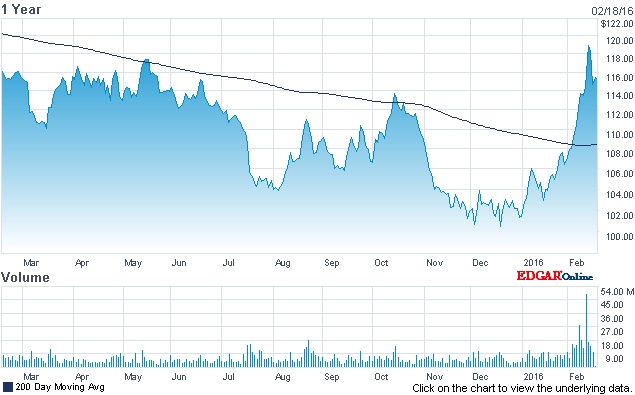 Physical Gold: If you like gold that you can see and feel, the most economical play involves large gold bars and ingots that you can procure from a gold bar shop. Gold coins are ubiquitous but small, normally found in denominations of 1 ounce or less.
The economies of scale dictate that the price of 100-ounce bar will be much closer to spot than will be the coins', even if you get them from the U.S. Mint. Stick to 24-carat gold, which is 999.9 fine. An excellent way to accumulate physical gold is via an IRA, which permits purchase of certain precious metals.
The tax-deduction reduces your effective cost basis, and you can have the gold stashed at a depository for a relatively small fee. Newer IRA setups might even allow you to hold the gold at home, but first speak with your tax advisor. Of course, you can buy large stocks of gold by holding long COMEX contracts until expiration. That's if you fancy futures trading, which is a high risk form of investing.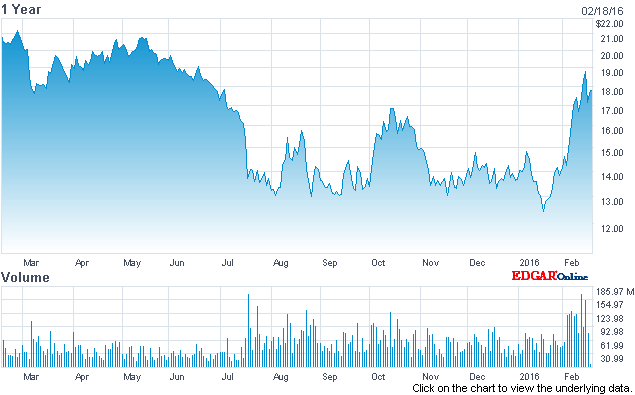 Gold Mining ETFs: A good way to hold the shares of gold miners is through an ETF, since it provides instant diversification. The biggest one is Market Vectors Gold Miners ETF (NYSEARCA:GDX).
All of its underlying portfolio shares are traded in the U.S., but the portfolio contains some miners other than gold. Shares climbed from $12.47 on January 19 to $18.84 on February 12, and currently are trading around $17.75.
Conclusion
The bottom line is that with the price of gold having takes a breather over the last few trading sessions and with oil prices still looking dodgy, now may be a good time to make you play and do it smartly according to your expertise and risk appetite.
Disclosure: I/we have no positions in any stocks mentioned, and no plans to initiate any positions within the next 72 hours.
I wrote this article myself, and it expresses my own opinions. I am not receiving compensation for it. I have no business relationship with any company whose stock is mentioned in this article.