Level 3 Communications (NASDAQ:LVLT), with few exceptions, has been burning through cash for most of its history. Investors have been waiting a long time for sustainable FCF (free cash flow) to arrive, only to be disappointed when it seemed just around the corner. We'll look at the past pro-forma numbers and guidance to identify the long term trends for EBIDTA and free cash flow.
The acquisition of Global Crossing was completed in October 2011. LVLT then transferred the listing of its common stock to the New York Stock Exchange. In conjunction with listing on NYSE, the company affected a 1-for-15 reverse stock split of the Level 3 common stock. LVLT released their fourth quarter and year end results on February 8, and provided 2012 guidance for the combined entity.
The main risk to any long term trends rest on how well the Global Crossing integration proceeds. There are concerns that LVLT's history includes some integration challenges. Beginning with the late-2005 acquisition of WilTel, Level 3 has established itself as an industry consolidator. During 2006, the company went on to acquire Progress Telecom, ICG, TelCove and Looking Glass Networks. In 2007, Level 3 acquired Broadwing, the Content Delivery Network services business of SAVVIS, Inc. and Servecast. It looked as if the company was turning the corner but underneath the company was experiencing major problems absorbing acquisitions, such as:
Experiencing an increase in the time it took to activate service for customers, hurting revenue growth.
The company was taking longer to resolve customer network service issues.
The company didn't have adequate provisioning capability to convert orders to revenue.
The company lacked adequate internal controls.
As the problems became public the stock plunged to about $1 (split adjusted $15), then on March 10, 2008, Kevin O'Hara, president, COO and co-founder, resigned without notice. Jeff Storey was brought in as president and COO. The problems were fixed but not without cost. LVLT's revenue declined at a time it could least afford it.
There could be a silver lining when it comes to the Global Crossing integration. Management now has the experience (lessons learned the hard way) to know what went wrong in earlier acquisitions and apply these lessons going forward. One might ask did the past acquisition problems teach them anything? We think the answer is yes, and is reflected in the longer term trends that follow.
Management provided the following guidance on February 8 (4Q11 Earnings Presentation, slide 14):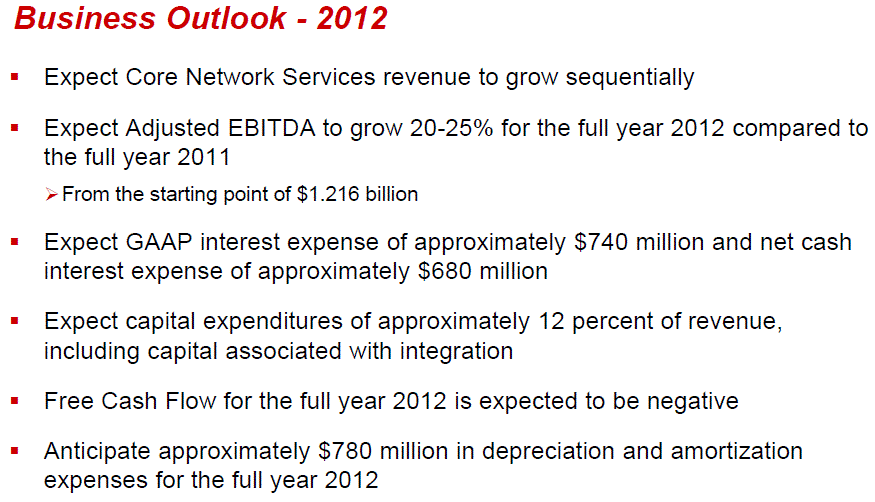 Revenue would need to be about $6.6 billion to meet these expectations. 2012 revenue needs to grow in the low single digits over 2011. The expectations appear reasonable since we expect very little if any growth on the Global Crossing operations during the transition. Global Crossing revenues decreased 3.8% in Q4 from Q3. We expect growth to pick up in 2013 but not exceed the single-digit range. The revenue growth rates yield the following EBITDA and FCF projections ($mil):
YEAR

Total Rev.

Adj. EBITDA

Adj. EBITDA Margin

Free Cash Flow

2010

6,260

1,273

21%

(81)

2011

6,428

1,233

19%

(207)

2012

6,637

1,460

22%

(92)

2013

7,210

1,730

24%

163

2014

7,867

1,888

24%

254

2015

8,607

2,152

25%

473

2016

9,425

2,356

25%

596

Pro-forma LVLT and GBLC

.
FCF could turn positive in Q4/12, but we do not expect it to remain sustainable on a quarterly basis until Q2/13. A graphical depiction of the trends including the leverage ratio is as follows: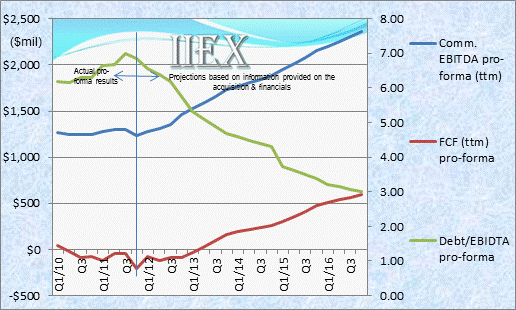 Trailing twelve month FCF hit bottom during Q4 and should trend up going forward. (A detailed breakdown of all financials and fair value calculations used in this article can be downloaded here.)
Conclusion:
We think a short-term fair value of $26 reflects the trends above. The revenue growth rates are reasonable and there is a chance they could exceed them. This is dependent on a smooth integration. A major risk outside of management's control is macroeconomic events in Europe and elsewhere. Companies that are not free cash flow positive will be hit harder than companies with a proven profitable track record, if macroeconomic events turn negative.
So where's the cash generation? Stay tuned for 2013.
Disclosure: I am long LVLT.