Earlier this month Shutterfly, Inc. (NASDAQ:SFLY) posted solid but uninspiring results for the December quarter. While total revenues of $548.1M (+13.4% YoY) came in above expectations, the all-important consumer revenue fell short at $503.3M (versus $512.7M consensus), growing just 9%. The company was quick to point out that the flagship Shutterfly brand experience double digit growth. The company has deliberately slowed investment in some of its other brands as it works to bring them onto a common technology platform with Shutterfly.com. More on this initiative later in this article. The balance of revenues was from the enterprise segment, which saw sales climb 119% year-over-year to $44.7M. The two segments have radically different margin profiles. Both increased in Q4, but the consumer business really drives the cash flow for Shutterfly.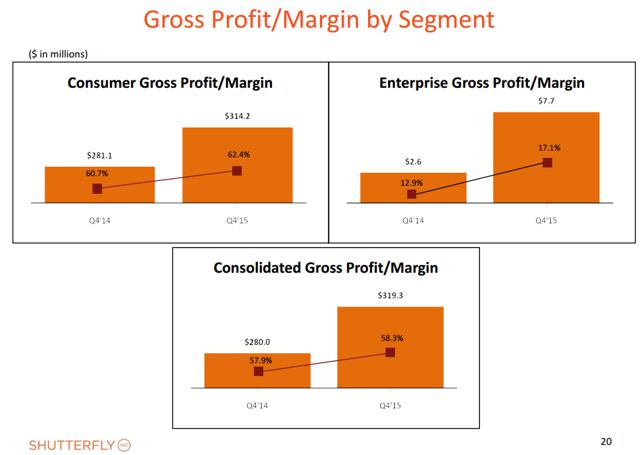 The Great Reset
Shareholders have known for a couple of months now that long-time CEO Jeff Housenbold will be stepping down this month. Mr. Housenbold is due much credit for turning Shutterfly into a billion dollar business, but it is likely time for someone else to lead this company into its next phase of growth. The time to focus on organic growth is now. His last large initiative at Shutterfly was to map out a strategy for the company that will modernize the platform and drive growth for the next several years. The company calls this 'Shutterfly 3.0.' This project has many facets, but the most important involve integrating brands and back-end platforms and increasing mobile product offerings.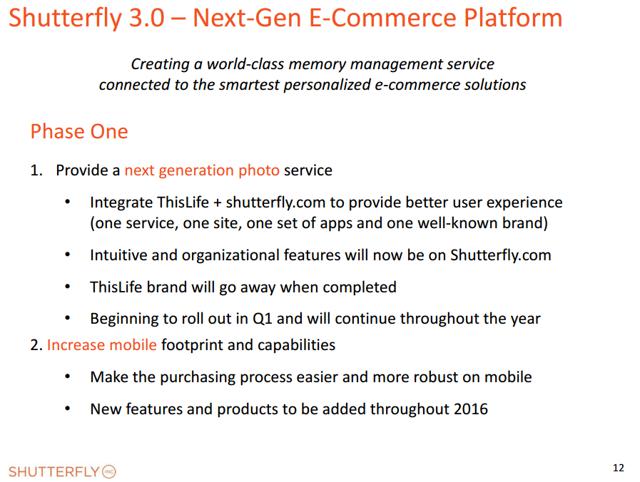 Integrating brands and platforms will allow for lower development costs going forward as well as faster speed to market for product and feature enhancements. The company has purposely dialed back investment in its Tinyprints and Wedding Paper Divas brands while building an integrated platform in order to not waste engineering resources on code that would just be thrown away once the project is completed later this year. This has slowed sales growth over the past few quarters. In addition, the lack of a complete produce suite on mobile has also harmed growth, particularly with the younger, mobile-only demographic. In Q4 2015 mobile revenue totaled a mere 12% of the Shutterfly brand's revenues. More and more e-commerce transactions are being completed on mobile devices. Shutterfly understands the need to enhance its product offerings on mobile and reduce friction points to better play to the mobile only audience. Here is a Q&A from the Q4 earnings call that I fell gives particularly good insight into the mobile opportunity for Shutterfly.

If Shutterfly can win on mobile, it will draw in a whole new set of younger customers that it can benefit from for many years to come. While investors will have to wait another 12-24 months to really see the benefits from this investment, we should begin to see clues as to its level of success within the next 2-4 quarters as Shutterfly builds out its mobile capabilities. The good news in mobile is that none of Shutterfly's competitors are any further along. Shutterfly is the leader in this space; competitors vying for the consumer's wallet are a fraction of the size and possess a fraction of the scale and resources that Shutterfly has. Gains made in mobile will be mostly incremental and should not cannibalize existing desktop sales, which should boost growth prospects for many years to come.
Higher Margins
Shutterfly is on the cusp of generating solid operating leverage. The company believes integrating some of the brands and uniting technology platforms under one universal offering will lower engineering costs and allow for margin expansion. In addition, higher and more uniform utilization of the company's three manufacturing sites throughout the year will also drive operational efficiency. In 2015 the company's adjusted EBITDA margin was 18.1%. The mid-point of 2016 guidance puts the margin at 18.7%. In addition, the company is projecting a 50.9% to 51.7% GAAP gross margin in 2016, which would be up 70 to 150bps compared to 2015. Free-cash-flow is expected to range from $124M (+11.7% YoY) to $133M (+20%). Earnings and cash flow are projected to grow in excess of revenues in 2016. A lot will depend on how well the Shutterfly 3.0 rollout progresses throughout the year. The company has historically issued conservative guidance.
No International Expansion
On the Q3 earnings call the CEO laid out a plan to take the Shutterfly brand international within 18 months. On the Q4 earnings call he reversed course. It was clearly communicated to investors that those plans were placed on the back burner. When asked about capital allocation, Mr. Housenbold has this to say: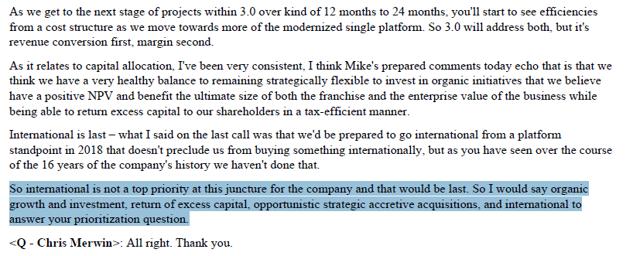 It does not take a rocket scientist to see what happened here. In my opinion, the Board stepped in here and prioritized organic investment that would enhance the brand and margin profile domestically. International expansion would be dilutive in the near-term and a distraction. There should be plenty of opportunities to grow in North America. I believe this ultimately led to the resignation of the CEO. Over the course of the last year, the two seats on the board occupied by activist investor Marathon Partners likely gained increasing influence. Mr. Housenbold was no longer getting the rubber stamp of approval from the board, so he decided it was time to move on. While Mr. Housenbold has been a visionary in this space and deserves a lot of credit for building Shutterfly into what it is today, he is not necessarily the right person to lead the company for the next 3-5 years. I believe the Board will focus its efforts on finding a new CEO that can lead the company through Shutterfly 3.0 while looking at other ways to enhance profitability within the framework of the current set of assets. Mr. Housenbold likely was pursuing international expansion at a pace the Board was not comfortable with. When they put the brakes on, he knew it was time to move on to his next adventure." His exit could make a takeout more likely, as most observers believe he may have been the impediment to a deal getting done in the fall of 2014. Axiom Capital put a note out this morning, saying a sale of Shutterfly is "inevitable."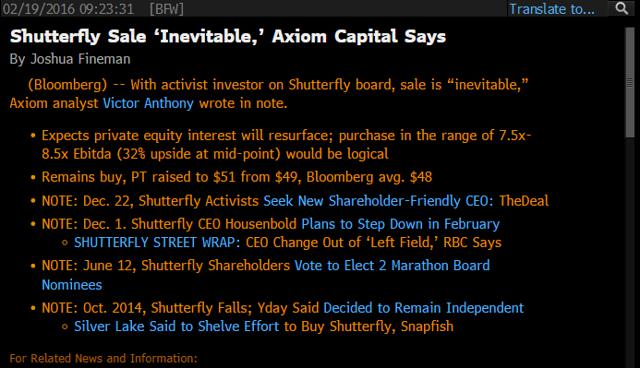 Conclusions/Valuation
The current market cap (and enterprise value) of Shutterfly is $1.35B. The company expects to generate between $124M and $133M in free-cash-flow in 2016. That means the yield on FCF is a solid 9.4% at the mid-point of guidance. For a company that is still growing its topline high single digits I would argue this valuation is far too low. 10% free-cash-flow yields are typically reserved for slow or no growth companies. The company will also continue to buy back stock. At the current stock price, I expect Shutterfly, at a minimum, to buy back stock equivalent to its free-cash-flow generation for 2016 (~$140M). This would be down from 2015's total of $193M. At the current price buy backs would represent ~8% percent of the market cap, if you assume similar dilution in 2016 for stock-based compensation as in 2015. How much cheaper can this stock get? I would argue not very much. It has the potential to rise at least 20% in the next year if the company can hit the high-end of its guidance range, which it typically does. Combine earnings growth with margin expansion and buy backs and I do not see why this stock cannot be in the $45-$50 range by year-end. The best public comp for Shutterfly is Cimpress (NASDAQ:CMPR). Cimpress is expected to grow revenues about 15% in 2016 versus Shutterfly's 9%, but it trades at 23.5x FCF (FCF is expected to be down 26% in FY2016 for CMPR) versus Shutterfly's 10x and growing free-cash-flow. In addition, acquisitions have played a larger role in Cimpress' growth in recent years than they have at Shutterfly. One or both of these securities is mispriced, but given the low multiple at Shutterfly I would much rather own it at 10x as opposed to Cimpress at 23.5x.
To sum up, Shutterfly is pivoting its business toward mobile, with a sharp focus on creating a richer experience for the user. While the roll-out of the new mobile experience will occur in stages over the balance of 2016, the company is confident this project will draw in the younger, mobile-only demographic. This will drive incremental sales for the company. In addition, the consolidation of back end technology platforms into one will drive operational efficiency, which in turn will improve margins. All this should allow the company to generate meaningful operating leverage in the second half of 2016. At this price, I believe the risk is skewed to the upside for the stock. I am a buyer at this level.
Disclosure: I am/we are long SFLY.
I wrote this article myself, and it expresses my own opinions. I am not receiving compensation for it (other than from Seeking Alpha). I have no business relationship with any company whose stock is mentioned in this article.