By Parke Shall
There have been several news items that have put a charge into Lumber Liquidators (NYSE:LL) stock of recent. We want to take a look at the move that the stock is made, we want to identify the catalyst for this move, and we want to talk about why we think Lumber Liquidators may not be a fantastic investment just yet.
Granted, we believe that the short case for the company at $15 or $16 a share, is pretty much off the table. Having said that, if you are looking for a long entrance into the stock, we believe that there may be a better opportunity as we move forward.
The company released some terrible news this past week that their CEO was diagnosed with a treatable form of Leukemia. Certainly, this should never be viewed as a positive and we wish him a quick recovery and all of the best. On the other hand, the stock market seemed to think that this was good news, and the stock wound up rallying almost 15% on the day after the announcement.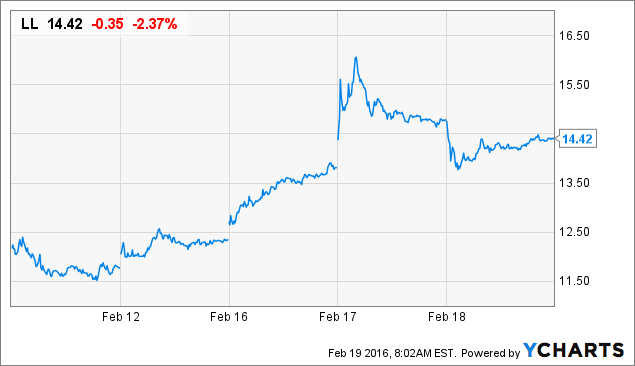 We don't see the basis for the rally off of this news, but Mr. Market certainly seemed to like it for one reason or another.
This all comes after an announcement made by the CDC that Lumber Liquidators flooring was not likely to be a cancer-causing agent. The memo that was released two weeks ago looks like this,
Lumber Liquidators Holdings Inc. flooring, tested by U.S. regulators after an outcry over formaldehyde, was found to have a low risk of causing cancer, though it could potentially trigger irritation and breathing problems.

The U.S. Consumer Product Safety Commission tested the health impact of formaldehyde released into indoor air from Lumber Liquidators' laminate flooring, according to a report released on Wednesday by the Centers for Disease Control and Prevention. The products -- the subject of a "60 Minutes" investigation last year -- were produced in China between 2012 and 2014.

"Breathing in very high levels of formaldehyde over many years has been linked to rare nose and throat cancers in workers," the CDC said in the report. "Formaldehyde exposure from the tested laminate flooring would be much lower and would last for less time than the exposures linked to cancer. We estimated the risk of cancer from exposure to this flooring and it's low."
Certainly this is the more positive of the two news items from a fundamental sense. The most major contingent liability that the company has still remains whether or not they're going to face any disciplinary action or regulatory sanctions from their purchasing and selling of Chinese made laminate flooring with formaldehyde levels in excess of CARB regulations. This is the allegation that helped bring the company's stock down from over $60 per-share to as low as $12 per share over the course of just months, as famed short seller Whitney Tilson made this the key part of his short thesis on the company.
The other major legal outstanding issue that the company had was its importing of hardwood from prohibited places in Siberia, which were viewed as a violations of the Lacey Act. This liability is now off the table as earlier this year investors confused resolution of this liability with the resolution of the more important CARB liability, as we wrote about here. Seeking Alpha cleared this up in their news blast on February 1, 2016,
Lumber Liquidators (LL +4.4%) was ordered by the DOJ to pay $13.15M for violations of the Lacey Act.
The company sourced timber illegally from the last remaining habitat of Siberian tigers and Ampur leopards.
Shares of Lumber Liquidators are off their session highs.
Today's deal with the DOJ is unrelated to the formaldehyde matter.
The final hurdle of the company has is still getting rid of its terrible image. Sales of products and consumer sentiment with regard to the company has been hit far more than we think the company thought that it would as a result of the scandal. The company went from being a profitable quickly growing entity to a company that has lost money last quarter and is now expanding at a smaller pace and they had originally planned. Having said that, we think consumers have a very short memory and will eventually begin to populate Lumber Liquidators stores once again. Any examination of an automobile recall or any other type of recall says to us that the consumer will eventually forget about this and business will slowly come back to the company.
But we don't think that it is time to go long right now. If you got long at $11 or $12 as we previously suggested, we think it is a fine strategy to hold for the long term. At $15 per share, one may want to reconsider going long here for two reasons.
First, the company's most important contingent liability has yet to be settled. While the CDC note looks promising for the company, a formal resolution hasn't occurred yet and until such time, many things are still up in the air. There is also the chance that the resolution will put the negative news back into the news cycle again, thereby having one more negative effect on the consumer.
Second, we would like to see the company get a little bit more operating traction before we buy here. We'd be interested in seeing one or two quarters of better results and sell side analyst backing before we considering moving into LL at these prices. The company's book value is around $10 per share, which due to its non-profitability is an area we'd like to be buyers of LL stock; not with it trading about 1.4x book.
So, while we are no longer advocates of the short case in Lumber Liquidators like we once were, our suggestion is to wait for the right price to open up the long position if it is something that you are interested in. There are many ways to win here, as the market may just pull back the price on its own. We still think that over the course of the long term a recovery will occur, and we look forward to staying up-to-date with further developments in this case. Patience is a virtue.
Disclosure: I/we have no positions in any stocks mentioned, and no plans to initiate any positions within the next 72 hours.
I wrote this article myself, and it expresses my own opinions. I am not receiving compensation for it (other than from Seeking Alpha). I have no business relationship with any company whose stock is mentioned in this article.